BORTH A MARITIME HISTORY: TERRY DAVIES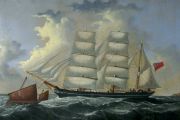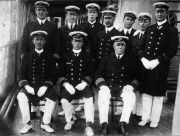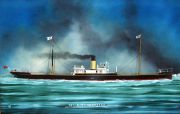 The purpose of this website is to gather and display material pertaining to Borth's maritime history. Although having written two books on this subject, Borth a Seaborn Village 2004, and Borth a Maritime History 2009, I am continually receiving information with accompanying photographs; so the site is very much a work in progress. There is an expanding archive of some 500 photographs, many as yet unpublished. I would be pleased to receive any correspondence concerning family stories or memorabilia; which would be acknowledged and added to the archive. Any photographs of ships, seamen, sailing ships or steamer ship paintings with Borth connections would be of interest.
ACKNOWLEDGEMENTS. A BRIEF HISTORY OF BORTH. SEAFARING.
A SOCIAL HISTORY OF BORTH. CAPTAIN JOHN JENKINS. REES AND JAMES MARINERS.
CAPTAIN MIKE BIRCH. CAPTAIN HERBERT. THE DANIELS. THE LLOYDS.
CAPTAIN JOHN EVANS. COMMANDER RICHARD JENKINS O.B.E. HUGH HUGHES.
CAPTAIN RICHARD JONES . JOHN DAVIES MAESTEG. CAPTAIN HUGH JONES.
THE ENOS MARINERS. CAPTAIN THOMAS WILLIAMS. THE RICHARDS MARINERS.
THE JONES MARINERS, EVERTON. THE JENKINS, ALMA PLACE. WOMEN AND THE SEA.
LEWIS MARINERS. ARTER MARINERS. EDWARDS MARINERS. HUGHES MARINERS.
THOMAS MARINERS. REES AND DAVIES MARINERS. THE JENKINS, GORDON VILLA.
DAVIES MARINERS GLOUCESTER HOUSE AND BALMORAL COTTAGE.
THE JONES, ST ALBANS. THE WILLIAMS, PICTON. CAPTAIN HORACE JONES. ELLIS MARINERS.
DAVID TINK. DAVIES, WESLEYAN PLACE. JONES, PANTEG. CAPTAIN EDWARD JOHN JONES.
MATTHEWS, LERONIA. CAPTAIN WILLIAMS, FRANCON. CAPTAIN DAVIES, BODINA.
ARAN MORRIS M.B.E. ALAN MORRIS. JAC AND GETHIN EVANS. BRIAN CLARE. STEPHEN BROWN.
COMMANDER NORRINGTON-DAVIES. GWYNDAF EVANS. JOHN CORY. TEDDY DAVIES.
CAPTAIN ELIE ROBILLIARD. DOLYBONT MARINERS. BILLY WYNNE WILLIAMS. DAVID WILLIAMS.
MICHAEL EDWARDS. MURIEL KIND. RAYMOND HUGHES. RAW-REES MARINERS.
LEN AND STEPHEN DENNETT. THE JENKINS, OTAGO. YVETTE ELLIS-CLARK. DOROTHY TOLER. CAPTAIN R. W. ROBERTS.
contact: mandersshaw@yahoo.co.uk