CAPTAIN HERBERT
As a child, Lewis James Herbert attended Morfa Primary School, essentially for the children of church-going families. He was then sent, when sturdy enough to do so, to walk the distance to Top School, which was for chapelgoers. Later he was sent as a boarder to Towyn County School. In his fourth year a new subject, trigonometry, was suddenly introduced, much to his dislike. He inveigled a likeminded classmate to plead with the headmaster to drop the new subject as it was of no use to a pupil with a banking career in mind. The headmaster relented and another subject was taken up. Little did both these classmates know that they would later face the detested trigonometry, as they both chose a career at sea.
L. J. Herbert's first voyage began on the 10th May 1917 under the watchful eye of his uncle Captain J. O. Enos. This was on the S.S. Cheltonian of Cardiff where he shared a cabin with fellow villager second mate Henry Levi Williams. This first voyage only lasted 29 days as shelling from a U- boat sank the ship. The crew took to the life­boats and fortunately they were only 50 miles from land, which was reached 15 hours later, close to Marseilles. The master, Captain Enos, and one of the gunners were taken prisoner. Lewis James lost all his possessions, and arrived home a week or so later to re-equip himself. Despite parental pleading for him to return to school, he instead befriended Captain Lewis Glan-y-don house and went on three trips with him on a coaster. He persisted in going to sea and was on the S.S. Merioneth in the summer of 1924 as an A.B. His father, Captain John Herbert, realizing that he was going to pursue a career at sea come what may; decided that he should have a proper apprenticeship. Captain John Herbert had married Margarita Enos, daughter of Captain J. O. Enos, and the couple lived at Gerydon. In 1900, as Second Officer on the S.S. Hilary, he showed outstanding courage in effecting the rescue of the captain and crew of the American schooner Mary E. Lermond. For his efforts he received a Presidential Medal.
During his apprenticeship L. J. Herbert served with three firms. The first being J. Mathias & Sons, Cardiff and Aberystwyth, and when they sold out, Brown Jenkinson of London, and eventually ended with Runciman & Co of Newcastle-upon-Tyne. The three ships he served on were the Southern, Utah and the Middlemor. Another of the Enos family, Idwal O. Enos, commanded the Southern. Most of the officers and crew came from Borth and Aberystwyth. From his home village were David Enos, John William Davies, Horace Jones, Emlyn Herbert, R. R. Davies and Gwilym Davies.
Back at Borth it was time to settle down to study for examinations. Eventually he obtained his first mates ticket, and took a berth as Chief Officer on the smallest ship he was ever to serve on. This vessel the Myrtis, had to steam across the Atlantic to Canada. Her master and owner was Captain John Davies of Maesteg, Borth. Among her crew were another two locals, Leslie Davies of Mona House, and Alan Jones the local electrician; needless to say they were all seasick.
L. J. Herbert decided to sit for his master's ticket at Halifax Nova Scotia, and six weeks after obtaining his ticket he assumed command of the Myrtis. This vessel traded between the Eastern Ports of Canada and the Great Lakes. On one occasion winter set in early and the ship became trapped in the ice and explosives had to be used to free her. After serving four years on the vessel he decided it was time to return home. On his way home he went to Cardiff to see what employment prospects there were. Unexpectedly he was immediately offered a berth as Chief Officer. Captain Herbert agreed to accept the position on one condition, which took the ship-owner by surprise, as it seemed a little impertinent. Young Lewis Herbert explained that he had been overseas in Canada for four years and desperately wanted to see his fiancι Meriona Ellis Davies at Borth. Thankfully, the owner knew his prospective wife, as she was the daughter of Captain Davies Maesteg, and agreed to this immediately. Later, when the captain got married, the owner came to the wedding and stayed in Borth for a week. From that time on he was continually employed as a master.
The Spanish Civil War was by this time at its height, and soon he was instructed to run the blockade to Spanish Ports. His ship, Candleston Castle, was sent to St. Jean de Luz in South West France, to await orders. Thoroughly enamoured with this delightful port, he named his first daughter Jean after it. Orders came to proceed to Santander where he arrived without sighting any of General Franco's warships. The cargo was discharged; albeit under difficult conditions as Franco's airplanes were sporadically dropping bombs. The vessel was then loaded with refugees to be taken to France. Suddenly a serious air raid began, by which time there were 2,400 refugees on board the Candleston Castle, ranging in age from 90 years old to babes in arms. The quayside was deserted except for a lone Briton who "let go" the lines. Captain Herbert turned to speak to the Pilot, who had evidently thought that discretion was the better part of valour and had already jumped ashore to take shelter during the raid. When the raid was over, the ship left port safely.
Soon some of the male refugees, having spotted one of Franco's cruisers, went to the lower bridge to hand over their revolvers just in case the ship was searched, because those found with arms were at risk of being shot. When the ship reached the three-mile limit a British destroyer came alongside and asked if there were any men of military age on board. After giving the destroyer's Commander a negative answer, Captain Herbert decided to get everyone below deck. To hasten this exercise the captain and his Chief Officer, each with a recently acquired revolver in hand, soon cleared the decks. Franco's cruiser came over to inspect, but a British destroyer intervened and they were allowed to proceed on their way, and sailed without incident to Bordeaux. The vessel arrived in Bordeaux with 2,402, refugees; which led to much bickering because the manifest showed only 2,400. The reason for this was that two children had been born at sea between Spain and France. One of Captain Herbert's most nostalgic memories was the rousing cheer these refugees gave the ship's company as their train steamed out of the Bordeaux Quayside.
Captain Herbert was instructed to return to North Spain to pick up more refugees. In port was another master with a similar mission, so between them they drew up a private code to enabling them to keep contact with each other at sea. This later proved very amusing when the ships met outside Santander. Altogether there were twelve ships manoeuvring outside the port and the three-mile limit; all waiting for a chance to slip into port. However, Franco had a small warship guarding the harbour's entrance. Captain Herbert and the other master tried to enter port simultaneously, one from the eastward and the other from the westward after signalling their intent by the pre-arranged code. Franco's warship saw through this little game and would steer towards one and fire, that ship would turnabout to sea, and he would then direct his attention to the other, this went on for some considerable time with the other ships having a grandstand view of the affair.
Whilst decoding these messages a British destroyer came alongside and asked what these coded messages were all about, especially the last one. Becoming very insistent for a reply Captain Herbert told him that he had decoded "sufficient unto the day is the evil thereof" which mystified the destroyer's officer. Captain Herbert was told to "stand out to the three mile limit". Now the captain decided to try another Spanish port - Gijohn. As they were entering, shore batteries opened up and they had to sheer off to sea, only to be confronted by one of Franco's cruisers, who ordered them to stop. Captain Herbert told the second officer to maintain the same course and speed. However, risking the captain's wrath, he resolutely refused these orders. Captain Herbert then took over himself, and steamed on for a while thinking that he had outwitted the cruiser.
Soon a shot across the bows of the Candelston Castle was followed by an order to "stop". The captain's defiant spirit saw him again refuse this order and he steamed on, but a final threat to shell his ship made him decide to stop the engines. A British destroyer came alongside, and wanted to know what all the firing was about. Captain Herbert told the commander of the destroyer that the Spanish cruiser had ordered him to stop engines and lower the wireless aerial. The commander conferred with the cruiser and after a while came back and told the captain to follow the cruiser to Ferrol. This was challenged and in a fiery exchange, with Captain Herbert no doubt giving the Royal Navy a piece of his mind, he reluctantly followed the cruiser to Ferrol. Listening to the 6 p.m. BBC News that evening it was announced that the "Candleston Castle" had been captured and was being escorted to FerroI, and that a message had been received that all was well on board. At least it was good news, as at the time Mrs. Herbert was a patient in the Aberystwyth Hospital with their daughter, Jean, just five days old.
The Candleston Castle stayed in Ferrol for the next two months. The crew were treated very well, but not allowed to leave the ship. Letters took four days to come from home. During these two months stay Captain Herbert had contemplated raising steam and running out of port at night. Fortunately he had second thoughts because when they were allowed to go they found that the entrance had been substantially mined! During this time one incident is indicative of the captain's flamboyance. Being a true "Cardi", he had the persuasive power and gall to rent out the ships tarpaulins to Franco's men so that they could cover their dockside ammunition stocks. After returning to Cardiff, the crew was complemented on being one of the cleanest ships to come into port. No doubt that the two months in Ferrol without shore leave had a lot to do with this! Given forty-eight hours leave to see his newborn baby daughter, Captain Herbert returned again to Spain, but this time under different circumstances; the Franco Regime had chartered his ship!
Captain Herbert had no sooner finished with one area of conflict, than a much bigger war broke out in Europe. World War Two brought its perils on two occasions; the first was when the captain was bombed on entering the Thames in 1940. The explosion shattered all the instruments on board including the compasses. It was always a source of amazement to him how the German plane managed to find them, when at that time the "visibility was down to 100 yards. The vessel was escorted to Harwich and when asked the time of the incident the evidence was there aplenty; all the clocks had stopped at 11 a.m".
On the 27th July 1942, the Elmwood , bound from New York to the Persian Gulf via the Cape of Good Hope, carrying a general cargo was torpedoed. For Captain Lewis James Herbert b.1900, it was regrettable that a ship, which was only 2 months and 22 days old, should be destroyed. Sad as it was, there was an amusing incident at the time the ship was sinking. Five men, as if glued to the decks, with lifejackets on, refused the captain
'
s command to jump into the water and swim to the life boat which was waiting for them fifty or so feet away. Perplexed by their lack of response, they were told to get a move on, but one of the engineers asked to speak to him. The captain immediately thought that someone was trapped in the engine room; but the message was that he had left his truss in his room. Incandescent, the
"
trussless
"
crewmember was given a tongue lashing in Welsh, after which the captain again shouted
"
every man for himself
"
and this time everyone jumped overboard. Luckily all were saved by the three lifeboats boats that were launched. Eleven days and six and a half hours later the captain sailed his boat into Freetown Harbour, with one engineer apparently unable to walk at this time. The Chief Officer
'
s boat was picked up five days later by an American ship and the Second Officer
'
s boat landed on an island 200 miles north of Freetown the same day that Captain Herbert
'
s boat landed. The captain arrived home early in September with his weight down to 7 stone. The ship owners kept him home for nine months before allowing him to sail again. He had already had many adventures running the Spanish blockade during the 1930's when he was in command of the S.S. Candleston Castle.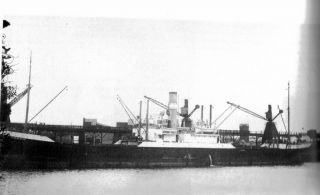 CANDLESTON CASTLE
The lifeboat log of the S.S. Elmwood kept by Captain Lewis James Herbert is as follows:

July 27th 1942. Approx. position at noon 4.48 n 22.00 w.

14.50 vessel torpedoed. Three lifeboats cleared. All hands accounted for. S.W. wind rough sea.

20.00 all boats set course east. Speed about 2.5 knots. Wind shifted to southward force 3. estimated 25 miles.

July 28th. Cloudy and clear. All boats in sight at daylight. Set course by sun E.S.E. speed 1.5 knots. Drew away from other boats. heavy rain squalls during night. Wind variable. Speed 0.5 knots during night. Men in good spirits. Days run 40 miles. Time in boat 21 hours.

July 29th. Overcast with rain squalls. Wind S. force 2. no other boats in sight. Course E.S.E. speed 1-2 knots. Rigged hood giving good shelter from the rain. Picked up speed to about 3 knots. Men cheerful. Total run 75 miles. Time in boat 1 day 21 hours.

July 30th. Made good speed during night. 2-4 knots. Clear weather. Course E.S.E. by sun. Southerly force 4. Wind freshened. Rough sea. Sailing close hauled to starboard. Speed 2 knots during night. Men in good spirits. Total run 140 miles. Days run 65 miles. Time in boat 2 days 21 hours.

July 31st. Weather moderating. Wind S.E. force 3. Speed 2.5 knots. Clear weather. Wind veered to S.S.E. force 2. Course E.S.E. Men in good spirits. Total run 190 miles. Days run 50 miles. Time in boat 3 days 21 hours.

August 1st. Course E.S.E. Wind S.S.E. force 2. Speed 1.5 knots. Heavy swell. Finished first breaker of water which had been salvaged from liferaft. Wind veered to South East. Speed 2-3 knots. Men in good spirits. Total 230 miles. Days run 40 miles. Time in boat 4 days 21 hours.

August 2nd. Sunday. Course E.xS. Wind S.E. force 4. Rough seas heavy swell. Should be about half way now. Sea moderating slightly towards nightfall. Force 3. Men in good spirits. Days run 45 miles. Total 275 miles. Time in boat 5 days 21 hours.

August 3rd. Monday. Course E X S. Wind S.E. force 3. Clear weather. Speed 3.5 knots. Had to dump two tins of biscuits owing to water penetration. Speed in evening 2-3 knots. Moderate sea and swell. Wind force 2. Men in good spirits. Days run 70 miles. Total run 345 miles. Time in boat 6 days 21 hours.

August 4th. Tueasday. Course ExS. Wind S.E. force 2. Clear weather. Moderate sea. Speed 2.5 knots. Finished second water breaker. Making better speed in evening about 4 knots. Wind S. force 3. Men in good spirits. Had a sing song during the evening. Days run 55 miles. Total run 400 miles. Time in boat 7 days 21 hours.

August 5th Wednesday. Course ExS. Wind south force 2. Speed 2 knots. Overcast weather. Making good speed 2-3 knots. Heavy swell. Wind S.S.W. Course ExS. Men in good spirits. Days run 50 miles. Total 450 miles. Time in boat 8 days 21 hours.

August 6th Thursday. Wind S.W. force 2. Moderate swell. Heavy rain squalls. Speed during night 3 knots. Heavy rain throughout the day. Sighted light at 7 pm. Uncertain as to whether a ship or shore light. Turned to seaward. Burnt two flares. Days run 50 miles. Total 500 miles. Time in boat 9 days 21 hours.

August 7th Friday. A very uncomfortable night. Rained unceasingly. At 5 am resumed course E. The light was apparently another ship. Very heavy swell. At 7.30 pm sighted shore lights bearing N.E. At 9.30 pm burnt flares and made for port. Days run 30 miles. Total 530 miles. Time in boat 10 days 21 hours. At 11.30 pm boarded boom defence vessel.

August 8th Saturday 0.30 am landed on pier. All hands groggy on feet but all in excellent spirits.

All in all there were thirteen of the crew in the lifeboat, including Captain Herbert. This was of course a sailing lifeboat.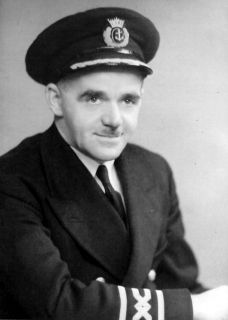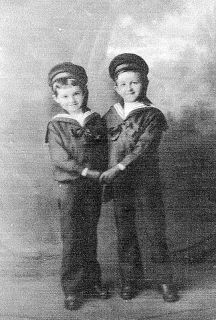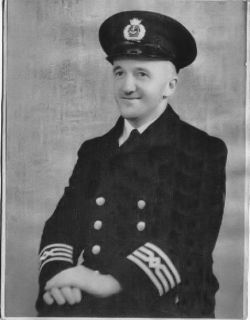 CAPTAIN LEWIS JAMES HERBERT YOUNG L.J. & J.E. HERBERT CAPTAIN JOHN EMLYN HERBERT
John Emlyn Herbert 1899-1944, Lewis James' older brother, also went to sea. However, his naval career began with a hiccup as his parents had to fetch him home from Liverpool in October 1916, as he had contracted typhoid fever. By 1934 he was first officer on the Plas Dinam when she was wrecked off the Newfoundland coast. The 573 ton Plas Dinam, owned by Captain John Davies of Maesteg House, was chartered to R. T. Sainthill of North Sydney, Cape Breton and traded between Montreal and Belle Isle. Captain John Edwards of Penybont was in command and a third Borth man Rowland Ellis of Carron House was bosun; the rest of the crew were Japanese. With a cargo of coal on board, the vessel struck rocks in a dense fog near Freshwater Point, Terpassey Bay. The crew took to the lifeboats immediately and rowed through fourteen miles of very rough seas. After twelve hours they landed on a rocky shore under towering cliffs that they were unable to climb. Luckily their distress signals were answered and the steamer Nova Scotia picked up the survivors. Captain John Edwards, J.E. Herbert and the Commissioner of Wrecks went back aboard the stricken Plas Dinam. They spent what the captain described as a "Horrific night as the incessant waves pounded the ship. Rivets were popping and the tortured steel plates screeched as they were torn apart". They were all glad to get off at daybreak as the vessel soon broke up and sank.

John Emlyn moved to live in Cardiff and went on to become a master mariner with an illustrious career at sea that was terminated when he lost his life serving as captain of the small 600 ton coaster Dungrange. This vessel had begun life as Oakhampton in 1925, the Yewbank in 1926 and then Dungrange in 1937, when Buchan and Hogg of Grangemouth owned it. In June 1944 Captain J.E. Herbert was taking a cargo of provisions, ammunition and fuel from the Isle of Wight to the Normandy beaches as part of a convoy of twenty ships. He was on his third trip when an E-boat off St Catherine's Point attacked the vessel. The Dungrange had gone to the aid of the Brackensfield, which had been attacked and sunk. In the act of searching for survivors, two other E-boats appeared and sank the Dungrange with torpedoes. Eighteen crewmembers perished, including Captain J.E. Herbert.

John Emlyn had already seen action in 1940 when as captain of the Sarastone, (mentioned earlier in a Borth context), successfully fought off a surface U-boat attack off the coast of Portugal on a passage back to the U.K. There were other incidents during World War Two. John Emlyn was in command of the S.S. Wild Rose when she was bombed by German aircraft off the coast of Ireland. Badly damaged she was towed in to Rosslare Harbour by the M.V. Kericgue. To emphasise that it was war damage John Emlyn carried one of the unexploded German bombs through the town to the police station. On another occasion he was evacuating civilians from France and placed a number of women and children in his own cabin. German planes bombed and strafed the vessel killing all the women and children that were in his quarters.
WILD ROSE
That both the Herbert boys went to sea is no surprise, as their father John was a master mariner, and their mother was from the Enos maritime family. Both the brothers had certainly done their duty…one paying with his life.