CAPTAIN HORACE JONES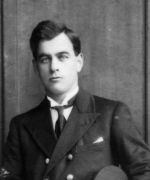 Horace Ivor Jones 1895-1963, first went to sea at sixteen years of age with his uncle Captain Lewis Williams Picton House, on the Castle Bruce. Horace and his cousin Vernon Williams were popular characters who were constantly getting into mischief. At one time, they caused a great stir in the village by firing shots from revolvers that each had brought back from sea. There was a great hullabaloo but no one was hurt, or prosecuted.
VERNON WILLIAMS
Guns and the Williams family were no strangers. At the wedding of Vernonís great uncle Captain Lewis Williamsí, to the daughter of local butcher Evan Hughes, it was reported that ďat an early hour guns were fired and flags were flying at various places out of respect for the young coupleĒ.
Horace Jones lived at his family home Craiglea and went to sea in 1910. He was on the steamships Lady Carrington, Armenia and Saracen, before becoming third mate in 1915 on the S.S. Menapeam. His next vessels were the steamers Usher, Broompark, Slav and Southern. He became second mate in 1921 on the steamships Elmpark and H.H. Asquith, and got his masters certificate in 1928. For the next few years he served as first mate on many vessels, including, Backworth, Knight of Saint John, Knight of the Realm and Cape Howe. By 1937, he gained his first command the Cape Sable, on which he took his wife on several occasions. All this came to an abrupt end with the Second World War, as the Cape Sable with Captain H. I. Jones, now seconded into the R.N.R. with the rank of Lieutenant Commander, saw some of the grimmer aspects of the conflict, especially in the Baltic Sea. Horace was also related to the Jones mariners of Maesarfor.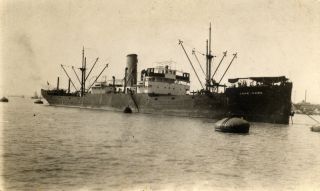 S.S. CAPE HOWE