CAPTAIN HUGH JONES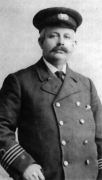 David Jones 1837-91, master mariner, commanded the S.S. Abbey on which, at the age of 54, he lost his life when the ship caught fire and sank. He had married Ann Hughes in 1861, and in the same year built their family home Seaview, todayís Maesafor. David and Ann had 5 sons who all became mariners and their lives mirrored other village seafaring siblings with a mixture of triumphs and tragedies. Remarkably three of them commanded large vessels before the age of 24. One, John Jones 1864-84, was tragically killed on his first voyage on the barque Dora Ann when he fell from a mast and was washed overboard in the middle of the Pacific Ocean, and another Hugh Jones 1874-1918, was lost with his ship and all the crew at the end of World War 1.
Edward Jones 1864-1925, of Glanmor House, was in command of the Mountpark at 23 years of age. In an illustrious 36 year career he commanded many Park vessels including the Beechpark.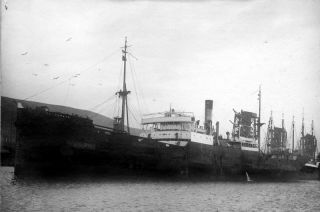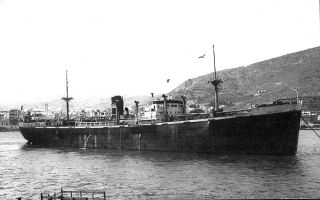 BEECHPARK WELLPARK
Morgan Hugh Jones 1875-1925, of Glendower House, was also captain at 23 years of age after having gone to sea at 15. He commanded the S.S. Cadebyand the S.S. Ashton. Morgan Hugh was in command of the 1,330 ton Cadeby carrying a cargo of pitwood from Oporto to Cardiff when she was stopped by a German submarine, and the crew were ordered to take to the boats. Immediately they did this the vessel was sunk. There were four passengers and sixteen crewmembers in the boats. As well as the captain, there were Borth crewmen John D. Thomas of Eversleigh House and David Jenkins of Rock House. All were rescued by the crew of the Bonafide of Penzance, and landed at Newlyn, Cornwall.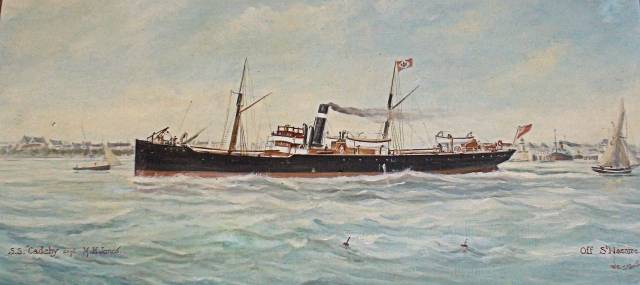 S.S. CADEBY
David Hugh Jones 1863-1935, of Cambrian Terrace, was first mate on the S.S. Beechpark when it was torpedoed in 1917. He also served as first mate on the Maggie Hough, Samuel Hough and the Glenmoor of Newcastle.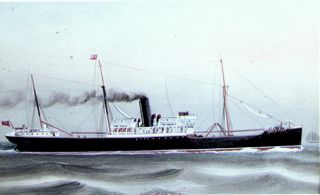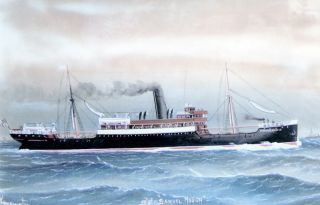 SAMUEL HOUGH MAGGIE HOUGH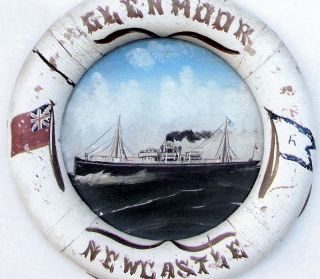 GLENMOOR
Captain Hugh Jones 1874-1918, was in command of the S.S. Surrey at the age of 25. After five years the Surrey was involved in an accident when she struck a sunken wreck in the Gironde Estuary. The captain was not at fault and went on to command the S.S Cathcartpark, Garvelpark, Wellpark, Mountpark, Holmpark and the Heathpark. By 1895, Captain Hugh Jonesís wife Annie owned land on which the houses Surrey, Glendower, Glanmor and Carron were built. The Jones brothers occupied three of these new buildings; Captain Edward Jones at Glanmor, Captain Morgan H. Jones at Glendower and Captain Hugh Jones at Surrey, which was named after his first command S.S. Surrey. First officer David H. Jones lived at No.8 Cambrian Terrace whilst in Borth, and at South Pacific House, Barry Dock, South Wales.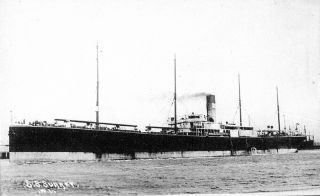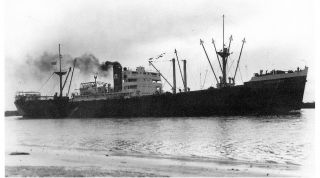 SURREY GARVELPARK
A train of events that began in September 1918 was to seal Captain Hugh Jonesís fate before the end of that year. The German U-boat, U91, under the command of Captain Von Glasenapp went on a deadly voyage between 15th September and the end of October, 1918. It sailed from Heligoland to the Hebrides then down the coasts of France and Spain, and returned to Germany through the Pentland Firth. During its murderous mission, it hunted down and sank twelve vessels; some of which were from neutral countries. Amongst them were the small French sailing vessels Therese et Marth, Ave Maris Stella, Maria Emmanuel, Maja and the Pierre, as well as Spanish steamer Mercedes, the Portuguese steamer Cazengo, the Norwegian steamer Luksefjell, and tragically for three Borth families the 1,963 ton S.S. Heathpark, which was carrying iron ore from Bilbao to Maryport in Cumbria.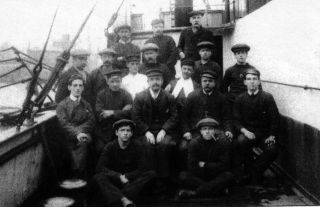 CREW OF THE HEATHPARK
This recently built vessel, owned by the Denholm Brothers, Greenock, was torpedoed at 3 am, on the 5th October 1918, just off the coast near Bilbao, with the loss of all 27 crew members. Amongst those who perished were Borth men Captain Hugh Jones, Seaview, David Llewelyn Lewis, bosun, of Dalston House, David Kenneth Jones deck boy, Glanmor House, who was the captainís nephew and also another relative William Llewelyn Roberts. Only the body of Captain Jones was recovered by the fishing vessel Isabelita, of Ondarroa. He was buried in that little Basque fishing village, but in 1925 his body was re-buried at Bilbao by the Commonwealth Graves Commission.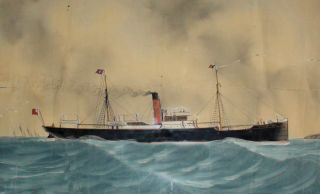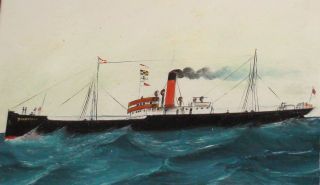 CATHCARTPARK HEATHPARK
Two of the Borth victims of the Heathpark sinkinghad already survived a torpedo attack. David Kenneth Jones had been with his father Captain Edward Jones on the S.S. Beechpark when she was struck in August 1917, but despite sinking rapidly all the crew were saved. Bosun David Llewelyn Lewis b.1892, of Dalston House, had also survived a sinking at the beginning of the final year of the war. On a Friday night in March 1918 the German U-boat 105 torpedoed the S.S. Penvean, 15 miles North West of South Stack Rock, Holyhead. Twenty-two of the crew were killed, of whom three were from Borth; Hugh James Manchester House, son of Captain H. James Scranton, Morgan Morgan, Gogerddan Gardens Ynyslas and Basil Lougher Davies, son of Captain T. Davies Gloucester House. David Llewellyn Lewis, was landed in an exhausted condition, and was hospitalized in North Wales for a few days until he was able to proceed home. Seven months later, in October 1918, he was torpedoed again on the Heathpark, and this time did not survive.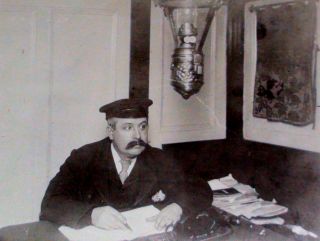 CAPTAIN HUGH JONES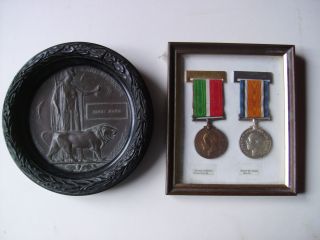 CAPT. JONES'S DEATH PLAQUE AND MEDALS
The initial provider of the Jones maritime family story was David Matthews who resides at their old family home, todayís Maesarfor, built in 1861. Recently the grandsons of Captain Hugh Jones, Neil and Hugh Evans, provided more information including some fine photographs and ships paintings. Michael Jones formerly of Canteen Stores and now Shrewsbury also contributed ships images. Sincere thanks to these generous researchers.

There is a romantic twist to the Heathpark story that I am sure the ghost of Captain Hugh Jones would approve of. His grandson Hugh Evans, widowed a few years ago, took his daughter on a Q.E. 2 cruise, and when that vessel docked in Bilbao they went to visit his grandfatherís grave. Whilst there, Hugh met an English lady, Sue, who was the widow of the late cemetery gardener. Love blossomed and to cut a long story short they are now an item. Hugh now looks after his grandfatherís grave in his new role as cemetery gardener.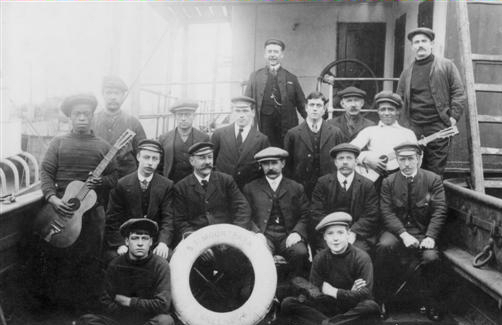 CAPTAIN H. JONES & THE CREW OF THE MOUNTPARK