CAPTAIN JOHN EVANS
Captain John Evans 1828-94 and his wife Sarah lived at Saxatile, an early Georgian house previously called Morfa. It was amongst the first built on the shingle bank. They had four children, William, Jane, Sarah and Margaretta. The captain owned several ships, which according to oral family tradition, sailed from Porthmadog to South America with roofing slates ,where they were exchanged for guano which was brought back to Wales for fertilizer. The first ship he captained was a schooner built in Aberdyfi called the Sarah, built in 1858; she was named in honour of his wife. This ship was under his command from 1859-64 and later abandoned at sea.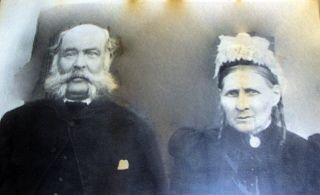 CAPTAIN JOHN & SARAH MARY EVANS
According to Janet Williams, a descendant of the captain, the most exciting homecoming was from a voyage in 1882 when Captain Evans, his wife and seven of the crew rowed to Borth after their ship the Rowland Evans sank off the North Wales coast. The whole village came out onto the beach to see what was happening. Later that night the survivors had a celebratory party at Saxatile. The crew however had left their clothes, the ship's log and the captain's instruments and chart behind them on the ship, but managed to bring home the ship's medical chest. (This chest is now in St. Fagan's museum)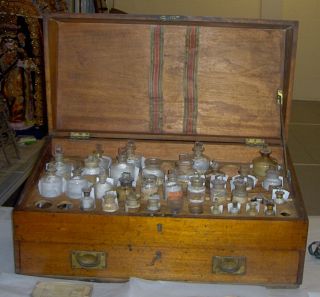 MEDICAL CHEST OF THE ROWLAND EVANS
The 209 ton brig Rowland Evans had been on a voyage from Antwerp with a cargo of silver sand and shortly after leaving port began to leak. Having got as far as Cardigan Bay, the Captain ordered everybody to take to the ship's boat as he feared she would soon sink. They rowed around the ship for a time but as she showed no signs of sinking; two holes were cut in the deck to scuttle her. This was to prevent her becoming a navigational hazard.
This was a valuable ship and the fact that the captain was a major shareholder with a mortgage of £600 and an insurance of £1,800, inevitably led to an enquiry by the Board of Trade. Captain Evans argued that the ship had been leaking for some time and the pumps had become choked with sand. He maintained that there was no port the brig could have reached in her condition and he was afraid she would go down with all hands if he stayed on board any longer. The mate agreed with the captain about what happened, but three crew members said the pumps were dealing with the excess water and that they knew nothing about a leak back in Antwerp. The crew and the captain seemed on bad terms after they had landed.
The captain paid them what he owed them, but refused to pay them any more; whereupon they threatened to make him sorry for it. It may not have helped that the men appeared to have been a scratch crew picked up from the docks of Antwerp and did not include men from Borth. Another factor may have been that he maintained a strict no grog policy on the ship.
The Board of Trade's findings decreed that it was "the clearest example of premature abandonment which had ever come under his notice". Captain John Evans had his captain's certificate suspended for 12 months and the mate was censured for not protesting at his captain's decision. John Evans survived his disgrace. He later went on to commandthe Eleanor & Jane and Savatele and was eventually drowned in 1894 while commanding the barque Nelson Hewertson. His wife died not long afterwards in March 1896.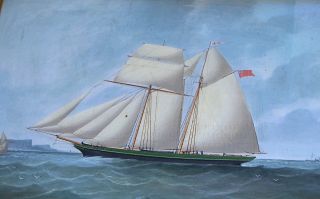 SARAH
Sarah was not as venturesome as other Borth wives. It seems her husband was frequently away in South America for 2-3 years at a time. She would not go on these long voyages. However she would join him at Antwerp or Dunkirk and sail home from there with him.
Janet Williams states that she is puzzled that the family owned a remarkably fine portrait by a Dutch Artist of the schooner Sarah& Mary, but is not clear how Captain Evans was involved with the ship. Perhaps the answer lies in my previous researches where in the Aberystwyth Port Books the schooner Sarah & Mary built at Derwenlas in 1852, for the Morben family, is captained by John Evans the Younger.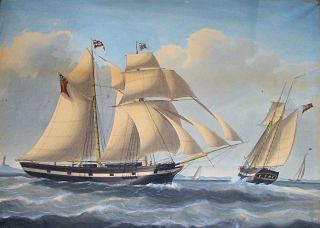 SARAH AND MARY
Captain William Evans b.1858 was the son of John and Sarah. According to Janet Williams the son was totally different to the father as he was very much a dandy with a strong sense of adventure. His wife, as photographs testify, was a rare beauty who insisted their daughter Myfi was educated in a Spanish Convent. She had the knack of being able to silence William and would walk down to the docks and chide him when he was berating the crew by saying "do you really need to shout so loud"? After she died, to everyone's surprise, he courted and married a widow lady who lived at Ardwyn House. His sisters were not impressed as they always referred to her as 'that woman.'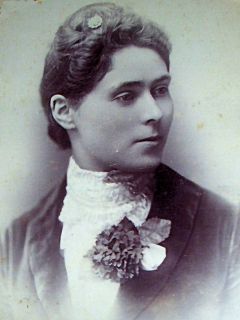 CAPTAIN WILLIAM EVANS AND HIS WIFE
He lived for most of his life in South Shields. Useful sources of Captain William Evans's activities were the post cards he sent to his sister Margaretta (Get). These show he visited Buenos Aires, Venice, Hamburg, Constantinople, Karachi, and Mobile. Most of these trips were during his command of the Raithmoor. He also captained the steamers Jerseymoor, Castlemoor, Elmmoor, Sydney Reid, Western Valleys, Nant Gwynant and the Frederick Cleaves. As with many other Borth men William was still commanding ships well into his 70's.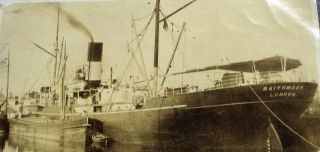 S.S. RAITHMOOR
A favourite family story was while he was on a visit to St Petersburg during the revolution, he found a silver cigarette case lying in the gutter and he and the first mate fought over it and he won. The family still have the cigarette case with its traditional Russian image of the troika.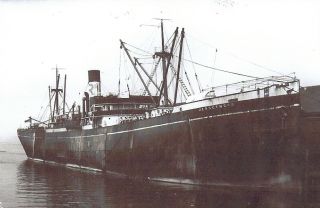 S.S. JERSEYMOOR S.S. CASTLEMOOR