CAPTAIN JOHN JENKINS
Captain John Jenkins 1840-1932, is only briefly mentioned in my book as having been captain of the schooner Fairy. Recently the following information, generously given to this website, is from the private researches of Alan Jones of Droitwich Spa; a direct descendant of Captain John Jenkins.
Captain John Jenkinsís father David 1802-85, is listed at various times on the census as a farmer, agricultural labourer, haulier and mariner, so the sea was in his blood. Two of John's brothers, David and Richard, were by their teens living away from home; David at Brynrodyn Farm working as a farm servant for Thomas and Margaret Roberts. Richard was living at a mill owned by David Jones; possibly Felin Wern. The lure of the sea proved too strong as both brothers became mariners but they fade from the records, probably drowned at sea. John himself lived at Victoria Cottage, where Tyrol House now stands. He worked on local sloops for a time then went on the schooner Frances Poole, commanded by Borth man William Lewis, on a Mediterranean voyage. Also on this voyage were Borth men Thomas Edwards and Thomas Jones. Thomas Edwards would become captain in 1880 and Thomas Jones, who ended his days at Llandre, had a long career as First Offiver on transworld sailing vessels, such as the Loch Fergus. In 1863 John Jenkins sailed to India as an able bodied seaman on the three masted barque Panthea, which was under the command of John Jones of Borth, owned by William Jones of Brynowen Farm. In a recently discovered history of Borth written in 1920 by the antecedent of John Ellis of Aberarth, it states that John Jenkinsís father built Tyrol after abandoning a half built house that was opposite todayís Trigfan. This was not far from where Captain Davies Maesteg would later build his beach hut to store nets.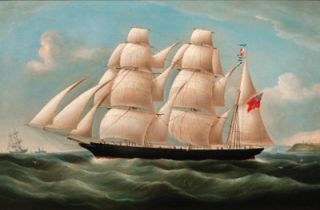 PANTHEA
The Panthea's voyage was beset by what would seem mundane problems. The appointed cook, nineteen year old Henry Pritchard of Newport, was found to be incompetent in performing his duties and was re-rated as an able seaman. Before long he was reduced again, to the rank of ordinary seaman. Able seaman David Evans of Aberaeron became cook for the next three months until they reached Madras. On arrival the new cook David was admitted to hospital, but five days later returned in apparent good health. David Evans, Henry Pritchard and another crew member Dominick Conway of Liverpool, were called upon by the captain to decide who was to be the cook. All three refused so they were taken ashore to appear before a magistrate who ordered the trio to take turns at cooking, and fined four days pay. Sadly David Evans returned to hospital and died of acute dysentery. Adding further woes, two crew members left the ship so replacements were taken on, who proved to be totally incompetent. Despite these setbacks it took the Panthea only eighty-two days to reach London. John Jones the captain continued for another year in command of the Panthea before continuing his career on other vessels culminating in his last command the Hawarden Castle, when he died in India a decade later in 1872 at Calcutta.
John Jenkins earned 22 pounds and 10 shillings for the nine month voyage to India on the Panthea. His next vessel was the schooner Jane Owens commanded by John Davies of Borth. In 1865 at twenty five years of age John Jenkins was an able bodied seaman on the maiden voyage of the brig Rowland Evans, under the command of John Evans of Borth who sailed her for the next seventeen years. John Jenkins qualified as a mate in 1866, and in that position sailed for two years on the schooner Acorn captained by John Rees of Borth. Two years later in 1868, he was mate on the barque Jane Rowland voyaging to the East Indies. With this experience behind him he obtained his Captains Certificate in 1870 and got his first command the small brig M. A. Jones. It was not to be an auspicious beginning to his career as captain. On his second voyage on this vessel, whilst homeward bound for the U.K. with a cargo of chrome ore from Gemlik, the M. A. Jones was run down off Greece by the Finnish brig Lion. Fortunately all the crew were saved by the Norwegian barque Chimea.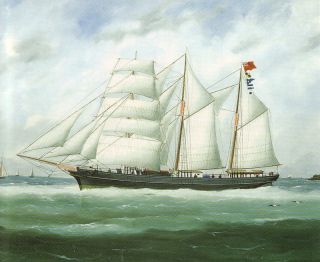 FAIRY
Captain Jenkins then took command of the schooner Fairy sailing to Denmark. His next ship was the brigantine Charlotte where he served as mate under Captain Richard Jones, his boyhood friend from Borth. By 1873 John was in command of the schooner Helena on voyages to Spain and Morocco. The following year he once again took command of the Fairy sailing to the East Indies and later to Africa. His last command was the Fairy prior to his retirement, whereupon he became a market gardener at Newport.
CHARLOTTE
Captain John Jenkins's career at sea was much like many others from Borth as despite having a Captains Certificate, finding a command at times was not easy. This is why captains often sailed as mates on vessels run by fellow villagers. This is evident in Captain Jenkins's story which is essentially a snapshot, not merely of the maritime aspect, but of the social conditions in which he was born and lived in. He had two older brothers who were already living away from home when he was born. As they were at sea by their mid-teens, he could not have had much contact with them. On his voyage on the Panthea he lost a shipmate having probably, by that time, already lost both his brothers to the sea. His life had a fair share of triumphs and tragedies, but against these odds he won out to live an interesting adventurous life, and in Captain John Jenkins's case a long and fulfilled one. As Alan Jones notes, the photograph of his mother who is sitting on Captain Jenkins's knee encapsulates 169 years of history in two long lived people.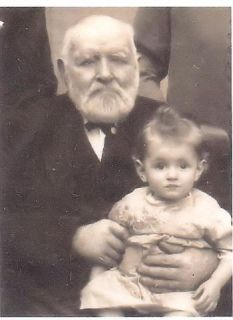 CAPTAIN JOHN JENKINS AND GRAND DAUGHTER
For a comprehensive history of Captain John Jenkins visit Alun Jones's website: www.mywelshancestry.co.uk