CAPTAIN RICHARD JONES
Master mariner David Jones 1835-91, and his wife Jane Jones nee James 1838-1917, lived at various times in White Lion Place and Resolute House. They had two sons, Richard 1861-1937, who became a master mariner, John James 1865 - 1891, who was mate prior to an early death at 26 years of age and a daughter Mary Jane. For many years David Jones was captain of the small Borth schooner Resolute which was built at Lerry Bridge in 1849. In 1881 with David in command, the Resolute voyaged to North Wales ports with the captain's eldest son Richard as first mate and Mary Jane the daughter, probably as cook and stewardess. Tragedy struck in 1891 when the Resolute was lost with all hands, claiming the lives of Captain David Jones and his youngest son John James Jones.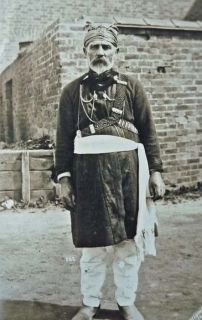 ELIZABETH JONES CAPTAIN RICHARD JONES
Richard, the eldest son, became second mate in 1886, first mate in 1888 and passed as captain in 1890. His wife Elizabeth was from the long vanished farmlet of Tyllechwed Bach, and they lived at Miramar House Morfa Borth. Elizabeth went with her husband on many voyages, especially to India, as witnessed by the memorabelia kept by their grandson David Jones and his family of The Meads Ynyslas. They kindly provided the photographs for this segment of the website. Captain Richard Jones was master of the Glantivy, Cheltonian, Harrovian, Rugbian, Carthusain, Northern and the Ethel Radcliffe.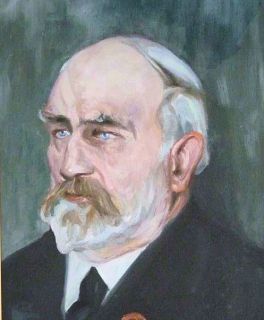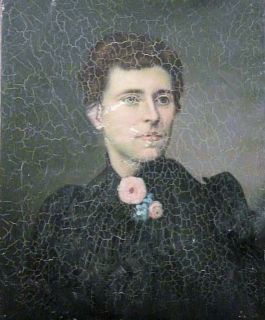 CAPTAIN RICHARD AND ELIZABETH JONES, PORTRAITS PAINTED IN INDIA
Captain Jones was a cousin of Captain Richard James 1860-1923 and Annie Granville Williams of Auckland House. Once again the complexities of Borth maritime families inter marrying are evident. The schooner Resolute was built for, and owned by, master mariners Enoch James the Younger 1822-1886, and his son Richard James 1860-1923. I believe that Jane, Captain David Jones's wife, was Enoch the Youngers sister. Master mariner Enoch James the Elder 1787-1856, married Mary Hughes.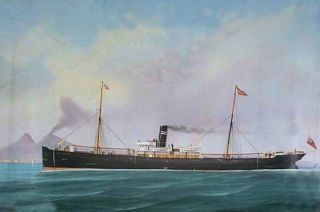 ETHEL RADCLIFFE
The James family were major players in the Borth story and some descendants are still disentangling family ties. They include John Ellis Aberarth, David Rowlands Canberra, Ed James of Gloucester and David James, who have provided invaluable information.