CAPTAIN THOMAS WILLIAMS
Captain Thomas Williams 1848-1928, built the houses Dinorwic and Elidir in the middle of the village where previously cottages stood. the properties were named after steamships that he commanded. he probably built Munding as well. he married twice; his first wife was Margaret and the second Jane. I remember Jane as a widow living at Dinorwic. She attended Soar Chapel and occasionally taught Sunday School classes. When I was quite young she showed me a large studio photograph of the captain whom she obviously adored.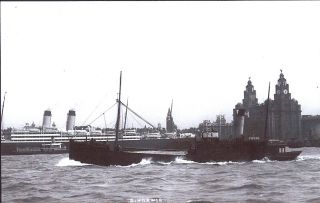 S.S. DINORWIC
This was all I knew about Captain Williams and despite extensive searches he remained elusive. At one stage I conjectured that he may have been born in North Wales because of his ship names. He is not on Reg Davies's list of Welsh mariners, http://www.welshmariners.org.uk/ so the trail remained cold. However the first hint of new information came from Myra Ford, who thought that he may be the missing brother of Captains William, John, Lewis and David Williams, as well as mariner Richard Williams. The birth date of Captain Thomas Williams tallies as well as memories of frequent visits, by Myra's parents to Dinorwic. If this proves correct then Borth will have provided five master mariner brothers.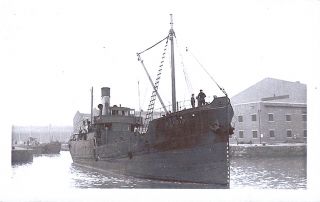 S.S. ELIDIR
Recently Shelagh Wooliscroft, great grand daughter of Captain Thomas Williams, has provided new information about him that may cast doubt on Myra's supposition. Shelagh provided the photograph below. She has also provided an 1896 crew list of the S.S. Dinorwic. It records that the master was Thomas Williams aged 48, Hugh Williams, mate aged 42, William Williams, cook aged 19, William Craddock, aged 41 A.B. and William Pierce aged 42 A.B. Borth man William Pierce b. 1854, was the brother of John Pierce b. 1849, who was also a mariner. I believe Captain Thomas Williams was the twenty year old A.B. listed as a crew member of the schooner Jane Sophia. He is not to be confused with Captain Thomas Williams who was master and owner of the schooner Cambrian from 1884 to 1907, who tragically drowned aged 64. He had taken over the captaincy and ownership of the schooner from his brother David Williams, who died on her in 1883. Another brother John Williams was master of Glad Tidings. The various Williams clans are proving very difficult to disentangle. The research is continuing.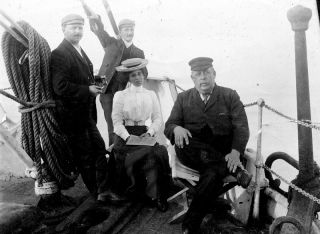 CAPTAIN THOMAS WILLIAMS AND HIS WIFE JANE