CAPTAIN WILLIAMS, FRANCON
The Williams family had a long association with the Aberystwyth vessel the Ocean Belle, with three brothers, Levi, Henry and Richard, and a cousin, John, all sailing on her. The Borth connection initially began with Captain William James 1820-1880, who commanded her from 1859 to 1863, with his nephew, John Williams, b.1835, as first mate. Captain James had previously commanded the Aberystwyth and the Island Maid, then the Ocean Belle and Dorothy before going to live at Aberdyfi after retiring from the sea, to concentrate on ship ownership. He bought the small 588-ton barque Glendovey in 1876, and put John Williams, by then aged forty, in charge of her. John had become captain in 1862, and took command of the Ocean Belle and then from 1867 until 1869, the Dorothy. He then sailed the Glendovey worldwide for a period of twenty-four years, up until his retirement at the age of sixty in 1900. His father, Evan, had been mate on the 62-ton schooner Virtue of Newport in 1845.
Captain Levi Williams b.1840, sailed as first mate on the Ocean Belle for a decade, as had his cousin John before him, both under the command of William James. Levi gained his masters certificate in 1877, and later captained the Pilgrim. His brother, Henry b.1838, was mate on the Picton, and in 1871, whilst mate on the schooner Jane Jones, took his wife Mary Ann with him. Henry is buried in Phillipville, Algeria. Another brother, Captain Richard Williams 1843-99 commanded, and eventually owned the 170-ton Ocean Belle from 1875 until 1899. He had previously served as mate on this vessel and on its last ill-fated voyage, his nephew John Whitlock Williams 1868-99, son of Henry and Mary Ann, was serving as first mate. The vessel foundered in December 1899 off the coast of Denmark, near Lemvig. The tragedy is described thus… "A vessel came in sight last evening, in a south-west direction, burning a flash light. About one hour later, the light disappeared and shortly afterwards some wreckage and two lifebuoys marked Ocean Belle of Aberystwyth came ashore". The vessel was concluded to have sunk with all hands. Several bodies were recovered, amongst whom was Captain Williams who left a wife, one daughter and four sons.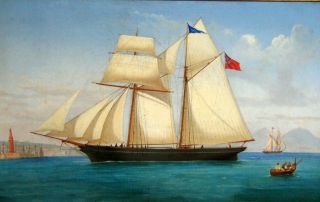 PICTON
The name Whitlock first appears with a Whitlock Williams, master mariner who died in 1840, his wife was Margaret, nee Jones. They had married in Llandre in the 1790's, and both were probably from Borth, but had moved to Aberystwyth. Margaret had a nephew born a year after her husband died, so in remembrance he was named John Whitlock Jones 1841-66; he died of cholera at twenty-five years of age in Calcutta whilst serving as mate on the City of Sydney. There was John Whitlock Williams 1841-79, another master mariner, who died at sea aged 38, and his wife Margaret 1839-87, both buried in Llandre churchyard.
William Thomas Williams, a shareholder in the Ocean Belle, was one of Captain Richard Williams' sons, who lived at Aberystwyth. Captain Richard Williams' daughter, Margaret, married Captain John H. Roberts of Borth y Gest, and they lived for a time at Gordon Villa, before moving to Liverpool. In 1916, Captain Roberts was in command of the Lestris on a voyage from Liverpool to Rotterdam, when she was captured and towed to Zeebrugge. They were the parents of Captain Richard William Roberts b. O.B.E. 1901, who had glittering maritime career.
CAPTAIN RICHARD WILLIAM ROBERTS O.B.E.
Another son, Thomas Williams 1874-1945, was a master mariner who built Francon House on Cliff Road and commanded the S.S. Kentish Coast in World War One, receiving a commendation from the Admiralty and the Ministry of shipping. He voyaged innumerable times, without mishap, to South America during the First World War bringing back horses for the army on the Western Front, and vital cargoes of meat; all this being carried out whilst the U-boat attacks intensified. His sister-in-law married John Brodigan 1881-1959, who often sailed with Captain Williams as bosun, as did my grandfather. There were other Brodigan relatives who were mariners living in Aberystwyth. Captain Thomas Williams had a master mariner son, Henry Whitlock Williams 1908-50, who also had a distinguished career. He became master in 1939 and commanded the Hartismere, Harpalion and Hartington. The Harpalion was sunk in 1942 by enemy fire. The captain, like his father before him, was highly commended for his war service.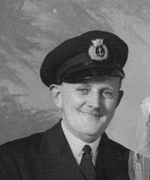 CAPTAIN THOMAS WILLIAMS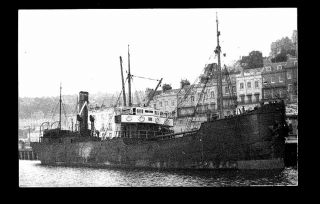 S.S. KENTISH COAST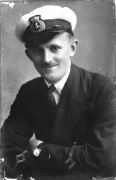 HENRY WHITLOCK WILLIAMS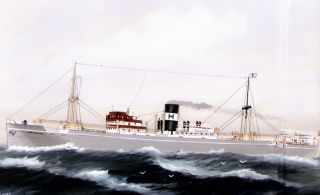 HARTISMERE
Many thanks to Alan Whitlock Williams, a descendant who now lives in Canada