COMMANDER RICHARD JENKINS O.B.E.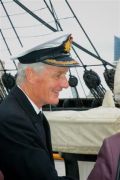 At the end of my second book, Borth a Maritime History, I noted that a few of my contemporaries had been omitted because they had moved away from the village, so information was scant. I particularly mentioned my childhood friend Richard Jenkins who lived at Gable End, Francis Road, stating that all I knew was that he had had a successful career in the Royal Navy. Fortunately, after 55 years, I caught up with him in late 2009 and here is his story in his own words.

I was born in Llandudno during WW2, and although my roots are in South Cardiganshire (from a farming family), my upbringing and formative years were all in Borth (a small coastal village with more mariners over the years than one would expect from a population of less than 1,000). Living on the cliff tops in Francis Road it was impossible to be separated from the sea in all its moods; and I was most certainly captivated. Childhood for me in Borth was both a privilege and a pleasure - with a home, friends and school lying just yards from the water.

I remember climbing the cliffs one evening, with my younger brother Anthony and best friend Terry Davies just after the tide came in. It afforded me one of the most exciting (and undoubtedly dangerous) moments of my life as, with the tide in, we climbed the crumbling shale cliff from Aberwennal up to the Monument. Nothing at sea, either storm or enemy, was ever to compare with that particular adventure, and having survived it, all other seafaring instances in my life pale into insignificance.

Growing up in Borth meant that the sea was always part and parcel of your life even though you may never have had any ambitions to make a career of it. But for me - together with the influence of Pam and Ted Richard (parents to Paul my other good school friend); and more particularly the example and tales of a neighbour David Tink, who was already in the Merchant Marine - I always knew that I would to go to sea.

My mother and father were quietly supportive of my plans as I hoped to go to the Merchant Navy School, H.M.S. Conway, and then to serve an apprenticeship on cargo liners sailing to and from the Far East. In the event, at age 11, my eyesight was deemed to be just below deck officer standard and when, as second choice, I applied to be an engineer at 17 ½ years of age, I was told I was too old for entry. Bastards.

However, at school with the naval cadet corps, and later at Aberystwyth University where I was an instructor with the Sea Cadets, I was able to see something of the military side of serving at sea. After graduating I accepted the inevitable and joined the Royal Navy as my way of getting to sea. Interestingly at the entry tests my eyesight was considered adequate for deck and engineer! However by that time, with thoughts of marriage, I was more aware of the sea/shore ratios and opted to join as a Weapons and Electrical engineer, completing another degree at the Royal Naval College Greenwich.

In my last summer at Aberystwyth before graduating, while on a college expedition to the Arabian Gulf, I had my first and only taste of the Merchant Marine. With two fellow students in a Land Rover we hitched a lift from Kuwait to Dubai on an Egyptian owned tramp steamer Hamza 1. The Captain was Bahraini with an assortment of Arab nationals in the crew and a Jordanian Radio Officer. On our way down the Gulf we were intercepted by the minesweeper HMS Nurton and asked our business. As we had no VHF radio to reply so I used my semaphore knowledge to flag the required answers; not necessarily a clever move as it resulted in us being invited, on arrival at Dubai, to meet the Political Agent and Chief of Police for dinner and be quizzed about this ship that was suspected of gun running. We were then taken to see the locale of the insurgency at Ras al Khaimah where the dispute was over rocks being taken from the hill tribe to build a jetty for the local Sheikh. The British officials asked us to note any evidence of gun running when we returned on the ship. We were asked let the embassy know in Kuwait of anything we had seen.

As there had been no casualties and the ship's company had treated us very kindly we decided to return directly to Aberystwyth without reporting to the Embassy. It was therefore a surprise in the autumn term to be summoned by Special Branch and questioned on what I had seen. The details I provided (including the suspicion that the guns were in the cargo of cement sacks) formed the basis of their Intelligence Assessment passed to RN ships in the Gulf.

I only know this because coincidentally 18 months later, having joined the Royal Navy, I was under training in HMS Palliser (Type 14 Frigate) serving off Iceland (1967) when talking to the First Lieutenant I found out that he had received the report while commanding a Landing Ship in the Gulf!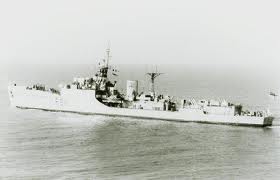 H.M.S. PALLISER
Our Icelandic trip was interesting in many ways since we were able to see the volcano erupting from the sea that was eventually to form the island of Surtsey. Our trip was as a result of the Iceland/UK fishing disputes known as the Cod Wars and, in a period of lesser tension, we were allowed to visit the Icelandic ports, but as HMS Palliser was an old frigate with ageing boilers it was more memorable for the bucket chain that we had to manage over the deck in fairly high seas to keep the boiler supplied with feed water.
Some of my other training trips involved serving in the submarine HMS Finwhale (1966) where I did my first transit of Cardigan Bay and the guided missile destroyer HMS Kent (1968), where we sailed from Chatham round to the Aberporth range for missile firings – an activity already well known to my farming relatives as any unguided missiles that landed ashore afforded them an opportunity to claim from the Ministry for aborted cattle and any other perceived damage.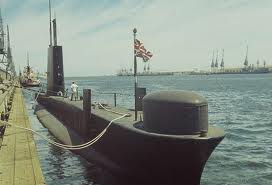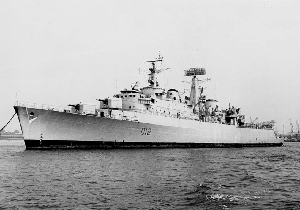 H.M.S. FINWHALE H.M.S. KENT
My first full time sea appointment after training was with the aircraft carrier HMS Ark Royal in 1969. I joined while she was still in the midst of her major 3 year rebuild with my first year spent with the ship in Plymouth Dockyard completing the ships massive rewiring and upgrading that would be required for the new jets and helicopters. We then undertook months of sea trials getting the ship systems ready for the air group. Eventually the new Phantom jets joined us together with the other aircraft and the new Sea King helicopters. By the time we had completed our training in the Western Approaches and the Moray Firth we were a ship's company of 2,500. It was a fabulously exciting time for me with adrenalin pumping each time an aircraft took off and landed on the small flight deck, particularly in poor weather with no diversion airfields. In effect the ship's company on board was carrying out the same role as they would have in wartime for, unlike earlier aircraft carriers, we carried no guns or other weapons for our own self defence. The aircraft provided both our offensive and defensive capability – for the aviators, once they were in the air, it would be just exercises but the actual take offs and landings were often real life heart racing moments for all.
H.M.S. ARK ROYAL

The time the Cold War really heated up for us was in 1970 in the Mediterranean when we collided with a Russian guided missile destroyer that was attempting to cross our bows as we were launching aircraft. With Ark Royal steaming at 30 knot to maintain sufficient wind speed over the deck the Russian Kotlin SAM destroyer misjudged the timing in this nautical game of chicken and, despite Ark Royal's four engines being put to emergency full astern the destroyer was hit a glancing blow on its port quarter and it then slid down our port side. Thankfully, and somewhat amazingly, casualties were limited and our helicopters and sea boats helped rescue a number of the Russian sailors.

Ark Royal continued to make headlines over the years but for me, after 3 years it was time for shore postings and I spent some 2 years with the nuclear monitoring teams checking submarine berths and training for weapon accident prevention. This was followed by the inevitable stint of teaching at HMS Collingwood, the training establishment for the weapon and electrical engineering branch.

From 1976 to 1978 it was back to sea in the Leander class frigate HMS Andromeda, one of the standard workhorses of the fleet with exercises in the Atlantic and Mediterranean and helping to train submariners by acting as both target and foe in realistic scenarios in the Scottish lochs. It also included the ceremonial aspect of R.N. ships participating in the 1977 Fleet Review for the Silver Jubilee and then touring parts of the UK to show the flag.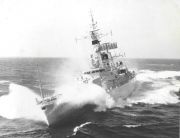 H.M.S. ANDROMEDA
Andromeda went into a long conversion programme in 1977 and I was able to escape further service in Devonport Dockyard by volunteering for a job as Trials Officer for the new missile system being introduced in to the R.N. This was the Seawolf missile system with its land trials taking place at Aberporth on my first year with the project. The next 2 years were mostly at sea in the Navy's newest ship the all missile frigate HMS Broadsword. This involved firing trials at Aberporth, cold weather trials off Canada and then missile tracking and firing trials in the Mediterranean and Caribbean where the targets were often 4.5 inch shells fired from the guns of another ships. The missile completed its trails and was accepted into service just in time for the Falklands War where it had great success in protecting British ships and the landings. Unfortunately I had been posted back to HMSCollingwood before the war started and could only provide support from a distance – although, unsurprisingly, my wife and family preferred it that way.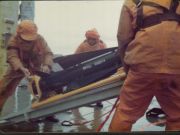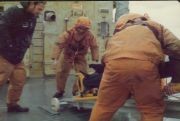 A SEAWOLF LAUNCHER LOADING ON H.M.S. BROADSWORD IN A FORCE 8 IN MID ATLANTIC

After completing the RN Staff College course in 1984 I went on to serve on the Type 42 destroyer HMS Gloucester joining her on completion of her building in Southampton, which at 4 miles from my Hamble home. This was the closest I ever lived to my workplace when ashore. With experience of ship building and trials from previous postings I enjoyed bringing another new ship into service. It was a rewarding challenge with very different weapon systems and a crew of 260 compared with an aircraft carrier's huge numbers. Controlling the trials and programme I ensured that our early visits were to Newport and Cardiff but our other visits included Portugal and Gibraltar and Newcastle.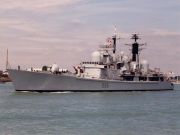 H.M.S. GLOUCESTER
After completing all trials the ship saw service in the first Gulf War and used its Seadart missile to bring down an Iraqi Scud missile that would otherwise have hit a large American amphibious ship. Again I was to miss the action as I had moved to a shore personnel job responsible for all the postings for sailors in my branch. I was only able to find out the details about this incident second hand when I was interviewing the Charge Chief Petty Officer, who had served on the ship and maintained the missile system, for his new posting. Personnel and training posts ashore then became the routine with my sea time restricted to visiting ships for short periods. After serving as Director of Training in HMS Collingwood in the early 1990s the remainder of my career was spent in Naval personnel posts very much involved with the setting of numbers (recruiting, promotions, redundancy and retirement) for the Navy. This culminated, very satisfyingly in creating and helping implement the new personnel system (codenamed Topmast) that has allowed the RN to improve its capability as numbers reduce, at the same time as providing greater harmony and personal planning for the individual sailor.

Now retired (from 2003) my sea time these days is spent on my 7 ton sloop based in Portsmouth and which is named after my mother Nancy Scott whose ashes are buried in St Matthews churchyard in Borth.