DAVID TINK
In 1941, David Tink b.1938 and his brother John were sent to live with their widowed grandmother Gertrude Hannah Whiterod, at West End, Borth. As David said, "If it hadn't been for Hitler I would not have been a Borth boy"! David was educated at Upper Borth Primary School under the benevolent dictatorship of Mr James the headmaster, then Ardwyn Grammar School and later HMS Conway Merchant Navy Cadet School on the Menai Straits.
David had become increasingly interested in the sea, partly from reading and listening to his godmother Muriel Kind's stories of her naval experiences. David then joined the Sea Cadet Corps in Aberystwyth and learnt to sail and pull cutters and whalers. Visits to warships paying courtesy visits to Aberystwyth also fuelled his interest in ships. He remembers visiting the battleships Duke of York and Anson, the destroyers Wizard, Diamond and Relentless, the frigate Fleetwood and the American destroyer Zellars. In 1953 just before his 15th birthday, he passed the entrance exam to the Conway. In addition to standard school subjects, cadets were taught navigation, chart work, seamanship, signals, ship construction and engineering.
After a while at Conway, David was promoted to junior cadet captain (boats), and as far as he was concerned it was idyllic! He was now responsible for overseeing the maintenance, rigging and cleanliness of all boats. David coxed the heavy duty cutter, and was stroke oarsman of the captain's gig and could take out any of the craft at any time, so rather than engage in athletics or cricket, he spent all his free time on the water. In his final term, he was promoted to deputy chief cadet captain.
From Conway, David secured a cadetship with Blue Star Line. Many of their vessels were refrigerated, bringing home beef from South America; lamb, wool and butter from Australia and New Zealand; grain, timber and fruit from the USA and Canada. Outbound general cargoes consisted of anything from toilet bowls to Rolls Royce's! Depending upon the size of the vessel and number of crew a cadet's duties were several. In port, one cadet kept the gangway watch from 0700 to 1900 while the others kept a cargo-loading log or ran errands for the chief officer. Entering and leaving ports the senior cadet would be on the bridge keeping the engine movement and helm orders log; answering and relaying messages and escorting the pilot to and from the pilot ladder. The other cadets would accompany the chief officer forward or the second mate aft while berthing or anchoring.
At sea in coastal waters, watches were maintained on the bridge with the second, third and fourth mates; once 'deep sea', cadets became labourers Under the supervision of the bosun they chipped rust, washed and painted bulkheads, cleaned bilges and polished brass! Cadets also maintained the lifeboats – painting interiors, greasing rigging, oiling davits and replenishing stores, fresh water and emergency flares. With the ship's carpenter they swept empty holds and laid dunnage in preparation for cargo, and steered the ship and kept lookout, as well as cleaning their own cabins and washing and ironing their own clothes.
His first ship was the 12,790-ton Brisbane Star built by Cammell Lairds in 1936; a veteran of Malta convoys, having taken part in Operation Pedestal. Despite having her bows blown off in a torpedo attack which reduced her speed to3 knots, she was one of only 5 merchant vessels to arrive in Malta out of 14.
In January 1956 David sailed from London to Hamburg and back to London, where they discharged the previous voyage's cargo in Avonmouth and then sailed for Australia with a refuelling stop in Tenerife. In Melbourne he met an old friend from the Conway and after a couple of beers went ice-skating. He swiftly learnt that one should not chase blondes around an ice rink unless one can skate properly. A broken kneecap resulted in hospitalisation in Melbourne and the Brisbane Star sailed home without her most junior cadet!
David came home on the Otranto solely due to "the old girl's and old boy's network"! His mother chatted to her next-door neighbour Mrs Roberts in Sea Haven, wife of Captain R. Roberts DSC; RD; RNR, who was in command of the Otranto on the Australia run. Captain Roberts duly chatted to an old friend (Blue Star Line's Marine Superintendent in Sydney) and so David found himself homeward bound on the Otranto one of the Orient Line's large two funnelled, pre-war passenger liners. To complete the Borth triumvirate, David's cousin Ivor Williams of Tydu, happened to be a crewmember. Spoilt by the passengers, as he was a 17 year old on crutches, and by the crew, as he was officially classed as a Distressed British Seaman, he had a very enjoyable voyage home via Suez. Invariably Captain Roberts invited him to the bridge during entering and leaving harbour so he could continue to learn the duties of a ship's officer.
After a long recuperation post the skating accident, David eventually returned to sea in November when he joined the Seattle Star in Liverpool. This old ship had a very cranky steering with a rudder indicator that had no relationship to the rudders position. So until one was used to it, the ship tended to wander over the ocean. The mate would stand in the wheelhouse alternately praying and cursing – praying that David would get it right and cursing when the rapid clicking of the gyro compass told him that he was getting it wrong! On the homeward voyage in a North Atlantic hurricane, the steering packed up in the middle of the night; emergency steering was rigged but before it was engaged, the ship broached, the deck cargo of timber shifted and heavy seas smashed a lifeboat and flooded the ship's galley. They lived off corned beef sandwiches and cocoa for the next three days!
It was on the Scottish Star that David made his first trip to South America, where he attempted to practice the Spanish he had learnt on the Conway by giving directions to a taxi driver. The Spanish was obviously inadequate as they ended up in the notorious Boca region of Buenos Aires. Fortunately half a dozen of the crew came out of a local bar and returned with them to the ship.
There was also a falling out with the master, which was all to do with a radio that David owned which was capable of picking up UK broadcasts in the South Atlantic. The Old Man was a cricket fanatic was unable to pick up the test matches on his set. He was furious that David preferred to listen to Radio Luxemburg and didn't report the cricket scores to him daily!
His next two ships were the Napier Star and the Empire Star. David recalls that there were two A.B.s on the Empire Star who were inseparable, big strong cheerful men known throughout the company as Big Mac and Big Taff. Mac was from the Outer Hebrides and Taff was from Glamorganshire. One day in an Australian pub, a sailor from another ship took a dislike to Mac for no apparent reason, other than perhaps his strong Highland accent. While Mac slowly put down his beer, Taff stood up and flattened the sailor with one punch, adding in Welsh "get lost you stupid bloody Englishman" Mac picked up his beer again and shook his head sadly "And he has the cheek to tell me the Gaelic is incomprehensible!" he sighed.
During leave in July 1958, a Blue Star Line franked letter addressed to Mr D.A.Tink (and not to Cadet D.A. Tink) arrived at his home. It requested Mr. D. A. Tink to take up the position of 4th Officer aboard the Sydney Star which he was to join in Liverpool on Friday 25th July, at a salary of £28 per month. On ships with four deck officers, the Chief Officer did not normally keep a watch. The 2nd kept the 4 -8, the 4th kept the 8-12 and the 3rd kept the 12-4; four hours on, eight hours off everyday at sea, except that their other duties, and David's, included all flags, seamen's wages, ship's library and anything else the Chief Officer thought of had to be done during the time off!
For his first watch, just after sailing from Liverpool, the Chief Officer was on the bridge as the ship headed west from the Bar Light vessel, rounding the Skerries, and heading south through Cardigan Bay. Next morning the master and Chief Officer came on the bridge at 0800, conferred briefly, then the Chief Officer said to David, "You're on your own" and he and Captain Pitcher disappeared! This was possibly one of the most thrilling moments of David's time at sea. It was four months before the mate joined him on the bridge again and that was at the end of a round the world voyage and they were steaming slowly through the Straits of Dover in poor visibility!
After a short stint on the English Star, David's next ship was the Rhodesia Star, which he joined in Hull. She was of all metal construction – tables, doors, bunks, cupboards all rattled noisily once the engines were turning! None of Blue Star ships were fitted with radar. However, it was necessary to have a radar observer's certificate before sitting for second mate's certificate. The company sent its cadets to the Sir John Cass Nautical College in London to obtain the radar qualification. David and fellow cadets steamed up and down the Thames in their training vessel for a fortnight learning the theory and practice before sitting the exam. On his next vessel the California Star, he prepared himself to sit for the Board of Trade second mate's certificate.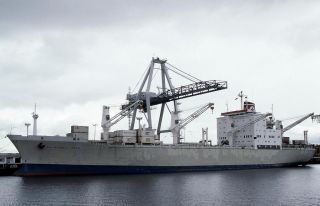 CALIFORNIA STAR
Prior to sitting the examination all cadets and apprentices spent three months studying at King Edwards Nautical College. There were nautical colleges at most of the major ports but David chose London as being the easiest to obtain accommodation – as he stayed at his cousin's flat in Kennington. A gathering of 20 year olds who had just completed 3 years at sea is not conducive to sensible and serious study but somehow over the Christmas and New Year period most of them managed it. With certificates proving David was qualified as a Radar Observer, and having passed the St John's First Aid and other appropriate examinations, he presented himself to the Board of Trade offices in Dock St for the "Orals" – conducted by a senior master mariner on the 'Board of the Examiners of masters and mates'. The first candidate before David appeared drenched in perspiration, and empty handed walked slowly and disconsolately out of the main door and obviously was heading for the nearest pub! It was not a good omen!
David walked in and the examiner pointed at a sextant on a table by the open window. "What's the horizontal angle between those two chimneys?" This was the East End of London, there were hundreds of chimneys but David chose the most prominent and read off the angle on the Vernier Scale. The examiner grunted, opened a drawer and threw a handful of ship models and lights on the desk and fired off a series of questions on Rule of the Road, Light Signals and the UK buoyage system.
Finally the examiner looked at his watch and snapped, "You have to lower a fidded topmast. What's your first action?" Convinced he was about to fail David retorted "Send for the bosun!". The examiner gave him a long hard look then grinned and said, "That was the most sensible answer I've heard today!" He pulled a pad towards himself, wrote "Passed" in large letters and tore off the sheet. "Give that to the clerk", David then shot out of the office before he could change his mind! The following week he collected his brand new second mate's certificate and made for Leadenhall Street and the Blue Star Line Offices as he had an important decision to make!
For the last couple of years David was becoming enamoured with the idea of flying – but also wanted to stay at sea, so the obvious choice was the Fleet Air Arm. However, if he applied for fixed wing then it was likely with his navigational background he would be streamlined as an Observer (Navigator). By 1959 the Royal Navy had started offering short service commissions as helicopter pilots, and David duly applied. After basic naval training on H.M.S. Thunderer and H.M.S. Seahawk he was awarded his 'wings' and sent to HMS Osprey (R.N.A.S. Portland) in Dorset for advanced and operational training.
Several ships later he was lent to HMS Surprise in the Med for 3 weeks for a large Naval Exercise. On this vessel there was a large teak deck which the First Lieutenant decreed was his cocktail and dance deck, but David decreed it was his flight deck; they reached a compromise – at cocktail parties drinks were served from the helicopter's cabin!
David was then given command of the Air Sea Rescue flights on H.M.S. Hermes. A couple of months later while Hermes went back into Plymouth for 10 days David detached the flight to RAF Valley in Anglesey for mountain flying training and then returned to Culdrose via Brawdy. This of course gave him the opportunity to fly over Borth. Telling his No 2 to hold clear, he let down to 200 ft over Ynyslas, roared over the golf course and along the main street to his parents house Wave Crest.
David's mother was talking to Maisie Richards, and the doctor's wife – Mrs Lloyd-Davies, when he arrived and went into a tight orbit. Next door but one to Wave Crest was the police station and Sergeant John rushed out and proceeded to note the aircraft's registration number muttering about low flying hooligans. "Don't be silly" said Maisie, "that's David Tink". Mrs Lloyd-Davies added, "After all, he is a Borth boy", in a tone, which indicated that Borth boys were perfectly entitled to contravene the low flying regulations. Sergeant John put away his notebook and joined the neighbours waving enthusiastically.
Any Borth seamen putting into Durban during the war years will remember the "Lady in White" (Mrs Perla Gibson) singing to Warships and Troopships as they entered or left the harbour. It was a tradition when waving 'Goodbye' to a departing troopship one of the soldiers shouted "Come on lady, give us a song"! Thereafter, from the jetty, she sang to any British warship. As Davids ship H.M.S. Albion departed Durban heading for Aden, in a change of tradition, Mrs. Gibson (now in her 70's and using her silver megaphone) sang to the crowds on the jetty from the captain's chair, which had been rigged on the flight deck. Afterwards David gave her her first helicopter flight when he flew her back to Durban Airport.
After David retired from the Royal Navy he became a civilian pilot for the North Sea oil industry. Apart from the routine of oil support operations and training (both aircraft and simulator) the job of chief training captain took him abroad fairly often with trips to the Falkland Islands, Malaysia, Ireland, Norway, and Dubai.
David remembers one assignment to Spitzbergen, which is just 600 miles from the North Pole where it was cold and blizzards were frequent - but it was fun. A radio request to a Norwegian Coastguard vessel, a trawler or a small cargo vessel would produce a laconic "Help Yourself" and the crew practiced lowering winch men and doctors onto their decks. Some of the local doctors and nurses were trained in helicopter rescue techniques. David was not really surprised that the winch men insisted that the pretty Norwegian nurses required more practice in the 'double lift harness' where the 'rescuer' and 'rescued' are winched up in very close proximity!
David says of his retirement that "now retired and living in Aberdeen, I can look back on a very happy and fulfilling time in uniform, be it MN, RN, RNR or Civil Aviation. I've seen the world and made many friends. My love of the sea is undiminished; twice I've skippered yachts on Mediterranean sailing holidays, taken a couple of cruises, and experience delight in teaching my grandchildren to sail and every summer my wife and I spend a couple of weeks pottering around the islands and lochs on the west coast of Scotland in our sea kayaks. My interest in the sea is maintained – I'm a member of the Vestey Group Shipping Association, the Marine Society, the Association of RN Officers, the Fleet Air Arm Officers Association and I'm Treasurer of the Scottish Branch of the 'Conway Club'. Since my parents and Godmother died I no longer have occasion to visit Borth. However in my mind's eye, I can still remember standing on the balcony at Cliff Haven and watching those long Irish Sea rollers sweeping across Borth Bay that gave me the desire to travel beyond the horizon – a desire I never regretted"!