DAVIES, WESLEYAN PLACE
The Davies clan of fisher folk were to become enmeshed in another tragic outcome of the First World War. Some of the family appear in a fabulous photograph taken by either the local chemist, Mr. Williams, or Dr Herbert Beadnell. The latter wrote a book, published in 1920, grandly titled An Extraordinary Guide to the City of Borth, in which he lauds the lobster catching prowess of one family member, Richard Davies 1863-1917. Within a few years of the photograph being taken around 1912, three of the four men appearing in it would die in tragic circumstances.
THE DAVIES CLAN
By 1916 Royal Naval Reservist, Richard Davies was already a veteran who had been awarded good conduct and long service medals. In 1915, he had been praised for his part in the attempted salvage of the 2000-ton steamer Van Stirum. This vessel had been attacked just off Liverpool by two German submarines. After trying to desperately dodge them, the captain decided for the safety of his crew, to take to the boats, abandoning the stricken vessel.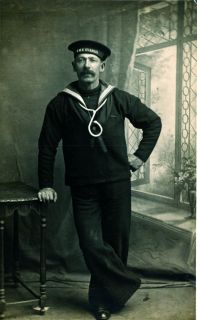 RICHARD DAVIES
Richard Davies, who at the time was on a patrol vessel, volunteered with three others to take a boat and board the still floating steamer and try to tie a line to her. The boarding party managed to get to her just as their own boat smashed itself against the steamers side. They managed to fix a towing hawser to her, but she started listing alarmingly. Thankfully, their patrol boat skipper realized the danger they were in and got them off just in time before the Van Stirum turned turtle and sank. Later on March 25th 1917, Richard Davies died while serving on the Evangel, off Milford Haven, which had been engaged in mine sweeping operations. He left a widow Mary and six children; David, Thomas, Jane, Mary, John and Richard. At the time, son Richard was on active service with the Royal Welch Fusiliers and John in the Royal Navy, serving on H.M.S. Caesar and H.M.S. Pomone.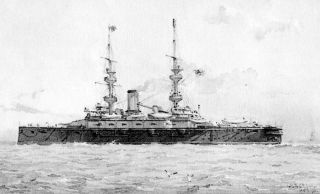 H.M.S. CAESAR
James Davies the older brother of Richard, was also a Royal Naval Reservist. He served on the H.M.S. Ocean and the H.M.S. King Alfred on mine sweeping duties, but had been retired as he had lost the sight of one eye on active service. Within seven months of his brother Richard's death, he too had died.
Events in 1917, far from the home waters of Maes Gwyddno, triggered James' fate. The 6,305-ton S.S. Memphian, of Liverpool, was on her way to New Orleans when she was torpedoed eight miles east of the Arklow lightship with the loss of thirty-two crewmembers. This vessel had already entered history as having warned the ill-fated Titanic about icebergs that would eventually sink her.
By the end of the week, the wreckage from the stricken Memphian reached northern Ceredigion waters. The flotsam, which included oars and hatch covers marked Memphian, was strewn from Traeth Bach at Wallog to Trwyn Pellaf, and two bodies were washed ashore at Borth beach. Part of the ships cargo of cork bales was also found in the vicinity and were valuable enough to warrant being salvaged.
James Davies and his nephew David 1895-1917, were joined by thirteen year old Harry Jones of Troed yr Rhiw as they prepared to set out from Borth beach in the family boat. Four-year-old Jac Richards of Maelgwyn was one of the last to see them alive, and recalled early on that Thursday morning, just being able to see out of a downstairs window, watching the preparations of the boating party prior to leaving the beach, as he stated "it was very misty and sometimes they vanished and reappeared as the mist periodically cleared. I saw them row out a little way then they totally disappeared" Their purpose was to salvage the many floating bales of cork. In all probability all three fell into the water and drowned after capsizing their boat whilst attempting to roll the large cork bales into it.
By 3 o'clock on the same day, Harry Jones' mother became alarmed at the deteriorating weather conditions combined with a late return. Passing Pengoitan she walked up towards Craig Y Wylfa, but before getting there she saw the upside down boat drifting off Trwyn Canol, which was later recovered on the Aberdyfi bar on Friday morning. There was no sign of the men. The womenfolk of the Davies family accompanied by Harry Jones' parents, kept a fruitless vigil on Craig Y Wylfa for weeks on end, as the bodies were never recovered.
A sequel to these events took place in 1921when the Borth War Memorial Committee decided to omit the name of James Davies, R.N.R. Wesleyan Place, from the war memorial, because officially he had been invalided out of the service prior to his death. However the villagers immediately drew up a successful petition to ensure that his name was not be erased, and furthermore that the other two drowned salvagers were to be included .
The only male survivor of those appearing in the photograph mentioned in the first paragraph was John James Davies, or as he was known locally, Jac Shami. He joined the Royal Navy and served on H.M.S. Hood. Later, like his cousin John William Davies, he continued sailing as a merchant seaman, and he appears in photographs from the 1930's on the Cape Howe, Stanholm and Dallas City.
JOHN JAMES DAVIES
John William Davies b.1893 was a seaman all his life. After serving with distinction in the Royal Navy in the First World War, he joined the Merchant Navy. He was on the Cape Howe and then served on several Port Line vessels. In December of 1938, whilst serving on the M.V. Dallas City, he was hospitalized in Korea suffering from pneumonia, from which he died. Evan William Lewis of Panteg was on the same ship, and he too was to lose his life two years later in 1940, when the S.S. Bradfyne was torpedoed. Amongst the mourners at John's funeral in Korea were the captains and crew of the Dallas City, Fresno City and S.S. Llangollen. John William Davies often sailed with Borth relatives and friends, as some fine photographs attest to.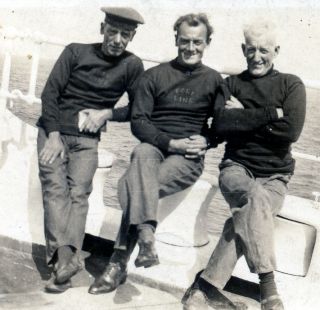 JOHN & THOMAS DAVIES AND COUSIN EVAN
This Borth fisher family had done their duty in time of war, often paying with their lives, and their descendants continue to produce mariners and man local lifeboats, with Borth's Ronnie Davies being awarded the M.B.E. for his services to the R.N.L.I.
Other Borth relatives were Evan Davies, Mona House, and his son Evan Leslie. Captain Evan Leslie Davies was awarded an O.B.E. for services rendered during the Second World War. His vessel was attacked many times from the air, by E-Boat and long-range guns. His defensive strategies were highly praised, and it was noted that he showed consistent courage, skill and seamanship. It is curious to think that in the 1930's, during the Depression, this talented mariner was for a time, forced to find work on land in the police force.
The Davies family can be traced back to the 1700's, with an Evan Davies b.1796 marrying an Ann b.1806 at Borth. Evan is a christian name that persists down the generations in the Aberystwyth branch of the family. Some Davies fishermen moved to Aberystwyth around the 1850's and took the beach fisher tradition of their native village with them and also took the Borth designed beach boat. For generations they supplied coxswains and crew for the Aberystwyth Lifeboat. One of the Davies women married into the Parry family of Trefechan, and gave their offspring a saltwater perspective, with many Parry's becoming major players in Aberystwyth based fisheries.
A descendant of the Davies family that went to Aberystwyth, Evan Desmond Davies b.1924, related that his grandfather Evan, and his great-uncle, John, moved their families and furniture from Borth to Aberystwyth by sea. These brothers were a fiery pair and in one dispute over ownership of a small boat, Evan resolved matters by taking a hand saw, going down to Aberystwyth harbour and cutting it in half.
The brothers owned two large sailing trawlers the Gypsy King and the Gypsy Maid. The former sailed to Borth, anchored off shore and sent a punt on to the beach to transfer both families' household items onto the larger vessel, and sailed south to Aberystwyth. There is a fine Alfred Worthington painting of the Gypsy King, depicting her with some of her sails torn, as this was how she returned after one memorable five day fishing trip, just prior to the artist painting her. She was a beam trawler, with only one mechanical device aboard, a steam winch, for hauling the net aboard.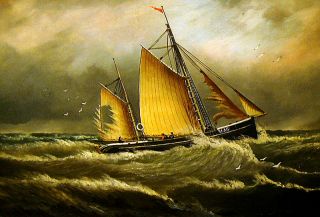 GYPSY KING
Desmond often wondered how his grandfather Evan met and married a girl from Welshpool. The answer was simple, she was the daughter of the Simister family of rope makers that the brothers did business with. Apparently, this formidable lady was the business brain of the family, and when she died, she left a substantial portfolio of Aberystwyth properties. According to Desmond, his grandfather needed somebody to tighten the reign, as after his fishing trips his wife would limit his access to the profit as he was prone to overindulge in the local pubs. Evan, to compensate for this enforced lack of funds would apparently tap dance on an inverted dinner plate in the pub to entertain patrons who would show their appreciation by buying him drinks.
At a glance the mariners in direct descent from Evan b.1796, are Evan b.1837, a master mariner who by 1881 was living in Aberystwyth. Evan b.1859 was mate on the Picton Castle and Evan James b.1898, served on the Lusitania and the Mauritania, as well as being in the R.N.R. during World War One. He received a Russian Medal in 1916 for participating in the rescue of a Russian family whilst serving on H.M.S. Jupiter.
Evan Desmond Davies went to sea on the Lottie R with Captain John Brodigan, a relative of the Williams and Brodigan families of Borth. Desmond served through the latter years of the Second World War, then left the sea for a time, and re-joined when he was fifty in 1974, and stayed on until he was sixty-five. As he maintains, there were huge changes between his two periods at sea. One of his sons, Evan John Davies, was a mariner for fourteen years.