DOROTHY TOLER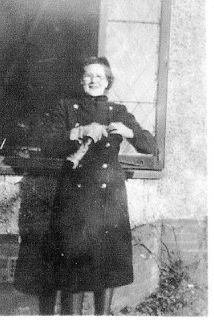 Dorothy Toler b.1916 was the youngest of three children. Her father was a Second Lieutenant in the R.A.S.C. but she was never to know her parents. As they were returning from Dublin to Liverpool in 1918 on the R.M.S. Leinster, the vessel was torpedoed and sunk off Dublin Bay. The children were "farmed out" to family, the elder two staying together while Dorothy went to a childless couple. Later she trained as a nurse at Great Ormond Street Hospital.
At the start of World War Two, Dorothy joined the WRNS and in due course became a member of Coastal Forces with the rank of Petty Officer, based at Hornet, Boscawen and Kestral as a driver. After a few driving lessons she was questioned on her driving skills and mechanical knowledge, and must obviously have given a good account of herself. Consequently, she was allocated a three-ton Bedford lorry to deliver new MTB/MGB engines and collect damaged engines for repair. In later years, she would claim not to know a spanner from a tyre lever!
One of the many tales she used to tell was of a trip to a factory at Brooklands racetrack. Whilst waiting for the load, she asked if she could take her lorry around the racetrack and was given the go-ahead. She, therefore, may have been the only female to drive a goods vehicle on the "banks", though she never let on how fast the Bedford could go! As many of the loads were of high value and important to the war effort, a naval armed guard would be allocated on certain trips. Their amorous advances were unwelcome, so she asked if she could be issued with a rifle. On explanation a rifle was issued but never fired in anger.
After the war, a chance conversation with her next-door neighbour Miss Hyatt led to a summer job at a café in Dolybont. It was there that she met her husband Robert Toler, who had a long association with Borth which had begun with camping holidays at Ynyslas as a young man, and later, working in the lead mines.
When the Lovedon Mine finally closed due to flooding, he became a mechanic at the Nelson garage in Aberystwyth. He worked at this job during the war and was a member of the Borth Home Guard (No. 16 Platoon, "D" Company, 1st Cardiganshire Home Guard). They married in 1947, and upon noticing Moelynys deserted after the military "occupation", fell in love with it, obtained a mortgage, bought it from the Gregson estate, and ran it as a guesthouse until 1967. They grew vegetables for the business and any surplus was sold to Aran Morris for his greengrocers shop.
Dorothy was a keen supporter of the Life Boat and became involved with the Borth Ladies Guild when it was formed, serving on the committee. In later years, she helped in the Life Boat shop, therefore maintaining the nautical link. She also served as Vicars Warden in St. Mathews church, and was a member of the Cardiganshire Horticultural Society.