ELLIS MARINERS
When shoemaker John Ellis b.1853, from an old Machynlleth family going back to a Hugh Ellis in the 1700's, married Borth girl Mary James, it was the beginning of another dynasty in the maritime history of Borth. Mary came from an illustrious family, which had produced master mariners for generations. John and Mary were to have three sons, who all had connections with the sea; Captain David Ellis 1880-1961, John Hayden Ellis 1886-1940, and Rowland Hugh Ellis 1894-1960.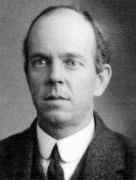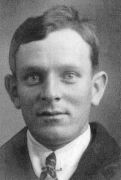 JOHN HAYDEN ELLIS ROWLAND HUGH ELLIS
David Ellis became second mate in 1903, first mate in 1905 and passed as master in 1908 and was captain of the Mexico, Glenavy, Lantaro, Lobos, Losada and the Salvador that was his last command in 1938. He retired to Llys Iago in Penybont after his seafaring days. Apparently in his old age, his eyesight had deteriorated to the point where postman Tommy Jenkins, had to read his letters to him. This practice came to a very sudden halt one day as the postman realized he was reading the wrong letter. Instead of taking it back to the post office and writing on it "inadvertently damaged", he took it to the rightful owners, a couple of spinsters who lived nearby at Penybont, and explained what happened. This did not go down well and it was officially reported. A Post Office official came from Aberystwyth and would probably have terminated the postman's employment but for the rest of the Borth postmen putting up a united protest. Tommy Jenkins' experiences at sea and in a Japanese prisoner of war camp, finally persuaded the irate spinsters to drop their complaint. Captain Ellis continued to have his letters read out to him from that time onwards by some very cautious postmen.
John Hayden Ellis, as a young merchant mariner went to live in Freemantle West Australia for a few years before the First World War. It was there that he married Annie, who had emigrated there in 1911 from London on the S.S. Otranto. Their first son, John (Jac) David Ellis, was born in 1917. Whilst Hayden Ellis was in Australia, he was awarded a Royal Humane Society of Australia Certificate of Merit, which reads as follows… "It was resolved that the courage and humanity displayed by John Hayden Ellis of the Pilot Station, Albany, W.A., boatman, aged 27 years, who risked his life in attempting to rescue William Thomas West from drowning at Albany on November 9th 1913…entitles him to the Certificate of Merit of this society". Part of the citation is as follows…. "West fell off the jetty into the sea, which was very rough and the tide running out. Ellis ran a quarter of a mile and went out in a boat to the rescue. He then dived into 16 feet of water, and reached West. He bought him to the jetty, but all efforts at resuscitation failed". The Humane society of Australia published a book in 1994 called 7,000 Brave Australians, which included the Ellis rescue. Recently his grandson John wryly observed "perhaps the title should be amended to 6,999 Brave Australians and a Mariner from Borth". The family returned to Britain on the S.S. Orsova and moved back to Borth to live at White Lion House, today's Beatrice, where another son, Thomas Ellis, was born in 1920.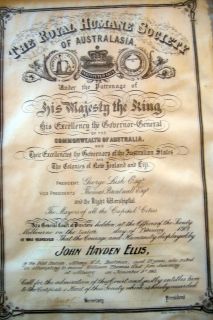 JOHN HAYDEN ELLIS' BRAVERY AWARD
Australian born Jac attended Morfa School, and was happily continuing his studies at the age of 14, when things suddenly changed for him. He remembers his father coming back from sea, and having an unusually long series of whispered discussions with his mother, which were quite mystifying. The next thing he knew his parents returned from Aberystwyth with a pair of overalls which he was told to try on. After a successful fitting, with room to grow, he was informed that he was going to sea with his father, who was bosun on the S.S. Earlspark. On his first voyage to Newfoundland Jac remembers being violently seasick.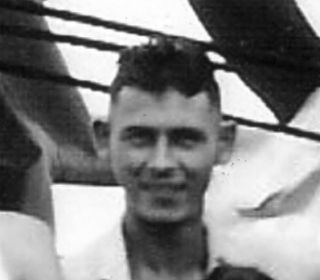 JAC ELLIS
Father and son sailed together on this vessel for the next 5 years, visiting many small ports on the east and west coasts of Africa. On one occasion when he was sixteen, he remembers being a little bit tense, and a touch annoyed when he found himself at the wheel, fast approaching Durban, and expecting any minute to be relieved by a more experienced seaman. This did not eventuate and he was told in no uncertain terms that not only had he done well, but that very few sixteen year olds would have been allowed such a privilege.
In 1938 Jac was footloose in Borth doing some painting and decorating with his pal Enoch Pugh of the Friendship Inn. Seeking further adventure, he decided one day to go to the drill hall in Aberystwyth and join the army. He served in the Welsh Guards throughout the Second World War, and was part of the British Expeditionary Force that escaped from Dunkirk. He later went back to Europe as part of the Liberation Army, where unbeknownst to him, he was in the contingent that liberated a prison of war camp that young Borth seaman Harry Jones had been held in since 1939. As Jac recalls, it was only at the end of the war, when he was back home that he realized Harry had been at that particular camp. Jac's war was spent in the dangerous duties of petrol lorry driver, constantly re-supplying the tanks along the front line. Jac recalls that he often slept under the truck, which was lethal if it got hit.
After the war, he was offered work as a painter and decorator in the Midlands, where he stayed and he is now retired living at Great Barr, Birmingham. Another ex-seaman Edwin Jenkins, of Otago House, who had served in the Royal Navy during the Second World War, also moved away to become a painter and decorator in Llanidloes.
Jac's father, John Hayden Ellis, was not as lucky as he had continued to serve as bosun on the 5,250 ton S.S. Earlspark. This vessel was torpedoed in 1940 by U101 whilst on a voyage from Sunderland with a cargo of coal bound for France, approximately 60 nautical miles northwest of Cape Finisterre. The captain at the time of this tragedy was Evan James Williams of Borth. According to the thirty-one survivors, John Hayden Ellis again displayed selfless courage by desperately trying to save the captain, and in this process lost his own life.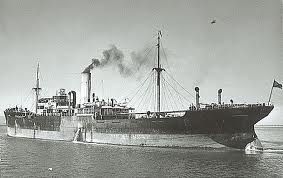 S.S. EARLSPARK
Rowland Hugh Ellis was at sea most of his life, and served as bosun on the Pontwern Oakfield, Zeeelandier, Beechpark, Wheatsheaf, Penhill, Welsh City, Leeds City and the New Westminster City. In 1916, he was torpedoed on the Margam Abbey, and in January of the following year, he survived the torpedoing of the Lady Carrington. No sooner was he home from the latter event than he was off to Barry to join another ship! In 1918 with Captain Williams of Picton House, in command of the S.S. Foreric, Rowland, who lived in Carron House, joined the Borth crew contingent consisting of Vernon Williams Picton, John Davies Trigfan and Gwilym Davies Nathaniel, at Borth railway station to travel to Glasgow to join the ship. Later in 1934 Rowland survived the wrecking of the Plas Dinam which ran aground in dense fog off the coast of Newfoundland.
Jac Ellis was great friends with the Pugh boys of the Friendship Inn. Freddy was in the R.A.F., Enoch in the Royal Marines and Jacky was in the Royal navy in the 1930's. He served on H.M.S. Rodney and H.M.S. Despatch after training at H.M.S. Ganges Harwich.
Mishaps at sea were experienced by most mariners, some of whom were at sea up until their 70's, such as William Jones 1847-1918, who was seventy-one when he lost his life after a torpedo attack on the S.S. Rysdael. Archibald Morgan Rees b.1857 was second mate on the Kelvinside in 1887, when she foundered at Mauritius. Later at sixty-one years of age, he survived the torpedoing of the S.S. Bernard at the end of World War One.