HUGHES MARINERS
The Hughes clan was involved with maritime affairs for over three centuries, and disentangling them is nigh impossible. The following are notes on some of them.
Captain Hugh Hughes b.1827 commanded the sloop Dart from 1857 until 1860, the sloop Bee from 1870 to 1872, the schooners Martha James 1872 to 1874, Lady Zetland 1875 to 1877, Agenoria 1881 to 1883 and the Clara Felicia from 1884 to 1886. He amassed quite a property portfolio, owning and at one time living in Gwendon, and later resided for a time at Tynparc in Llandre. He owned the three cottages built around 1700 to the south of the Railway Inn at Borth, which he left to his daughters. The centre one, Hendre, was where one of his last descendants, a granddaughter, lived. His older brother, Captain John Hughes, was born in 1823, and lived at Llandre, and captained the schooners Capricorn and the Jane. The Hughes clans produced fifty or so seafarers, with over twenty master mariners and were primarily active in the 19th century.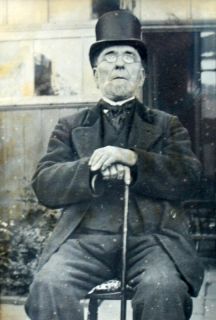 CAPT. HUGH HUGHES CAPT. JOHN HUGHES
David Hughes b.1825, was master of the 99-ton brigantine Malvina. Another David Hughes b.1841, became a captain in 1865, and commanded the local sailing vessels Mary Anne, Ivanhoe and, for a decade, the 663-ton barque Caroline Spooner. Evan Hughes b.1849, was captain of the barques Hannah, Hugh Ewing and the Spirit of the South. He died on the latter vessel leaving a widow Mary Jane Hughes who lived at Everton House; who later married Captain David Williams 1849-1910.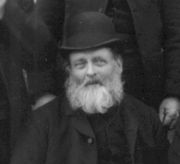 CAPT. DAVID HUGHES
There were four John Hughes'; one born in 1808, who was captain of the Aberystwyth, another born in 1823 captained the schooner Jane of Aberystwyth. A John Hughes born in 1834, drowned at sea whilst captain of the Jane Maria on a voyage from Vera Cruz to London, and a fourth John, born in 1836 owned and commanded the local schooner Lorne for over a quarter of a century. Disentangling the relationships of the Hughes families of Borth is almost impossible. Suffice to say that they and the James' crop up everywhere, marrying into other seafaring families such as the Daniels, Ellis', Williams' and Jones'.