JOHN DAVIES MAESTEG
Captain John Davies 1872-1947, of Maesteg House, Borth, was one of the most loved characters of the village. He was kind, considerate and a supreme optimist who worked all over the world in far-flung places. For five years he was in the Orient trading from the ports of Shanghai and Hong Kong, and later in his career worked on the Eastern seaboard of Canada and America, as well as plying the Great Lakes. He was a classic example of a seafarer who took the transition from sail to steam in his stride. He was a great entrepreneur who owned sail and steam vessels for nearly 40 years. This page is about his family.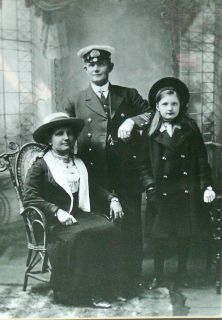 CAPTAIN JOHN DAVIES THE CAPTAIN, MARGARET & MEIRIONA
It all began with

John Davies, born in Tresaith around 1805 who married a Borth girl, Margaret Evans b.1807, of Taicannol, and settled down in the village. They had five children, one girl Jane b.1831, and four boys John b.1834, William b.1839, Enoch b.1836 and Thomas b.1841. Unfortunately their father John Davies, and three other Borth men, were caught in a sudden storm whilst herring fishing in the bay, and they all lost their lives. There was no time for sentiment as all four boys were at sea by the time they were nine years old on coastal sloops. The three eldest boys did not see their thirtieth birthdays; and we presume that they also died at sea. This left only Thomas to support his mother Margaret and sister Jane. Thomas went to sea with Captain Richard Jenkins from the port of Aberdyfi. Later he obtained his master mariners certificate at Dublin when he was twenty-two years of age.

Thomas 1842-1911 married Margaret Williams 1842-1933, who came from Llanfiangel Y Creuddyn. He served as first officer on the Amethyst and the Vindornara and captained the Mediterranean for a number of years. They had five children, Margarita b.1868, William Thomas b1869, John b.1872, Enoch b.1875 and Evan b.1880. The boys were named in remembrance of Thomas's brothers who were lost at sea. Evan was the only son who did not go to sea, deciding to take up a scholastic career and eventually was ordained as a priest in the Church of Wales and became Vicar of Llandrillo, Merionethshire. John and William Thomas became master mariners and Enoch a ships engineer.


CAPT. THOMAS DAVIES MARGARET DAVIES (nee Williams)
William Thomas Davies 1869-1934, went to sea at thirteen years of age on the barque Dora Ann of Aberystwyth. On his first voyage he went to the west coast of South America under the command of his uncle Captain John Lloyd. Afterwards he sailed in schooners and steamers, both in the home and foreign trade. He obtained his second mates certificate in 1890 and his masters three years later. He was on the S.S. Glanystwyth as Second Mate, then first mate on the S.S. Glanhavren, remaining on her until he gained his masters certificate. He was captain at twenty-five years of age and commanded the Glanystwyth, Etonian, Cheltonian, Carthusian, Rugbean, Clan Keith, Cliftonian, Northern, Plas Dinhan and the Glenveck, which were owned by Mathius Co. of Aberystwyth. He stayed with this company until they sold all their ships in 1922. He managed to sail throughout the Great War 1914-1918, without mishap despite some very narrow escapes.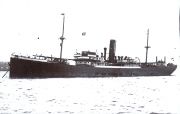 CAPT. WILLIAM T. DAVIES CLAN KEITH
The captain's only son, Gwilym Idwal Parry Davies, after completing his engineers apprenticeship at Vickers of Barrow, served as an engineer officer with the Blue Funnel Line, where he obtained his first engineers certificate. Later he took up a shore appointment with Texaco Oil Company in Liverpool; but as soon as World War Two broke out he joined the Army and became a Major in the Royal Tank Corps.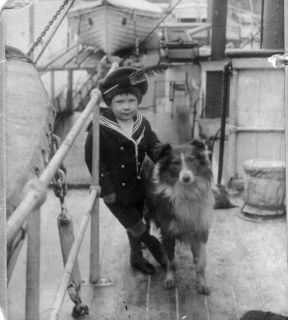 MAMGU AND BABY IDWAL GWILYM IDWAL PARRY DAVIES
CHIEF ENGINEER GWILYM IDWAL PARRY DAVIES
Enoch Davies 1876-1923, who lived at Grosvenor Villa, became a blacksmith at the Eagle Foundry Aberystwyth, and after receiving his indentures, joined the S.S. Glanhavren as third engineer. Promotion followed, and he joined the S.S. Feliciana as second engineer. In 1900, he sat and gained his first engineers certificate whilst he was back on the Glanhavren. During the Great War, Enoch was torpedoed twice, the second time was when he sailed with Captain J. O. Enos on the S.S. Cheltonian. After the end of the war, his brother John persuaded Enoch, to go halves in the S.S. Cornubia, which traded with John in command, and brother Enoch as chief engineer. This vessel ended her days wrecked on the Irish coast on a voyage from Galway to Ayr in Scotland. A terrific gale sprang up and as she was in ballast she could make no progress against the heavy seas. Consequently the vessel drifted beyond control onto the Mantle Rocks, 15 miles off Galway. The crew of ten landed safely near the village of Inveran. A large number of the locals boarded the ship and looted all that they could lay their hands upon. Sadly and rather ironically Enoch drowned in Gloucester Canal on 27th March 1923.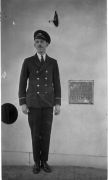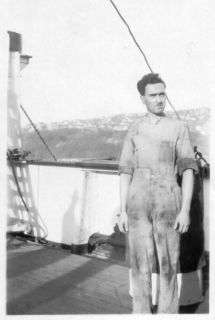 CHIEF ENGINEER ENOCH DAVIES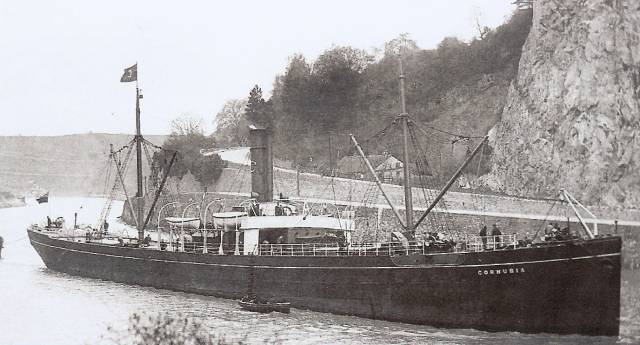 S.S. CORNUBIA
Enoch had married Janet Hughes in 1905. Of their four children only one went to sea, and that was Neermol. He served during the Second World War as sub leiutenant in the Royal Navy on H.M.SKing George V. After the war he emigrated to Canada in 1947.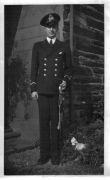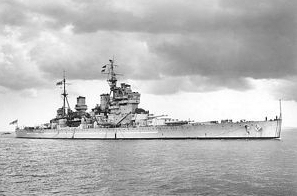 LEIUTENANT NEERMOL DAVIES H.M.S. KING GEORGE V
Captain John Davies 1872-1947, went to sea at the age of thirteen on the schooner Jane Owen, owned and commanded by Captain Richard Jenkins, who was at this time well into his seventies. This was quite remarkable as both John and his father before him, went on their maiden voyages with the same skipper. John sailed in many vessels of different types, and obtained his second mates certificate in 1893 on the barque Bidston Hill, with Captain William John Jones of Borth in command. Finding the next berth was very difficult as there was a slump in shipping trade at the time.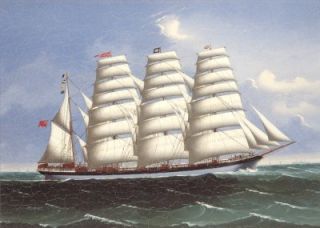 BIDSTON HILL
Eventually he joined the S.S. Alma and went on to serve as second mate on the S.S. Earl of Dumphries and S.S. Glantivy. He then moved back to sail on the large barque Lord Shaftsbury, and became first mate on this ship serving in that capacity from 1897 to 1899. He later joined the China Navigational Company Coastal Service to Shanghai, and remained with the company until 1910, before returning home. It was with this company that he gained his masters certificate in 1901.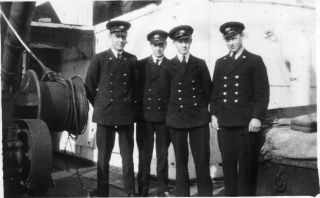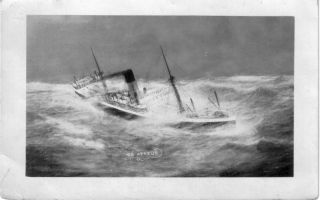 JOHN DAVIES (FAR RIGHT) ON S.S. ATREUS S.S. ATREUS
John Davies married Margaret Catherine Ellis, daughter of gamekeeper Hugh Ellis from near Dolgellau. They had a daughter Meiriona Ellis Davies, who later married Captain Lewis James Herbert. Mother and daughter joined the newly appointed captain in Shanghai where they lived for three years in Havelock Street. Granddaughter Jean Caswell relates how on many an occasion they had to admonish their Chinese nanny who kept binding infant Meiriona's feet in the time honoured tradition, and simply could not understand why they kept undoing her well intended work. Apparently Meiriona's feet were troublesome for most of her life.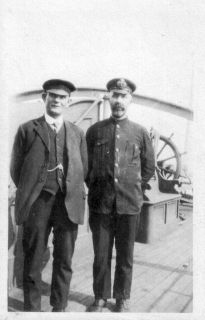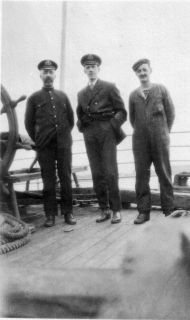 BROTHERS JOHN & ENOCH DAVIES ENOCH & NEPHEW, GWILYM IDWAL
For a more comprehensive Davies family history see books Borth a Seaborn Village and Borth a Maritime History.
My thanks to Jean Caswell for some of the photographs, and I am especially grateful to Paul Mosedale for the majority of those that appear on this page of the website.