JONES, PANTEG
The Jones family of Troedyrhiw, whose son Harry drowned whilst salvaging with the Davies fisherfolk, were also to lose another son to tuberculosis. Two other sons were in the army at the time and a third, Thomas, was at sea on the same ship as my grandfather. By 1917, Thomas had joined the R.N.R. and served on H.M.S. Drake. Later in 1930, Thomas, joined by his brother, jumped ship in Australia, and were for a time, looked after by a young couple that had gone from Borth to Melbourne as teachers. Gwen Lloyd, who lives next door at Frondirion, is still mystified sixty years later as to why their parents did not send money for a passage home despite the Jones' running a successful market garden enterprise at Troedyrhiw.
Harry Jones' name lived on in another seafaring relative; David Henry "Harry" Jones 1924-1981 of Panteg House. Harry joined the Merchant Navy in 1939 and his first voyage ended abruptly when his ship was impounded in Hamburg after World War Two was declared. The crew were force-marched through wintry conditions to a German prison of war camp where he remained for the duration. At the camp, he befriended another prisoner, Chief Steward John Stanley Hampson 1919-71.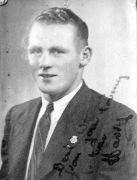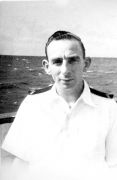 HARRY JONES JOHN STANLEY HAMPSON
Harry had no idea that during his internment that his father had died, nor that two of his sisters, Lilian and Mary were in the Womens Royal Army Corps. Lilian served in Malaysia and Mary in Europe. At the war's end, prior to their repatriation to Britain, Harry and John were at a huge celebratory party held in an aeroplane hangar. Whilst Harry was dancing, he literally bumped into his W.R.A.C sister Mary. John was introduced to her and romance immediately blossomed, and after returning to Britain, they married and lived at Borth. After nearly a decade, John returned to sea, sailing from Newport on the Welsh Minstrel. I clearly remember him going and returning from his voyages, always carrying a small old-fashioned leather suitcase.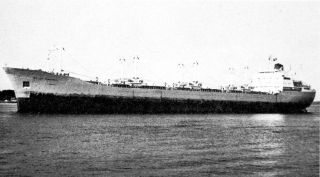 WELSH MINSTREL
Harry returned to sea with the Manchester Lines, at the cessation of hostilities. He frequently travelled to America and Canada on the Manchester Commerce and Manchester Port, visiting many ports including Chicago. He was a character that loomed large in my youth as every time he came back from sea it was party time, both in the village pubs and in the now vanished, Panteg, where his widowed mother and his sisters and their families would have roaring times.
I met him several times in Sydney where I would join him on the Asian Renown, another vessel run by Manchester Lines. Harry served this company as a bosun for 30 years. He took his wife Anne with him on several voyages. Sadly, he died of cancer in 1981. One of his pals, who lived across the lane in front of his house, was Ronald Jenkins who was in the Royal Navy during the Second World War. When they were both home from sea at the same time they would often rig up a breeches buoy from the upper floors of their respective homes causing great consternation amongst users of the laneway they "crossed over". Ronald was quite a character, and after returning to Borth at the end of the war, he, like a few others, decided to moved away and seek employment elsewhere.
Another of Harry Jones' brothers-in-law, Idris Wyn Jones b.1928, was at sea for over sixteen years, from 1944-60. He served on sixty ships belonging mainly to the Blue Funnel Line. Amongst the vessels he was on were the Agapenor, Laomedo, Mentor, Cyclops, Stentor, Jason, Demodocus and the Rhesus. In the final year of the Second World War he was in the Far East carrying ammunition and supplies to Surabaya, Batavia and Port Moresby. After the end of hostilities the ships he was on were returning supplies and vehicles to Australia, and he often voyaged to Japan around this time.
IDRIS WYN JONES
Idris often points out that his career as a seaman almost ended on his first trip ashore in East Africa. The ship was tied up at Mombassa and he decided to go to the cinema as he was barely sixteen years of age, rather than going drinking with the rest of the crew. After leaving the cinema late at night, he decided not to wait around for his shipmates, but attempted to get a taxi back to the ship, to no avail. As it was only three or four miles away he would walk it despite it being pitch black. Luckily he saw a Royal Naval officer and explained to him that he was a merchant seaman who needed directions back to the port. "Are you mad, you will get eaten by lions", came the reply. Idris was told to wait a while, and the officer waved down a Royal Navy lorry and instructed them to give him a lift back to his ship. Sure enough, during the drive back Idris saw a couple of lions crossing the road in the headlights. Idris and Harry's sister Lilian lived until recently at Panteg, which is now demolished.