LEN AND STEPHEN DENNETT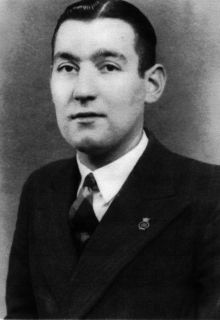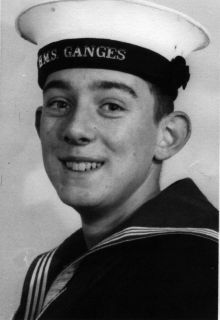 LEN DENNETT STEPHEN DENNETT
Len Dennett born in Kent in 1920 had an affinity with the Welsh, as most of his school chums were the sons of Welsh miners working in the Kent coalfields. He trained as a chef then got a position on a private yacht, the Davydon. In 1939 he was on this vessel on a canal near Calais in France. There was a few days delay prior to crossing back to England because of the outbreak of the war. On the 14th of November 1939 he joined H.M.S. Hergar, reg. 161241, on a T124 admiralty agreement. This vessel acted as escort for the east coast fishing fleet from Grimsby to Yarmouth and also did boom defense work. Len was paid off after this vessel was in a collision with the minelayer H.M.S. Salamander.
On the 7th May 1940 he joined the H.M.V. Camroux, a coaster, which had been seconded by the R.A.F. for experimental work involving night drifting toward German minefields off the French coast for the purpose of fine-tuning radar systems. There was also some involvement with the balloon establishment at Cardington. As she was in the area at that time, the navy requested that the Camroux was needed for evacuation work at Dunkirk. However, the R.A.F. refused as she was carrying a large number of hydrogen cylinders which were too expensive to jettison and too dangerous for evacuation work.
In August 1940 the vessel was sent to Fishguard from where it spent most of its time voyaging along the Welsh coastline. It began working with the Aberporth rocket range by positioning targets in Cardigan Bay. The vessel had been to Heysham to pick up large-scale models of bombers, which were hung from huge balloons anchored out from Aberporth. They were part of the experiments with rockets which dispersed hundreds of little parachutes, which trailed wires meant to foul airplane propellers. Len remembers that on occasion some of these weird and wonderful experiments would go awry as rockets would home in on the ship itself so it was full speed ahead. The Camroux would pick up various types of rockets and ammunition from an arsenal at Trecwn, Pembrokeshire and often lay targets offshore from Manorbier and Pendine Sands. He recalls, when based later at Aberdyfi frequently passing sailing cutters full of young trainee officers from the Outward Bound School at that port. Len felt sorry for them as they were often out at sea for three or four days and looked totally worn out by the experience.
In 1942, the R.A.F. personnel left the Camroux to be replaced by some thirty army officers and men to be taken to Aberdyfi. They lived on board ship whilst the Ynyslas camp was being completed. Effectively the vessel had switched from R.A.F. control to Royal Ordinance control and was from then on based at Aberdyfi. Len recalls, "The army needed us to mark the low water line all around the Dyfi. The vast estuarine area within it they squared off into grids each of which was a target area for the rockets being fired from the Ynyslas base. We also fired a few rockets and shells at various times. Our vessel was essentially a coaster that had been cleared and armed for the special work we were to do. The idea of the target grids was to ensure accuracy of the weapons they were experimenting with".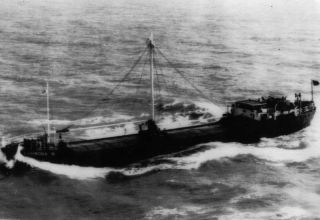 CAMROUX
In 1943 when Barnes Wallace was experimenting with what was later to become the dam buster bomb, part of the tests took place at a lake near Capel Currig. Scientists and army personnel were billeted in a large hall near the area and as there were no A.T.S. women available to do the cooking Len was sent up there to cater for them. "All I remember was that it was winter time and freezing cold up there".
In essence the Camroux whilst based in Aberdyfi, was working for the Royal Ordinance Company developing and testing rockets, projectiles, radio, radar and underwater propulsions at Ynyslas and Borth. What Len finds perplexing is the apparent ignorance about what went on at Ynyslas and its important contribution to the war effort. There are no accounts, personal or otherwise, and certainly no evidence in local museums.
At the end of the war, the Camroux was quickly converted back to a coaster, but not before they fired a salvo when it was announced that hostilities had ceased. It now carried a cargo of coal from Blythe to Fulham, back to Hull for grain for Amsterdam and them to Emden in Germany to pick up scrap iron from the decommissioned U. boat pens. This was then taken to Grangemouth in Scotland. Finally, after docking in London, Len was released from the merchant fleet pool there. He returned to Borth to marry his sweetheart Betty in 1947. He was an hotelier in Borth from that time until his retirement.
Stephen, Len Dennett's son, served in the Royal Navy for twelve years from 1964 to 1976 in radio communications. He served at H.M.S. Brighton on H.M.S. Manxman and H.M.S. Devonshire, Stephen also served on H.M.S. Malcolm which was a fisheries protection vessel. During this time two quirky events took place. Once in Gibraltar, as he and shipmates were wending their way down a street, he heard the sound of laughter that he immediately recognized, coming from another group. It was Borth man Peter Rice who was squadron leader in the R.A.F.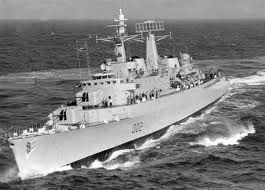 H.M.S. DEVONSHIRE
The other occasion was when Frank Davies and family members had gone from Borth on a once in a lifetime trip to see an elderly aunt who had emigrated to West Australia in 1920. Frank had gone to the toilet in a Freemantle hotel where they were having a family reunion dinner and was standing in the urinals next to a tall young matelot who looked at him and said "don't I know you from somewhere?" The unfazed Frank Davies laconically replied "of course you do you silly bugger, I have lived next door to you for the last twenty five years". They both collapsed with laughter and Frank, over several glasses of ale, explained why he was so far from home. After Stephen left the navy, he moved to the Foreign Office, and remained in the Civil Service before recently retiring.