LEWIS MARINERS
Families bearing the surname Lewis produced over two dozen mariners during the 19th century. There were a clutch of mates beginning with Lewis Lewis 1810-67, on the schooner Elizabeth Ann, William Lewis b.1827 on the Eleanor Francis, Abraham Lewis 1844-71, on the Amy Serena, a vessel on which he died at Bahia Brazil, Humphrey Lewis 1862-1913 who died whilst serving on the steamship Don Cesar and David Lewis 1870-99 who died whilst serving on the South Cambrian.
DON CESAR
There were the captains beginning with Rees Lewis who commanded the sloop Sincerity in 1803. John Lewis 1822-87 commanded the schooners Jane and Sophia, Ceres, Cecil Brindley, Alcazar and the Electra. David Lewis b.1829 captained the schooners Estella, Lizzie and Deborah. Captain William Lewis b.1827, commanded the schooner Frances Poole. Thomas Lewis 1832-64 passed as captain at thirty years of age and commanded the schooner Jane Owens. Evan Lewis 1833-88 captained the Rachel Lewis and then served as mate on the Lady Jozyn and the Artizan. He died on the latter vessel and is buried in Buenos Aires. John Lewis b.1836 commanded the sailing vessels Margaret Lewis and Snowdon; and later the steam sail vessel Nant Gwynant. John Lewis 1845-81 became captain in 1872 but served as mate on the Zulette where he was dismissed for the harsh treatment of a crewmember. He eventually captained the schooner Volunteer for three years until his death at Queenstown in Ireland.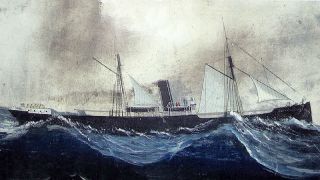 NANT GWYNANT
Thomas Lewis b.1845 commanded the sailing vessels Cambrian, Seiriol Wyn and the Snowdon. Richard Lewis b.1848 captained the Bootle. Enoch Lewis b.1852 passed as master when he was only twenty-one years of age. He was the son of the previously mentioned Captain John Lewis b.1822, and went to live at Aberdyfi two years after gaining his captaincy. Another Captain John Lewis b. 1857 commanded the Archimies. Thomas Lewis b.1860 was master of the Nesta. William David Lewis b.1867 was mate on the barque Snowdon prior to gaining his captaincy. He went on to command the steamers Boltonhall, Grantleyhall, Hendonhall, Derwenthall, Lindenhall, Siltonhall and the Stanwell over a period of thirty years from 1900. Evan Morgan Lewis b.1869 became captain in 1896 and commanded steamers throughout the First World War, these included the Annie Hough and the British Coast. The Lewisís also produced two ships engineers, John Lewis b.1865 who served on the Seroun Prince and John Benjamin Lewis b.1876.
ANNIE HOUGH
Three seafaring Lewis brothers, David Llewelyn, Evan and Alfred were the sons of a weaver who lived at Dalston House, today's Glanrhyd Cottage.
David Llewelyn Lewis survived the sinking of S.S. Penvean on a friday night in March 1918 by the german U-Boat 105, 15 miles north west of South Stack Rock, Holyhead. Twenty-two of the crew were killed, of whom three were from Borth: Hugh James Manchester House, son of Captain H. James Scranton, Morgan Morgan, Gogerddan Gardens Ynyslas and Basil Lougher Davies, son of Captain T. Davies Gloucester House.David Llewelyn Lewis was landed in an exhausted condition and was hospitalised in North wales for a few days until he was able to proceed home. seven months later he was torpedoed again on the Heathpark, and this time did not survive.
During the 1930ís, Alfred was a regular crewmember on the S.S. Goodig, a vessel owned by Stone & Rolf. Evan Lewis 1892-1940 survived the First World War at sea, where at one time he was in the R.N.V.R. Tragically in 1940, he lost his life on the S.S. Bradfyne along with a relative Raymond Hughes 1924-1940. So of the three Lewis brothers, only Alfred survived these major conflicts.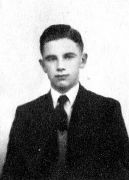 ALFRED LEWIS RAYMOND HUGHES
Amongst the tragedies, there were also a number of narrow escapes, and it is quite noticeable in the terse reports in the Cambrian News, that quite a few Borth men survived not one, but several sinkings bought about by enemy action. They seemed to have taken it all in their strides, and it must have taken certain resilience for them to return to sea, sometimes within weeks of a sinking.