MATTHEWS, LERONIA
John Leslie Matthews was born in 1902, and educated at Morfa Borth Primary School, and then Machynlleth Secondary School. He left school at fourteen and first went to sea on the same ship that his Uncle "Harry" Henry Levi Williams, his mother's brother, worked on. This first trip was to America in 1916. This was a very dangerous time to begin seafaring, and like others from Borth, he was to fall victim of a sinking. At only fifteen, he found himself in the lifeboat after the S.S. Huntsholm, captained by John Davies of Borth, had been torpedoed. The survivors were given a position to steer to the nearest landfall by the U-boat captain. This was quite an experience as many Borth mariners who had survived being torpedoed had told the author that there was a constant fear that survivors would be machine-gunned.
JOHN LESLIE MATTHEWS
After the First World War, he served on ships owned by J. J. Denholm of Glasgow. He was on the S.S. Broompark, as an ordinary seaman, and then the S.S. Beechpark as an able bodied seaman. Again, he voyaged under Captain John Davies, who eventually went from Borth to Bow Street to retire. In 1924, John Leslie was on the S.S. Plas Dinam, a vessel once owned and commanded by Captain John Davies of Maesteg. His next vessel was the S.S. Councillor.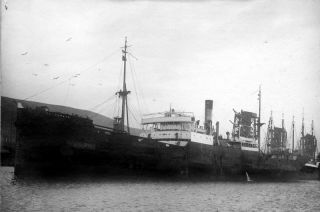 S.S. BEECHPARK
At the age of twenty-four, he went to Cleaves Nautical School in Liverpool, to study and sit for his second mate's certificate and passed at the end of 1926. He joined the S.S. Laurelpark as second officer, and served on her for a number of years, before taking time out to study for his first mates certificate.
Again, within a year, he passed this exam at Liverpool in 1928. The following year, he was on the S.S. Navarino as a Second Officer, and in 1930, he was on the S.S. Knight of Saint George, owned by Pardoe & Thomas Co. Newport, Monmouthshire as Third Officer. As his promotions were increasing, his employment positions were decreasing, as shipping economies were already feeling the pinch of the Great Depression. This vessel was to be his last for a time, and it sailed from Penarth with coal to Monte Video and Santa Fe, a port 200 miles up the River Plate. The return cargo was grain.
By 1931, having tried for many positions with innumerable companies, he was unable to find maritime employment. There are many of his letters and replies from this time held by his son John. In the end, he accepted a job from a cousin of his grandmother's to manage a small livestock food factory in Surrey.
It was whilst there that he met his wife, and despite the Depression, they managed to live a relatively comfortable life. All was well until the Second World War broke out. The owner of the factory died, causing the company to be closed down. Leslie took his wife back to his home village of Borth and they decided to stay there for a while. With the war beginning in earnest, and Leslie at a bit of a loose end, he decided to approach the local recruiting officer, who promised to fix him up with a job in air sea rescue boats. He joined up at the beginning of 1941, presuming that he would be based in the U.K., where the theatre of his activities would be the Western Approaches. However, the R.A.F. in their wisdom decided a qualified Merchant Navy officer would be better deployed in the jungles of Asia. This infuriated his wife, as amongst other things Leslie was by now 40 years of age. After training he was sent out to India by troopship, and eventually to Burma, where he spent an uncomfortable war tracking Japanese planes from small trucks in the energy sapping humidity, relaying details back to base. He was "demobbed" in late 1945, returning to Borth to take over the family butcher shop after his father became seriously ill.
Most of his career at sea was spent on tramp steamers, traveling to all parts of the world. A large percentage of his time was spent on the South American run. With his capabilities, and proven track record, the one thing that he regretted was not being able to sit for his master's ticket. He would often argue passionately that seagoing experience, and working through the ranks, was the most appropriate way to become a captain; like the old time mariners of Borth.
John L. Matthew's mother's brother, Uncle "Harry", Henry Levi Williams, was a beloved rascal of the family. He was named after his father Levi, and uncle, Henry, who were both seafarers. Once when home from sea, nothing would do but he had to help out at the butchers shop by delivering meat in the horse and trap. All was going well until he dented the wing of a summer visitors' car. The hot and bothered car owner cursed the "Welsh peasant" to such a degree, that the normally placid Harry decided not to apologize. Instead, he jumped out of the trap and kicked dents in the other wing, and with a terse farewell said, "there you are, even a peasant like me has matched it up" and trotted off in his horse and cart.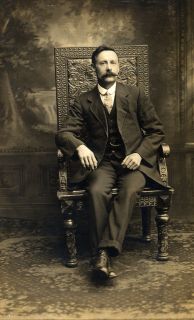 HENRY LEVI WILLIAMS
Harry had quite a chequered career, and he had once jumped ship in Newfoundland and stayed there for a number of years. He saw active service in the Boer War and the Great War. In the 1914-18 conflict, he was second officer on the S.S. Hillglade when she was chased by the German battle cruiser Dresden in the Straits of Magellan, but managed to escape in a blizzard. Later he was on the S.S. Cheltonian with Captain Enos when it was sunk in the Mediterranean. Harry and other crewmembers drifted for several days in an open boat before landing safely in France.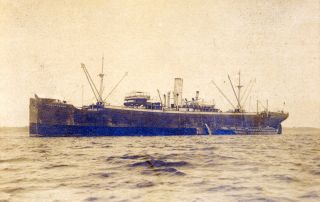 S.S. CHELTONIAN
Danger lurked again as he found himself having to be rescued by a British destroyer when his vessel the Usher sank on escort duty. In the 1930's, he often ran the Bilbao Blockade on the S.S. Stanhope. Harry worked for many years for the Denholm Company Glasgow, and often found berths for many Borth lads, and during my researches, he appears with them in several photographs.
Harry's reckless nature caught up with him in the end at 59 years of age. In June 1938 at Cartagena during the Spanish Civil War, despite warnings not to go ashore as the city was a possible target for bomber planes owing to the nearby military base, off Harry went to town. At this time, he was third mate on the Stanholm, which also had another Borth man, Evan Leslie Davies, of Mona House, as first officer. As fate would have it, there was a raid on the town and Harry was the only fatality from the crew.
At sixteen years of age John Matthews b.1940, decided to follow in his father, J. Leslie Matthews' footsteps, and join the Merchant Navy. He signed indentures for four years as an apprentice with Reardon Smith & Co. Ltd; the well-known Cardiff deep sea tramping company. By the time he was eighteen he had steamed around the world twice, calling at many ports with a lot of water in-between. The ships that John was on were mostly built during World War Two and were not expected to last too long…but many of them did. Food was never brilliant, but the apprentices' accommodation was all right as they had their own cabins with bunk, desk, wardrobe and settee on the boat deck.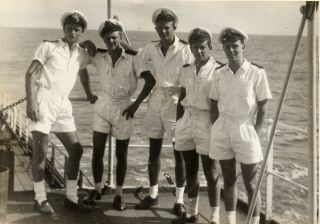 JOHN MATTHEWS (SECOND FROM RIGHT)
The ships John served on carried mostly bulk cargoes – coal, iron ore, grain, salt, phosphate and soya beans. He rarely knew how long a trip would last as cargoes were often negotiated whilst the ship was at sea. The longest trip John did was just over twelve months. The company ships averaged 7,000 gross tons were 400 feet long with an average speed of 10 knots. During his time at sea he visited many countries; both coasts of the U.S.A., Canada, Japan, Australia, South Africa, Egypt, India, Ceylon, East Africa, Singapore, Borneo, Morocco, Senegal, Brazil, Panama and Spain.
John's first trip was on the M.V. Orient City, sailing from Cardiff to Brazil to pick up a cargo of iron ore for the U.K. Then in November of 1956 he joined the M.V. Cornish City in Barry, which was preparing to take army stores to Egypt as the Suez crisis was still on. However, things quickly settled, so instead the vessel sailed to New Orleans to pick up a load of soya beans heading for Japan via the Panama Canal. After a five-week haul across the Pacific, the cargo was discharged at Kobe. John remembers Japan in those days, as a great place for seamen and a real eye opener for a boy from Borth. Then it was down to West Australia to load grain for the U.K., and home via the Cape of Good Hope, calling in at Cape Town and Dakkar in Senegal. John stayed on this vessel for nearly two years.
His next vessel was the M.V. Homer City, which had an all-Indian crew with British officers and apprentices. This was the best "feeder" as its cook was a real chef who had at one time worked in the best hotels in Calcutta. John developed a taste for curry on this vessel and has fond memories of some wonderful meals. The next vessel was M.V. Vancouver City, on which he stayed until his indentures expired and he was eventually paid off a few days short of his twenty-first birthday in 1961. Although he enjoyed his time at sea, and never regretted it, he decided it was not something he wanted to do for the rest of his life, so he called it a day and stayed ashore.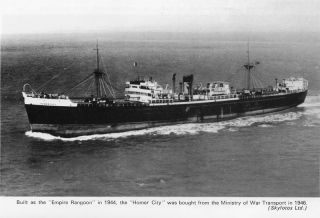 M.V. HOMER CITY
He recalls that the whole idea about being an officer was that you would be able to do any job on board ship, therefore any orders you would give you would be capable of doing yourself, no matter how hazardous. During rough weather he used to manoeuvre his mattress to wedge himself in, but with a storm lasting days, this could be especially wearing. The worst event he remembers was a typhoon while in port at Japan. After the warning came, the ship took off out to sea to ride it out. Both anchors were put down with the bow facing into the wind and the engine turning over slowly to take the strain. The force of the wind was frightening and John wondered if he would ever see Borth again. Anyway, the vessel survived and on returning to port, they could see the devastation that had taken place. This vessel the Vancouver City, strangely enough, was later driven ashore in a typhoon off Japan and had to be scrapped.
Again, in Japan, waiting for a berth to discharge the cargo, part of the crew went ashore by water taxi and returned late at night the worse for drink. One of John's fellow apprentices was on night duty and did not notice that one of the crew, fooling around, had released the brake on the anchor winch, which resulted in the chain slowly running out, falling into the sea and disappearing. The ship drifted and collided with another vessel anchored astern. This caused an almighty crash, waking everybody up, including the captain, who understandably went ballistic. The apprentice was told that he would have to pay for all this and the poor fellow thought that he would be spending the rest of his life working for Reardon Smith for no wages. However, the captain soon realized it was not his fault and that the real culprit was a crewmember who would never be identified. The outcome of all this was that divers had to be employed to retrieve the anchor and chain, and the vessel spent three weeks in dry dock at Yokohama sorting out the damage, much to the delight of the crew and the fury of the captain.
One of John's abiding memories was picking up a cargo of coal from Virginia, which meant sailing up Chesapeake Bay where a large Naval Review was taking place. This involved warships from all over the world and included some beautiful sail training ships. Whilst steaming through this spectacle, John was told to dip the ensign out of courtesy. In turn it was amazing to see these wonderful vessels, some with their crews lined up on deck, responding by doing the same by saluting John's vessel, a rusty old tramp from Cardiff. By a strange coincidence, a short time later, another tramp steamer passed, and John spotted Borth lad, John "Jac" Evans, on its deck. A year later they met up at home and confirmed this fact.