MURIEL KIND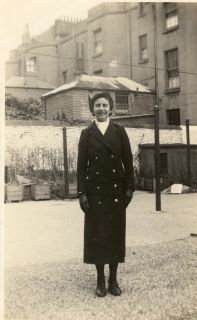 Muriel Ernestine Thirza Kind, born in 1910, who after private schooling, and against parental wishes, enrolled as a student nurse in Walton Hospital Liverpool. In 1939, with the outbreak of World War Two, she was mobilized and appointed to the Royal Naval Hospital at Devonport Plymouth. A month later she was part of a medical team rushed to Scapa Flow in the Orkneys, following the sinking of H.M.S. Royal Oak. At Scapa Flow she served aboard the hospital ships Alba, an ex Elder Dempster line, and the Isle of Jersey, previously a Southern Rail cross channel ferry. These vessels patrolled the North Sea and transported convoy survivors to the naval hospital at Aberdeen.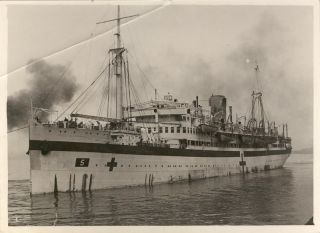 HOSPITAL SHIP ALBA
For her work in this region she was one of the few women to be awarded the Atlantic Star. Muriel was next appointed to the Royal Naval Hospital at Barrow Gurney near Bristol for a year. Then for her final 2 years of war service to H.M.S. Blackcap, a fleet air arm base at Stretton in Lancashire. She received a further three medals for her wartime services.
Of the two hospital ships, Muriel preferred the Isle of Jersey. She was particularly fond of the captain whom she described as " a gentleman of the old school". On Sundays he would invite two of the nursing sisters to afternoon tea in his cabin. Muriel emphasized that there were always two of them, as the captain would have hated being accused of impropriety. Shortly after the war, Muriel went to Jersey for a summer holiday and was delighted to find that on the homeward trip she was boarding the Isle of Jersey, now back in Southern Rail livery. Whilst on the gangplank, she was stopped in her tracks by a loud voice that bellowed "Stand fast sister Kind, and await an escort to the bridge". The wartime chief officer of the Isle of Jersey, now in command, had recognized her as she boarded. Muriel spent the whole trip reminiscing with him on the bridge.
Muriel lived at The Anchorage, and it was here that she developed a strong rapport with her relative and godson David Tink. The many happy hours talking about ships and sailors no doubt influenced young David, as he was to have an illustrious career at sea and in the Fleet Air Arm. Muriel was a lifelong supporter of the R.N.L.I. at Borth, and she received the R.N.L.I. Silver Medal for thirty years service. It would seem inevitable that, in accordance with her wishes, her ashes were scattered in Borth Bay in 2006, by the crew of the inshore rescue boat.