REES AND DAVIES MARINERS
The Rees clan provided seamen for over two hundred years. They appear in historical records beginning with Captain John Rees b.1752, who commanded the sloop Providence in 1774. His son Thomas b.1790, commanded the same vessel in the 1820's, then his father took over running her in the 1830's. The Providence built at Garreg in the Dyfi estuary was owned by this family for over fifty years. John Rees had also captained the sloop Liverpool Trader in the 1830's. his grandson, another John Rees b.1820, captained another family owned sloop the Mary Rees in 1842, and then went on to command the schooners Falcon in 1857, Miss Evans in 1863 and the Acorn in 1864. Enoch James who commissioned the schooner Beatrice in 1862, sold it to Thomas Rees master mariner, in 1884. Unfortunately two years later she was lost off the Irish coast. Twelve years later as a result of this loss Captain Rees was declared bankrupt, demonstrating the perilous nature of ship ownership.
The Rees girls of Angorfa Cottage married into other seafaring families. One of whom married Captain Thomas Davies of Mariners Cottage, later Ystwyth House. Their son Abraham Davies had two girls and three boys. Of the daughters Ginny became a nurse and went to live in London, and Maud became a primary school teacher. Maud Davies never left Upper Borth Primary School as she went from being a pupil to teachers assistant then became a teacher herself. Generations of children were taught by her in her long career. I remember learning my alphabet in English and Welsh on slate tablets under her tutelage. All three of the Davies boys became mariners. Richard, known locally as "Dic Trigfan", had served as a young soldier in World War One but was invalided out in 1918 suffering from typhoid. From 1919 to 1929 he was at sea serving on the Southern, Mecklinberg, Ciscar, Beechpark, Manhattan, Hazelpark, Tabora, Clytha and the Dalblair. He then went on to become a civil servant working in the Ministry of Agriculture and Fisheries. John Davies was at sea most of his life. He was torpedoed three times in the Second World War, and the last of these saw him severely injured and he spent over two years convalescing in a Montreal hospital. He never really recovered and became rather withdrawn, and spent the rest of his life working as groundsman at Borth Golf Club. Tommy Davies was a ships cook and lived at Pantgwyn. I remember him performing in one of A.E. Richards' nautical plays at the Borth Public Hall. He had served on the South Wales Borderers in World War One, and on demobilisation he worked at Borth Bakery. After a time the flour affected his lungs so he had to seek other employment. Tommy like his brothers, turned to the sea and became a ships cook. His son Jeffrey who provided this information, was the only Borth man who served in the Korean War, and afterwards embarked on a lifelong career in the police force. He mentioned there were letters kept by his parents which were written by three Rees mariner brothers whilst away at sea. This correspondence was about planning the building of three cottages taking advantage of the ty unnos system. These were today's Angorfa Morfan and Sabrina. Unfortunately these invaluable documents were deposited at a solicitors on the death of Jeffrey's parents and they were lost. Shan Dudleston, "Dic Trigfan's" daughter, remembers her father telling her that his cousin Ivor used to be sewn into his underclothes when winter arrived and was only freed in spring. Sadly Ivor was a casualty of the First World War, and one of the few remaining images of him is in a photograph taken with his grandparents outside the Rees family home, Angorfa. The Rees mariners had a long association with the S.S. Dingwall.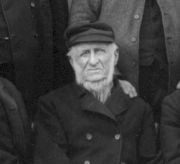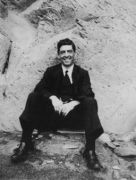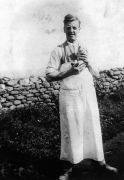 CAPT. THOMAS DAVIES RICHARD DAVIES JOHN DAVIES TOMMY DAVIES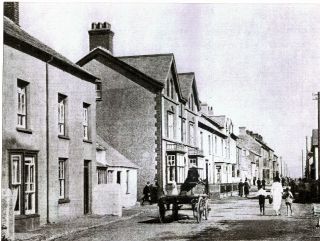 MARINERS COTTAGE (now Ystwyth House)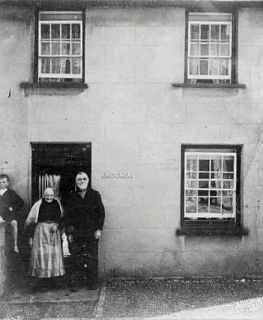 CAPT. THOMAS AND ELIZABETH REES WITH GRANDSON IVOR
Another of the Rees clan Captain David Rees who lived at Gloucester House, now Caer Gwyddno, owned and commanded the barque Drusus for a two year period before his untimely death in 1881. His wife Elizabeth became the owner and she mortgaged the vessel for £280. her joint mortgagees were Margaret Thomas Tan yr Allt Farm and Ann Davies of Talybont. The vessel was sold two years later at Rosario on the 8th November 1883.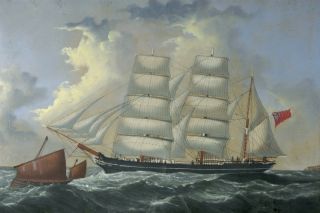 DRUSUS
Captain David Rees b.1828 gained his masters certificate at twenty-six years of age. He captained the sailing vessels Eleanor Francis in 1860, Sarah in 1862, Helena in 1864, Rebecca in 1866, Edith in 1875 and the Sabrina in 1885. In 1891, he was master of the 73-ton schooner Kate of Chester. This coasting vessel had only three crew; the sixty-four year old captain, fifty-year-old mate, Thomas Hughes and a twenty-year old A.B, William De Lydes of Plymouth. David Rees often took his young son, Thomas 1845-1915 with him on these vessels. David Rees named his cottage after the schooner Sabrina and later, on adjacent land his son Thomas built a large house that he named Arequipa.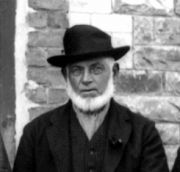 CAPT. DAVID REES
After becoming a master mariner in 1879, Thomas Rees was involved in importing timber from North America to build this new home for himself and his wife Elizabeth Jane. He went to sea at fourteen years of age and for thirty-three years was master of ships belonging to the Hough and Coast Lines, such as the S.S. La Tamice and the Edith Hough. He never had a mishap, and in the time-honoured tradition, the directors of the company gave him a sumptuous farewell dinner. Captain Thomas Rees applied to be nautical assessor in 1907. This was two years after tragedy struck when his only son Glyn Owen, died of tuberculosis in 1905 whilst attending Shrewsbury School. At Captain Thomas Rees' funeral in 1915, his pallbearers were those who had sailed with him or were connected to the Hough Lines, including my great-grandfather, David Davies of Balmoral House. Only a daughter Dilys remained, who did not marry and lived on in the family home. Sadly, it was to be the end of a long maritime succession.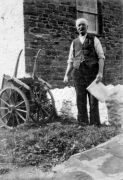 CAPT. THOMAS REES DAVID DAVIES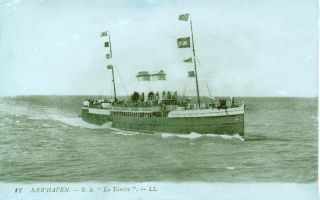 LA TAMISE
The only photographs of this family are courtesy of Hazel Jenkins. Hazel looked after Miss Dilys Rees prior to her death and was given, and rescued, a few mementos from the many that were destroyed during house clearing. Nancy Birch and others, who visited Miss Rees, remembers there being a large collection of ships photographs on the walls of Arequipa. Some of which belonged to the shipping company associated with Nancy's forebears. There were other Borth captains who at one time or another, worked for Coast Lines; amongst whom who were Captain Thomas Williams Francon House, Captain Thomas Davies Gloucester House, Captain Herbert Ger y Don House, Captain E. M. Lewis Glan y Don House and Captain John James Dovey Belle House, the latter as marine superintendent.
Another Rees mariner, David Hugh 1892-1962, was a ships engineer who had married Annie Bertha James, the daughter of Captain Hugh James. He served on the Thistlemore, Ardgroom and the Invertay, and is profiled in the Rees and James Mariners section of this website.