REES AND JAMES MARINERS
Six years after the Battle of Culloden a John Rees mariner, was born at Borth in 1752. He was master of the sloop Providence in 1774, and in 1823 was recorded as having sent a petition to Trinity House seeking a pension. Whether he was a progenitor of the following Rees dynasty is speculative. The Rees family history for this site has been provided by William Edward "Ed" James of Gloucester. It traces one Rees line which became entwined with the James family.
It begins with John Rees b.1788, who married Jane Jenkins b.1790. They had four children, two boys and two girls. The eldest son John 1820-1880, lived with his wife Anne at Morfa Borth. John became a master mariner in 1852 and captained the Catherine & Margaret, Miss Evans and the Acorn. His brother Hugh 1825-1902, was also a master mariner who lived at Beachgrove House with his wife Margaret, formerly Thomas. They had four children, one of whom Hugh Rees 1861-1906, became a captain in 1885 and commanded the S.S. Glanhavren. He married Elizabeth Jane Williams 1868-1937, and had eight children; 2 of whom became mariners. David Hugh Rees 1892-1962, was a chief engineer who had a long and distinguished maritime career spanning 45 years. He served on the Thistlemore, Ardgroom Invertay, Bradburn, Quebec City, Victoria City, Leeds City, Texas Trader, Empire Kestrel, Vernon City, Anglo Indian, Empire Takoradi, Tacoma City, Orient City, Madras City and Inchcastle. His brother Joseph Rees 1905-1965, became a captain.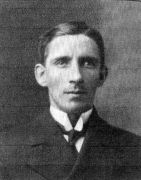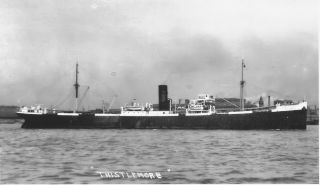 DAVID HUGH REES THISTLEMORE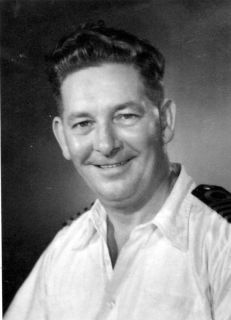 CAPTAIN JOSEPH REES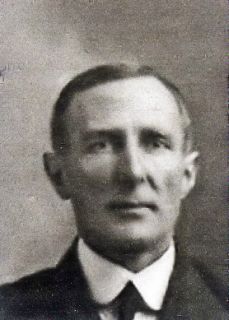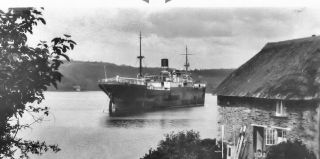 CAPTAIN EVAN JAMES WILLIAMS EARLSPARK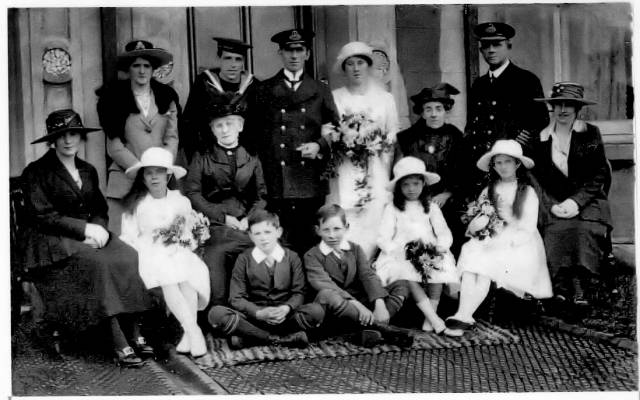 CHIEF ENGINEER D.H. REES AND HIS BRIDE ANNIE BERTHA JAMES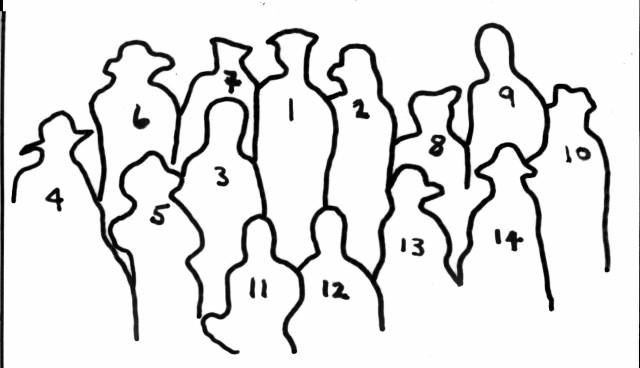 1. David Hugh Rees 2. Annie Bertha James 3. Margaret James - Mother 4. Enid Rees - Sister 5. Edith Rees - Sister,
6. Martha Helena James - Sister 7. Jack Rees - Cousin 8. Elizabeth Jane Rees - Mother 9. Jack Watkin-Williams - Step Brother 10. Madge Rees - Sister 11. Reggie James - Nephew 12. Joseph Rees - Brother 13. Lolo James - Niece
14. Mattie James - Niece
Mariner Richard James, circa 1760, and his wife Margaret had a son Enoch James b.1787, who married Mary Hughes b.1789, in 1809. Enoch was a master mariner and the only vessels we know of that he commanded were the sloops Aid and the Mary & Ellen. Enoch and Mary had seven children and four of their sons became master mariners. David b.1812, married Martha Hughes b.1820, and captained the sloop Gleanor and later a schooner also named Gleanor. These vessels and others were owned by the James family and are commemorated in the house named Gleanor. Richard 1816-1894, captained the Gleanor and also the schooner Aberystwyth in the 1850's. John b.1819 who married Anne Jones became master of the Dovey Belle, Resolute and Beatrice. Enoch 1822-1886, and his wife Jane 1826-1908, lived at Morfa Borth. He captained the schooners Aquila, Aberystwyth and the Beatrice.
Members of the James family of mariners feature throughout this website. They not only commanded ships, but owned many which are still remembered in the Borth house names Gleanor, Beatrice, Resolute and Dovey Belle. There was an Enoch James born in 1787 who became a master mariner. John James b.1813 was master of the Resolute and the Dovey Belle and a Richard James 1815-93 commanded the Aberystwyth. William James b.1820 commanded the sailing vessels Aberystwyth, Island Maid, Ocean Belle and the Dorothy, and eventually went to live in Aberdyfi to be near his shipping interests. He owned the barque Glendovey which was ably commanded by his nephew John Williams. There was another John James b.1845 who was master of the Dovey Belle in 1881. John Hughes James b.1855, who lived at Richmond House, served on the Miniera and in 1904 was a sub lieutenant in the R.N.R. He went on to be the master of Park vessels such as the Wellpark and Mountpark and lived at Richmond House. There was Captain John James 1875-1932, who was master of the Western Coast and the Dolphin. he died on board the Dolphin at Falmouth on 29th August 1932.
Captain David James b.1812, had two girls and three boys, of whom Hugh James 1843-1916 and John Hugh James 1855-1918, became master mariners. Hugh James passed as captain in 1868 and commanded the barques Carmarthen Castle and the Hawarden Castle, and also the Orianda and the Bernina. John Hugh became captain in 1886 and in 1904 he was sub lieutenant in the R.N.R. he was later master of several Park vessels including the Wellpark and the Mountpark. He had married Ellen Jones 1857-1932.
Maggie Brown 1851-1940, was born in South Wales and went to America with her aunt at the age of six. At eighteen years of age she married a John Williams of Scranton; who was also of Welsh extraction. Before a year had passed, her husband had died leaving her with a young child, John Watkin Williams. They moved from Scranton to San Francisco and it was there that Maggie met her second husband to be, previously mentioned Borth man, Captain Hugh James 1843-1916, at a dinner held at Custom Offices House.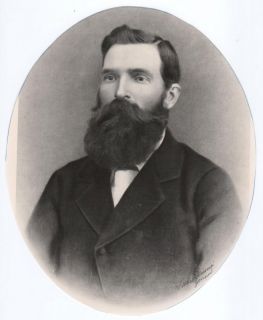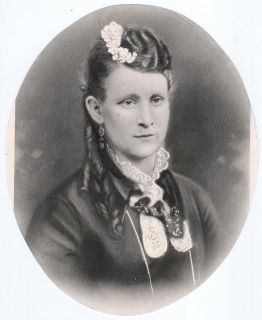 CAPTAIN HUGH JAMES AND HIS WIFE MAGGIE
Captain H. James had begun seafaring on local schooners, in particular the Borth owned Gleanor, which was commanded for over a decade by his father Captain David James. Hugh was captain of the barques Hawarden Castle, Carmarthen Castle, rounding Cape Horn many times on his way to the west coast of South and North America. Hugh and Maggie married in 1877, and they, and her son, returned from San Francisco to live at 2 Picton Terrace, they later moved to a large new house, no doubt named by Maggie, Scranton Villa.
The stepson, John Watkin, influenced by Captain James and Borth's seafaring ethos, became a master mariner and commanded Booth Line Vessels. He was honoured by the Liverpool & London War Risks Association Ltd. after successfully evading a submarine attack whilst in command of the S.S. Benedict in July 1918, where his seamanlike skills and courage were rewarded with a gift of 100 guineas.
Hugh and Maggie sailed together to all parts of the world for a number of years. On one voyage on the barque Carmarthen Castle, she gave birth to a son Hugh, five days out from Rangoon. This displayed her strong constitution and great mental and physical courage. They had eight children, two girls and six boys. Sadly two of the boys died within a year of birth; David at 8 months and Richard Harold at 12 months. Later another two sons were to die, Reginald, of tuberculosis at twenty-one years of age, and Hugh, who was born at sea, also lost his life at sea in 1918 when his ship the Penvean was torpedoed. His mother the intrepid Maggie lived to be 90 and had travelled the world and experienced many triumphs and tragedies.
Born at sea Hugh 1880-1918, married Marie Bywater, whose brothers first officer Thomas Bywater and Captain William Bywater, both lost their lives at sea. Their union produced four children, three daughters, Martha Jane Evelyn 1908-1983, Margaret Novella 1912-2003 and Elvy who died at two years of age in 1912. Their son Thomas Reginald James b.1907 followed in his ancestors footsteps and went to sea. Sadly Reginald died after falling in to the hold of the S.S. Beechpark fracturing his skull. He was only sixteen at the time, and at the beginning of his seafaring career. The Cambrian News of 13th April 1923 reported that sixteen Borth men had transported the young man's body to Glasgow Railway Station for his last journey home. These various crew members also collected thirty two pounds to be sent to his widowed mother Maria.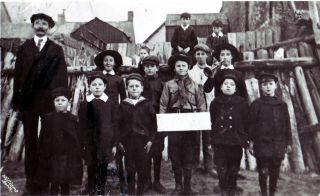 HUGH JAMES REGINALD JAMES (FRONT RIGHT)
Ships engineer D.H. Rees's sister Mary Elizabeth "May" 1898-1978, married David Hughes 1895-1961, who had been a stretcher bearer in the First World War and ran a shop at Boston House. I was very fond of David and May as their kindness was legendary, and this passed on to their son Hugh David Hughes 1929-2006, and daughter Margaret Noreen Hughes 1933-2004. Hugh D. Hughes, or Hugh "Boston" as he was better known, went to sea and served on the Angelo, Seaboard Enterprise and became third officer on the liner Queen Elizabeth for several years. Hugh married Verona Evans b.1935, and his sister Noreen married Alan Sharpe 1931-1999. Noreen was named after a relative who had died of tuberculosis. She was Noreen Williams 1895-1928, the daughter of Captain Lewis Williams 1868-1952, and sister to First Officer Llewelyn Vernon Williams 1897-1980.
HUGH "BOSTON" HUGHES
Other branches of the James family tree have, and are, being researched by John Ellis of Aberarth, David Rowlands Australia and Betty Vodanovich New Zealand.