SEAFARING
By 1750 the villagers of Borth were casting aside the limitations of inshore subsistence fishing. Despite commercial shipping being in its infancy at this time in Ceredigion, it was to expand rapidly. From 1800 it enjoyed a century of spectacular growth which bought prosperity to many of its coastal conurbations, including the village of Borth. The men and women of Borth became enthusiastically involved with this enterprise that gave them a sense of worth and an opportunity to display their talent. Of this booming maritime expansion the late historian Geraint Jenkins declared that in the 19th century Ceredigion was one of the greatest nurseries of seamen in the British Isles. Borth punched far above its weight in that observation. The village also underpinned the growth of the nearby Merionethshire port of Aberdyfi. From the long ago captains such a David Daniel the elder of the late 1700's to today's captains Peter Norrington-Davies and Michael Birch, there is a remarkable line of some 280 captains as well as many officers, ships engineers and countless seamen. Not only are details of Borth mariners continually emerging from obscurity, but also those of the women who went with their husbands all over the world's oceans.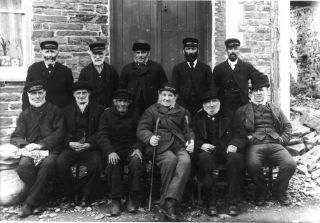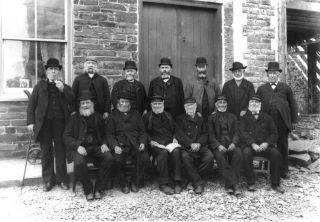 BORTH MASTER MARINERS, CIRCA 1900
The hazards of seafaring in the 19th century are obvious when one considers the statistics from Derek Lundy's book The Way of a Ship that records over 1,000 vessels were wrecked in the year 1861. Between 1874 and 1883 699 ships and 8,475 men were lost. In 1883 alone 121 ships as well as 2245 men met their doom. The following year a massive December gale cost 825 ships and 500 men. From 1900 to 1910, over 10,000 men serving on British sailing vessels perished. Some Borth mariners have no known grave but the sea, whilst others succumbed to disease and illness in foreign lands and their remains lie all over the world.
The offspring of those who came to work with the railways, the lead mining industry or as canal cutters redirecting the Leri into the Dyfi, and settled in the village also became gripped by "sea fever". Richard Collins 1791-1818, was a mariner who died at twenty-seven years of age, and is buried in Llandre churchyard. John George served for years on the Aberdyfi built brigantine the Xanthus. The two Pierce seafaring brothers, John and Thomas, served on the schooner Lorne. Arthur Lunt b.1848 was bosun on the schooner Cambrian in the 1870's. John Hughes Oddy, son of the local butcher Thomas Oddy, passed as captain in November 1885. Thomas Bywater 1870-95 began his career as ships' boy on the schooner Cambrian and later become mate on the Carnegie; his brother William 1865-1907, was captain of the Gatesgarth in 1891. John Bracegirdle, who lived at Frondirion, retired in 1914 after serving sixteen years in the Royal Navy.
The Tibbot brothers, Thomas and John, both served in the R.N.R. in World War One, John on the H.M.S. Tiger, and afterwards, for a time, in the Merchant Navy. Thomas Hughes Dutton 1865-1915, was the son of George Dutton, a platelayer from Chester, who settled in Borth and married a local Hughes girl. Thomas served as a young man on the last of the fabled Swansea copper ore ships, rounding Cape Horn several times. By the age of twenty-seven he was a master mariner and worked for a shipping company based in the Orient, and in that capacity often met up with two other Borth men Captain Davies of Maesteg and Captain Thomas of London House, in ports such as Shanghai. Captain Dutton died in 1915 at Sapele, West Africa, whilst commander of the Elder Dempster liner Patania. He had served this company for sixteen years.
John Taylor b.1876 became captain in 1912, but later in his career, like so many others, he served as first mate. His family had been in Borth since the 1790's, and his grandfather was a veteran of the Battle of Waterloo. George William Meddins became chief engineer in 1916. John Ivor Kinsey 1907-40, the son of David Thomas and Margretta Kinsey, was a radio officer in the Merchant Navy, who lost his life in 1940 when the S.S. Dalblair of Newcastle on Tyne, was sunk by enemy action. Captain Elie Robilliard came to Borth with his wife Vera, in 1920. He was of French extraction and had married a Welsh girl from Barry with connections to Borth. His family had lived since the 1700's on Guernsey in the Channel Islands, most of the males becoming either farmers or mariners. Eli and Vera's first child, a girl called Betty, died in 1927 at six years of age. They subsequently had two sons, David b.1930 and John b.1939. Captain Robilliard was lost whilst in command of the S.S. Creekirk of London when she was torpedoed in 1940. I remember David as an officer cadet who left Borth when he got married, and went to live in the north of England. He attended Towyn School at twelve years of age after leaving Upper Borth Primary School. David was at sea for a decade and became third mate serving on the Hoperidge and the Rumney, often voyaging to Australia. He joined Trinity House and served for a year on the South Goodwin Lightship. After retiring from the sea he worked for a bus company in Hartlepool. David died in Loch Carron, Scotland, whilst on holiday with friends in 2003. Torteval, the Robilliard ancestral home in the Channel Islands, gave its name to the house in Upper Borth.
In recent times other seafarers have come to live in the village, such as Harold Austin "Sammy" Samson, a Merchant Navy man who arrived to work on the sea defenses some sixty years ago. His son David has been a local fisherman for nearly forty years. Llanelli born Stewart Lloyd was in the Royal Navy as a Radio Operator, serving on H.M.S. Leopard and the submarines H.M.S. Cachalot, H.M.S. Finwhale, and H.M.S. Opossum. After ten years service he joined the police force and was posted to Aberystwyth, where he met Christine, his wife to be, and they came to live at Penlon in Borth. Dr Cynwy Davies, who served the local community for decades as a general practitioner, was in the Royal Navy prior to commencing his medical studies.
Despite the inevitable tragedies of seafaring, compounded by two World Wars and other 20th century conflicts, there were many triumphs. These are manifest in individual and family achievements that sprang from an extraordinary entrepreneurship that resulted in better living conditions, alongside improved educational and income opportunities. A chance remark by the wife of Dr. Paul Edwards, a descendant of a Jenkins maritime family, emphasized the latter observations. Jane had long puzzled over the ability of several generations of Paul's Welsh antecedents to live reasonably well and provide a good education for their offspring, despite the vagaries of fluctuating economies. Allowing for Welsh frugality, Jane stated that it led back to Sophia Edwards nee Jenkins, whose father, grandfather and great-grandfather were Borth master mariners who owned ships and shares. Such success is evident in many of the family "dynasties"that emerged in the 19th century.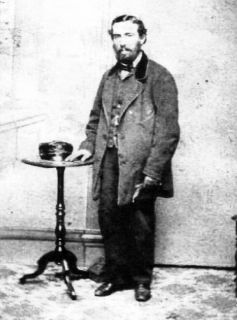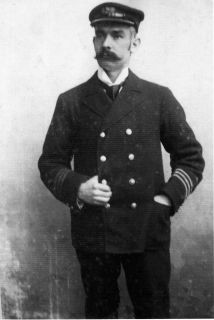 CAPTAIN DAVID JENKINS CAPTAIN LEWIS WILLIAMS
John Rowlands, recent Chairman of the Ceredigion Family History Society, passionately argues that the coastal sloops of the first half of the 19th century were not just to serve local agriculture. They certainly had to source cargoes other than limestone and culm, as sloops could cost as much as Ł900 to build, and a mortgage to finance this was charged at six percent interest. Research indicates that barring accidents, their owners prospered. Again, in the case of small local schooners, there is ample evidence that they went further afield than the Mediterranean and the Baltic. A case in point is the final voyage of the Aberdyfi-built, 80-ton schooner Sabrina. In December of 1881, this vessel captained by John Lewis, picked up a cargo of salt cod at St Johns Newfoundland. No sooner had she left to return home, than she was caught up in a hurricane. Over a period of a week, her sails were blown away and heavy seas swept away a ships' boat, the galley and most of the bulwarks. The crew had to lash themselves to the rigging whilst trying to manage the ship. During the ordeal, one crewmember was washed overboard and drowned. They had to rig up a sea anchor by making a drogue from spare canvass to keep her into the wind, and about 40 tons of cargo was jettisoned to lighten the vessel. This proved to be insufficient, and another sea anchor was rigged using ninety fathoms of chain with a heavy spar at its end. The vessel was being pushed before the storm, losing its bowsprit and was nearly dismasted in the violent seas. With the seas abating somewhat, they rigged up a sail, slipped the sea anchors and proceeded slowly. As the water casks had been lost, water was rationed, and for over a fortnight the exhausted crew fought for their very lives. Nearly out of water, having been storm-driven across the Atlantic, they sighted land and hoisted a distress signal. The schooner Seaward took the crew off the wreck and they were landed in Ireland. The Sabrina was said to be worth Ł1,400 and the cargo Ł5,000. The latter figure indicates that they were brave and enterprising enough to seek lucrative cargoes; even risking crossing the Atlantic. The schooner Acorn, commanded by John Rees of Borth, went twice to the West Indies in 1868 to fetch cargoes of sugar. This schooner with a long association with the village, met an undignified end when she was sunk by German gunfire in 1917.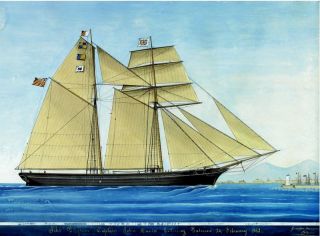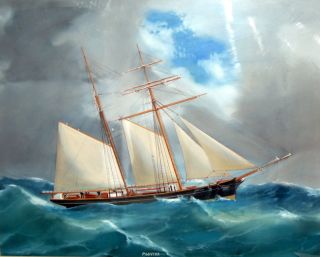 PILGRIM PLUVIER
Borth mariners were the life blood of Aberdyfi during its heyday as a port, and they made a substantial contribution to Aberystwyth's maritime heritage. In the early days the ships they sailed were built in the Dyfi Estuary, Ynyslas, and at Aberystwyth. The open storm beach at Borth precluded it from being a serious ship building site. There were however a few vessels recorded as having been constructed and launched at Borth. The schooner Catherine and Ellen built for David Hughes, was launched from the shingle bank opposite the Railway Inn in 1846. The fishing boat Borth Lass was built for John Edwards opposite today's Croeso, where five lime kilns stood. Many of the unique Borth designed fishing boats were built at this site. When shipping enterprises collapsed in Ceredigion Borth mariners took it in their stride and went to deep water ports to command great sailing barques such as Holt Hill, Bidston Hill, Coromandel and the Caradog, as well as steamers, oil tankers and great ocean liners.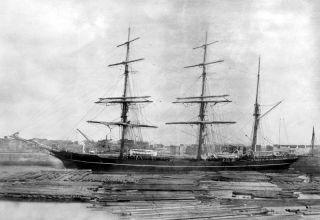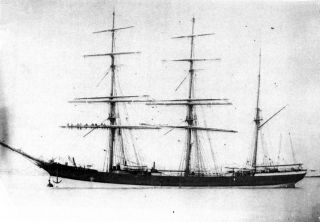 GENERAL PICTON CARADOG