STEPHEN BROWN
Stephen Richard Brown b.1957, had wanted to go to sea for as long as he could remember. This is no surprise as his father was from an Aberystwyth seafaring family. His grandfather, Arthur Brown b.1898, went to sea at eleven years of age. Five years later he was badly burnt in an oil fire after being torpedoed in the English Channel. Although he had skin grafts, they were perennially troublesome as the technique was fairly primitive at the time. Arthur wore a silk scarf to hide the scars around his throat and lower face….many mistook it for an affectation. He was a coastguard in Aberywtwyth for many years. Another antecedent, John Robinson Brown b.1867, passed as master in 1896 and in 1917 commanded the S.S. Cliftonian. Stephen's antecedents on his mother's side were Hughes family of mariners. Captain Thomas Hughes, commanded the Picton Castle, which gave its name to the house they lived in at Upper Borth, and which later became known as the shop Castle Stores.
At sixteen years of age, he joined the Royal Navy and did his basic training on H.M.S. Ganges. He then joined H.M.S. Collingwood to train as an electrical mechanic. His first seagoing vessel was H.M.S. Fearless, a landing craft ship that took marines on exercises which sailed within hours of him boarding her. He went to the West Indies and South America visiting Caracas, Cartagena, Barbados and the Virgin Islands. It also served as a midshipman and officers training ship. His work included stints in the engine rooms, boats and batteries, boiler rooms, domestic refrigeration, hydraulics and weapons.
His next vessel was H.M.S. Hecla, a much smaller vessel that served as a survey ship off the coast of Scotland. Although in U.K. waters with time to return home on the odd weekend, it was a pretty cold, boring posting chugging up and down the Scottish coast. This, however, was the one activity that the navy could commercialize as the charts from its surveys were sold to the general public. He served two years altogether on the Hecla. As Stephen recalls, after each posting he had to fill in a draft preference card. Not that anyone he ever knew got his or her preference, but he recalls no one ever wanted to be posted to Scotland.
His next posting was the shore based gunnery school, H.M.S. Cambridge where he was part of the maintenance crew and travelled back to Borth on as many weekends as he could. Then for a time he was on H.M.S. Argonaut voyaging to the Mediterranean, where he was the only electrician on board. He next went to do a leading weapons electrical course in H.M.S. Collingwood and passed after 6 months. As he explains, despite not intending to leave the navy, he would sign up for courses to prepare him for civilian life. He did this a number of times, during which time he did a heavy goods vehicle course, then did a refrigeration course where he had to attend lectures in Bognor Regis, and then promptly signed up for the navy again. When Stephen eventually left the Navy, he worked for an alarm installation company.
In the early 1980's, he remembers one weekend when he decided to sneak off to Borth on a Thursday afternoon, instead of the Friday, from his fleet maintenance shore base H.M.S. Defiant. Unbeknownst to him, the hierarchy were trying to find him as a ship bound for the Falklands urgently required someone with close range weapons expertise. After a heavy partying weekend in Borth, he arrived back on a Monday and was summoned to an office and given the alternative to either join the vessel Rangatira, or face severe punishment for going a.w.o.l. on the previous Thursday. Stephen took the easy option and went to the Falklands.
The Rangatira was originally a New Zealand ferry, whose sister ship had turned turtle and sank as its stern doors had been left open. Shehad been a floating hotel for oil workers off Scotland, and after that it was laid up in Falmouth and then fitted out with passenger bunks for R.A.F. and Royal Engineers bound for the Falklands. It had Oerlikon anti-aircraft guns installed; two in front of the bridge and two on the funnel deck. Officially, it was Naval party 2070, with fifty-five Royal Navy men on board and a merchant navy crew running the vessel, which carried a thousand passengers. As the Royal Navy compliment was first on board, they commandeered the Sporting Mans Bar, which was a leftover from its floating hotel days. The doors were sealed off and a sign was painted on their outside, Navy Party 2070 Only, No Others Admitted. The troops were on a ration of 2 cans of beer a day, Stephen and shipmates "ration" was bottomless.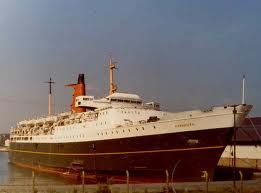 RANGATIRA
They stopped at Ascension Island to refuel and rumours spread that the vessel was going to become a floating P.O.W. ship in Port Stanley. On the voyage south to Port Stanley Stephen recalls an R.A.F. Officer wearing a lifejacket, running around shouting "We are going down". The Naval lads turned the music down at the bar, and told him to piss off as they thought it was a ruse to gain access to their private club. Suddenly they realized that the alarms were sounding, and an anti-aircraft warning was being given out. They rushed to man the guns, with Stephen in charge of the forward guns, dressed very inappropriately in t-shirt, shorts and sandals. It turned out to be a false alarm; someone had spotted a commercial aircraft and panicked. It was no surprise, however, when the gun crew, including Stephen, got a severe dressing down for their behaviour in a time of war.
Approaching Port Stanley at around midnight, the ship suddenly struck something and keeled over. The steering was lost and she kept going round and round in a circle which was dangerous as they were near, or in, a minefield, and it could have been blown up at any minute. Stephen found out later that this fault in the steering had been the cause of her sister ferry being wrecked in New Zealand. Thankfully, they arrived safely and tied up to a buoy at Port Stanley where they remained for five months just after hostilities ceased.
On one occasion, Stephen remembers playing darts with his shipmates and looking out to see the shore starting to move slowly. They had come adrift from the mooring buoy and promptly ran aground. There followed a great commotion as tugs had to pull the old Rangatira off.
During this time Steve was also involved with a salvage team repairing an Argentinian gunboat that had been sunk. With the war over most of his time was spent not only on maintenance, but on sentry duty, not so much to watch for the enemy but to ensure that returning troops were not too drunk to negotiate the stern doors. He remembers a shipmate nicknamed Doc Livingstone who was in charge of the large rigid inflatable rescue boats, showing off. As coxswain he was speeding along watched by a huge audience on Port Stanley jetty, when he decided to stand up and start waving at the crowd; there was a slight bump and he fell backwards overboard. The boat continued at full speed, struck another vessel and floated back past the Rangatira upside down with its coxswain swimming for the shore.
Stephen's next vessel was the ex-ferry Norland, which promptly broke down, so he was shifted to the ex-British Car Rail Ferry St Edmund. No sooner had he arrived back in Southampton, than he was flown back to Port Stanley to join H.M.S. Liverpool, which in turn soon headed for home and ended up for eight weeks off Murmansk observing Russian ship maneuvers.
Stephen's next posting was to H.M.S. Berwick, and again he ended up patrolling the waters around the Falklands. Although this vessel did not break down, she was so dilapidated that once back in the U.K. she was scrapped. He remembers her as having cracks in the hull, persistent leaks and when refueling, there was the inevitable flood of fuel seeping into the living quarters. The last vessel he was on was H.M.S. Cornwall, where as Stephen says, it was a year long cruise to the Arctic Circle, Norway, the Mediterranean, North America and the West Indies.
After nearly twenty-one years, he left the navy. Whilst he was stationed in the U.K. he met another local man John Corey, a petty officer who lived in Dolybont, whom Steve often gave a lift back to Borth when their weekends off coincided