THE JENKINS, ALMA PLACE
One Jenkins maritime family in Borth had connections with Sophia Jenkins 1872-1959. Sophie was born at Penywern Farm, the daughter of Captain David Jenkins and Jane his wife, Jane was the daughter of farmer William James. By 1891 Sophia had moved to Llangollen, where she married Rowland Edwards and spent the rest of her life in that area. Some years after Sophia's death, her grandson, Paul Edwards and his wife Jane, discovered many interesting documents and photographs that she had kept. This was the first inkling that the family had a maritime link with Borth. This connection began with master mariner David Jenkins 1788-1874, who was born at Gwastad, but unfortunately little is known about his seagoing career. All we know is that he had two master mariner sons, David 1814-1905 and John 1820-1878. David who lived at 1 Alma Place, commanded the Hope 1856-8, Osprey 1859-66, Sarah Davies 1867-68 and for the last two years prior to his retirement, he was Mate on the Nerissa. He was pensioned off in 1880. His brother John commanded the schooners Hope, 1860-63, Lady of the Forest 1870-76, and Glad Tidings 1876-78. He died at fifty-eight years of age leaving a widow Anne, who lived at 2 Alma Place and drew a pension until her death in 1891. He is buried at Garn Cemetery.
In 1861 the sloop Osprey had an all Jenkins crew, with David b.1814, as master and his sons David b.1840 as mate and John b.1843, as deck hand. David b.1840 became captain in 1868 and commanded the Glencaple 1871-76; by which time he had moved to live at 28 Portland Street, Aberystwyth. For the next ten years he was captain of the Nerissa up until 1889, and his next command was the schooner Hope. In 1892 this small local vessel was caught in a hurricane off the coast of Canada, resulting in the captain drowning.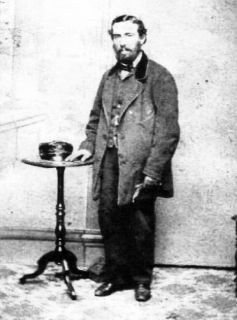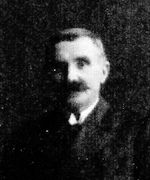 DAVID JENKINS b. 1840 DAVID JENKINS b. 1870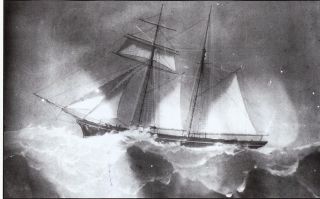 NERISSA
His brother John b.1843 also became a master mariner and lived with his wife Phoebe at Rock House. They were to have several children, one of whom David Jenkins b.1870, became a ships engineer and was one of the survivors of the sinking of the S.S. Cadeby in 1915. David's three brothers all joined the church; Llewelyn became a Canon and Thomas and John William were vicars. The latter was named after his cousin John William, Sophia's brother who died at eighteen months of age in February 1874. Thomas had the privilege of playing association football for Wales on two occasions. He was picked for the national team a third time, but the Bishop of St. Asaph would not allow him time off, and he was not asked to play for Wales again. Another Borth man, William Morris of Brynrodyn Farm, played rugby union twice for Wales in the 1960's. Two other relatives were at sea around 1870; one was Thomas Jenkins of Rock House, on the Lady of the Forest, and Richard Jenkins, the son of Thomas and Rebecca Jenkins, who was lost at sea in 1874.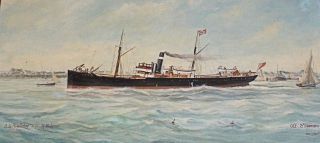 S.S. CADEBY
Captain John Jenkins 1820-1905, had a master mariner son named David 1846-1883. He had married Jane James the daughter of William James. They only had two children as David died relatively young at thirty-seven years of age in 1883. The couple lived at Windsor House, which belonged to the retired William James. A son named John William died in infancy thus ending this branch of the family's maritime involvement. Only the daughter Sophia survived who was Paul Edwards' grandmother.
Captain David Jenkins b.1846 was master of the brigantine Agenoria and the schooner Sophia and Emily. The latter he was part owner of, as well as having shares in several other vessels. The Sophia and Emily, built by Messrs. Jones & Williams of Aberystwyth, was launched in 1873 by Miss Emily Lloyd at a grand ceremony. This vessel had a figurehead of twin sisters, but unfortunately only two years later in 1875 this relatively new vessel had to be abandoned at sea. Quirkily, Captain Jenkins' final voyage was back on board the Agenoria, which was under the command of Captain Hugh Hughes b.1827. Although Captain Jenkins died at Jarrow, Newcastle upon Tyne, he is buried in the family grave at Garn Cemetery, Llandre. Two years after he died of tuberculosis, the by then ageing Agenoria was condemned and sold by order of the Court of Admiralty in 1885.
Captain Lewis Jenkins owned and commanded the barque Dorothy. On his death in 1871 his widow Ann became sole owner and employed her nephew Captain John Jones to run the vessel. Captain Jenkins' son Lewis Jenkins 1857-1909, was the fourteen year old ships' boy on the Lady of the Forest in 1871 who went on to become a master mariner. In 1889, he married Sarah Anne Roberts, daughter of William Roberts, Cambrian Terrace. He served on many vessels including the Hero, and died of acute dysentery in 1909 whilst captain of the Byron.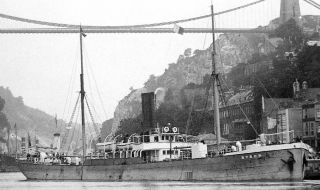 BYRON