THE JENKINS, GORDON VILLA
Captain William Richards' sister Jane, b.1850, married local mariner Evan Jenkins, and one of their sons, John Richard Jenkins, and his wife Elizabeth, produced two mariner sons, Thomas "Tommy" Richard Jenkins and John Llewelyn "Llew" Jenkins. Whilst Tommy was serving as Chief Steward on the Lylepark in the Indian Ocean during World War Two, the ship was torpedoed by a German submarine. The survivors, including Tommy, were handed over to the Japanese and spent the rest of the war in a prison camp…a grim incarceration. The authorities knew nothing of his fate and he was named a war casualty and his wife Edith, received an official death notice from the King. A few years later, having met a prospective husband, with wedding banns being announced, lo and behold Lazarus like, Tommy was pronounced alive and on his way home. He was given a rapturous welcome by the villagers who went to meet him at the station. Wedding plans were hastily cancelled and he and Edith resumed their marriage living at Gordon Villa. Tommy became a postman until his retirement. Tommy's brother John Llewelyn "Llew", was at sea all his life as a cook, and served on the Clunepark, Broompark, Empire Star, Empire Highway and the Mahia. In 1946 the Mahia was in Australia for a time with a skeleton crew, but Llew decided to move ashore to St Kilda, Melbourne and was posted as a deserter .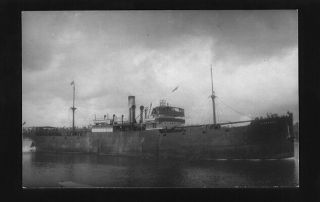 CLUNEPARK
During the Second World War, Llew had a very narrow escape when he was on the Denholm Line cargo ship the Clunepark. This ship was part of a nineteen-vessel convoy that sailed from Freetown for Liverpool in January 1941. Twelve days later, 200 miles S.E. of the Azores, an unidentified cruiser steamed into the centre of this convoy. Suddenly she identified herself as the German battle cruiser Admiral Hipper, rapidly sank six ships, and badly damaged three others, before slipping away. The Clunepark was only damaged, but in the confusion, it was assumed that she would soon sink. It was then decided that some members of the crew should transfer to another cargo vessel, the Blairathol. Two Borth men John Thomas and his brother William were part of the evacuation, but Llew elected to stay on board the damaged vessel because he could not swim. Tragically, William Thomas lost his life along with seven others in the confusion of the transference. Every time I saw Johnny Thomas, who was the local painter, I would immediately recall the story of how he could hear his brother desperately calling for him to be saved in the dreadful oil fire that broke out immediately after the attack. It is ironic to think that if those eight men had stayed on the Clunepark, there would have been no fatalities. Llew and other crew-members managed to get the Clunepark safely to Madeira.
Llew had two sons, the eldest, David who joined the army and Richard who followed family tradition by joining the Royal Navy and serving for over a decade. He was on the H.M.S. Duncan in 1962 in the North Atlantic. From 1964 until 1968, he was on H.M.S. Albion as part of the Far East fleet, and from 1970 to 1972, he was in the home fleet on H.M.S. Antrim, which toured the Mediterranean.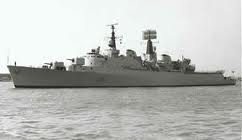 H.M.S. ANTRIM
It was inevitable that in his long seagoing career that ships cook Llew Jenkins would bump into other Borth men. He once met up with steward Elvyn Williams of Hyfrydle, in a bar in Vladivostok of all places, and they drank and sang the night away. Elvyn and his brother Harry were at sea in the 1930's. They were the sons of the local chemist who took a series of remarkable photographs of old Borth Captains around 1900. Elvyn was captured by the Italians and became a prisoner of war in Timbuktu, North Africa. After the Italian surrender, he was quickly repatriated due to ill health and after recovering became a civil servant until his retirement.