THE JONES MARINERS, EVERTON
At the beginning of the 19th century William Jones, master mariner, was living in Aberystwyth with his wife Jane, whom he had married in 1816. They had five children, and then moved to Newport Monmouthshire, presumably seeking seagoing employment opportunities there. One of their sons William Jones, born at Aberystwyth in 1829, married Mary Jones of Borth at Newport in 1854. It is possible that the Jones family of Aberystwyth had some relatives in Borth, as eventually son William and daughter-in-law Mary moved back there to Everton House. They had six children, three of whom were born in Borth.
William Jones served as mate on the schooner Picton and sailed to Mediterranean and Spanish ports. Despite lack of documentation, he later captained the Picton, and on his marriage certificate, it stated that he was a master mariner. He features in a group photograph of Borth master mariners, circa 1890. Curiously, his son William John also commanded this ship a year or so before gaining his masters certificate.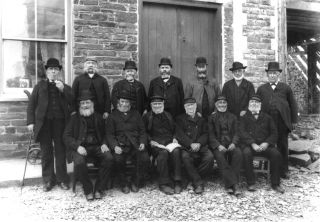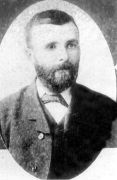 CAPT. WILLIAM JONES (3rd from left, back row) CAPT. WILLIAM JOHN JONES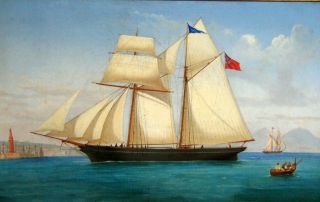 PICTON
William's wife Mary Jones was one of five children of John Jones master mariner, of Ffosygravel Farm Borth who commanded several vessels including the sloop Neptune. Mary's brother Thomas Jones b.1823 was also a master mariner, who at one time had been in the Royal Navy, serving from 1850 to 1856 on H.M.S. Albion, Louisa and Waterloo. He received a Crimea war medal that was once proudly displayed at Pilgrim House Borth. After his war service he successfully sat for his masters certificate in Dublin in 1860 and from 1866 to 1875, he owned and captained the Pilgrim. The captain's residence in Borth was named after the this ship, but when his two spinster daughters, Elizabeth and Mary, retired there, where they gave piano lessons, they apparently got so fed up with being teased by being called "The Pilgrims", that they changed the house's name to The Glyn. The Pilgrim and the Picton were, at one time, very much Jones vessels; the latter lending its name to Picton Terrace, and later Picton House. The Williams family of mariners moved into Picton after the Jones' and they eventually took the house name to where it is today, at the north end of the village.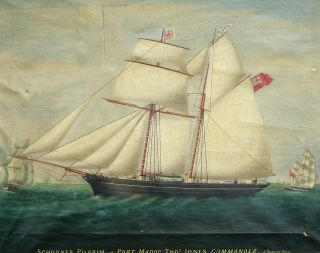 PILGRIM
One of William and Mary's daughters, Mary Jane Jones b.1856, married master mariner Evan Hughes 1849-1882, unfortunately he died of liver disease whilst at sea, shortly after they were married, and there were no children from this union. He became captain in 1855, and commanded the sailing vessels Hannah 1874-77, Hugh Ewing 1877-79 and Spirit of the South 1879-82. Mary Jane later married another Borth master mariner, David Williams 1849-1910, and had 2 children of whom only the daughter Elsie survived, as the son Edgar died in infancy. Another daughter of William and Mary, Annie, 1862-1928, married master mariner Evan Jenkins, 1859-1900, whose brother David was also a master mariner.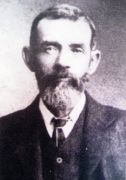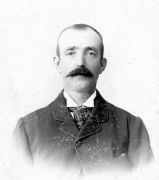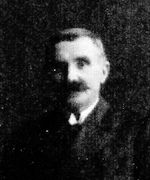 CAPT. DAVID WILLIAMS CAPT. EVAN JENKINS CAPT. DAVID JENKINS
Evan Jenkins, b.1859, gained his masters certificate in 1888 at Liverpool. He commanded the barques Rose Hill 1889/92, Holt Hill 1892/96 and the Bidston Hill 1890/1900. His brother David Jenkins, b.1848 became a captain in 1877. Unfortunately, he lost his life in an accident on board the Nant Francon in January 1882 at Mostyn, North Wales having just arrived with a cargo of iron ore from Bilbao. The inquest reported that he had become entangled in the machinery of a steam winch and suffered fatal head injuries. Their sister, Annie Jenkins, married John Arter b.1854, another master mariner, who commanded the S.S. Carron Park in 1888.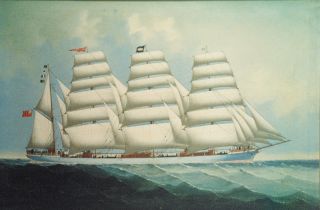 HOLT HILL
Mary Jane and Annie had two brothers, William John b.1857 and Thomas b.1859, both of whom became master mariners and for two decades were associated with the Hill Line Co. Liverpool. This company, owned by Thomas Pryce of Workington, ran a fleet of some of the largest sailing ships in Britain. On his first voyage William John Jones went with his uncle, Captain Thomas Jones, Ffosygravel, on the brig Pilgrim to Taragona. Later he became second mate on the barque Glendovey captained by John Williams of Borth, on a voyage from London to Rangoon. Soon afterwards he passed as master at Liverpool. William John had gone to sea at the tender age of 12, and went on 19 voyages prior to becoming second mate on the brigs Pilgrim, Glendovey and Ocean Belle, and the schooner Picton, which were all Borth vessels. He was later master of the sailing vessels Ellen Greaves, Spirit of the South, Ethel Anne, Douglas Castle, May Hulse, and then the Bidston Hill, from 1891 to 1898, and the Holt Hill, from 1898 to 1901. The Ellen Greaves was a Caernarvon registered 254-ton brig, with an all Borth crew in 1881. Captain Jones circumnavigated the world many times.
On one voyage, in the summer of 1894, the Bidston Hill carried a dangerous cargo consisting of 20,000 cases of petroleum. This substance had already accounted for many ship losses, as its lethal explosive potential was not fully realized. Captain W. J. Jones had loaded the ship at New York, which was then bound for China. To make the voyage even trickier, the large barque ran aground near the entrance of the Yangtze River. After carefully transferring the 20,000 cases into lighters, the three tugs successfully towed the vessel free. It was on this vessel that John Davies Maesteg gained his second mate's certificate in 1893 under the guidance of Captain W. J. Jones. There is a fine photographic montage of the Bidston Hill and its crew that features the previously mentioned John Davies and also another John Davies of Glen Rosa; who both went on to become captains. Later in 1906 the Bidston Hill sank with all hands off Cape Horn.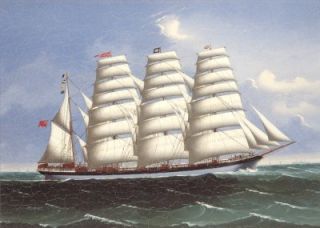 BIDSTON HILL
The owners of the Hill Line, the Pryce's, had kept faith with Borth captains, who proved more than capable of handling their large sailing vessels, as none were lost with these men in charge. Consequently, some of the Pryce family visited Llwyn Glas Farm whilst on holiday at Borth in the 1920's, out of respect for Captain Jones and his family.
Captain W. J. Jones married Mary Owen, 1835-1905; she looked after her two brothers John and David, at their home at Cerrig Y Carrannau Isaf. The captain lived there for a time when he was home from sea, and then moved to Everton, Borth, to live with his widowed sister after his wife Mary's death. His son and wife had once joined him in America, and returned to Britain via Hamburg on the Bidston Hill. The captain eventually went to live in Talybont just prior to his death in 1929. His brother Thomas Jones, named after his Ffosygravel uncle, became mate in 1880 and passed as master in 1883 at Liverpool. He was soon to command the Rose Hill from 1885 until1888 and the Mow Hill in 1889, and was lost at sea on 24th January, 1890, at latitude 19 longitude 27 west.
Another descendant was Captain Emrys Jenkins 1894-1975. He was born at Gordon Villa, and educated at Borth County School, and later at Machynlleth County School. Despite having the ability to pursue a scholastic career, he chose instead to go to sea at the age of fifteen. This he did on a three masted barque in 1910 captained by his uncle, John Arter, who according to family lore, refused to mollycoddle him. By 1920, he had gained his masters certificate and captained steamships from there on in. From 1929 to 1944 he was master of the Thala, Batna, Brika, Marsa, Kerma, Hamla, Modavia, Fort Crevier and Fort Spokane.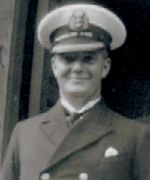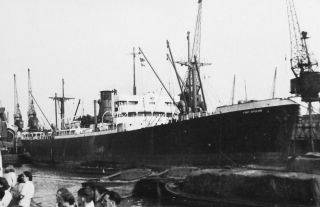 CAPT. EMRYS JENKINS FORT SPOKANE
He was involved in both World Wars and lost the Fort Crevier in Bombay on her maiden voyage from New York. This occurred when a nearby American munitions vessel exploded causing extensive damage and killing over 500 people. He also lost £100 worth of presents he had bought for his wife in New York just before sailing… a large amount of money at the time. He hardly ever spoke about his maritime activities, other than to say that his experience of the Second World War, despite the previously mentioned explosion, was a picnic compared to that of the First World War. He continually told his wife that he always sailed in convoy with an escort of Royal Naval warships. This was true, but what she did not know was that 20 miles out they went off on other duties. Towards the end of the Second World War a torpedo explosion damaged his hearing to such an extent that he retired to become a farmer at Commondale in Yorkshire. His daughter was apparently named after a ship he once commanded, the S.S. Sheila.
These six Borth families, namely the two Jones', Jenkins, Arter's, Williams and Hughes, were interconnected, and as a glance at their family tree shows, there are a score of seafarers; mostly master mariners. It seems that mariners from these intermingled families voyaged predominantly on large sailing ships from deepwater ports. Indeed Emrys Jones, the provider of this large and at times complicated history, mentioned that his grandfather, Captain W. J. Jones, loathed steamers, and considered their captains and crews to be second-class seamen.
There is one final tragic story concerning another of Emrys Jones' family, that of his cousin David Nathan Bunce Morgan, 1916-40. He was the son of James and Gwen Morgan of Llandre, and like his father, he was a gifted medical practitioner and became a Surgeon Lieutenant in the R.N.V.R. during World War Two, serving on the H.M.S. Gurkha. He was involved in the Norwegian Campaign and apparently the captain of the ship pre-empted orders, resulting in the vessel being attacked by the Germans. The crew was kept on the ship from 9 am until 6.30 at night, before taking to the boats. For many of them, including David, it was too late. He is buried at Trondheim Cemetry, Norway. His father was understandably furious as well as upset, and believed that they should have abandoned ship sooner.