THE JONES, ST ALBANS
David Jones 1838-1932, one of six children, born in Borth to a Welsh-speaking family. His father also David Jones, was a mariner, and his mother Jane Rees came from Wallog. Jane was the daughter of a fisherman who lived in one of the two cottages which would be later demolished to make way for today's Wallog House. Young David was much abused at school over his failure to speak English, and with great relief left at an early age.
JANE REES b. 1799, circa 1860
At nine years of age, his parents had secured a job for him as a cabin boy on a ship voyaging out of Caernarvon. At this tender age, David made the long walk from Borth to Caernarvon, involving two ferries across the Dyfi and the Mawddach, and an overnight stop in Porthmadog, all presumably arranged in advance. This is an overall journey of approximately 50-60 miles, depending on the route taken. He would have kept mainly to the coastline before walking over the hills from Portmadog to Caernarvon on the second day, for which an early start was essential if he were to reach his destination by nightfall. Today his parents would probably be prosecuted for cruelty and neglect, for having let one so young journey on his own. Obviously in those days it was commonplace and acceptable.
The ship he joined had a surly, miserable crew and barely edible food. He hated it so much that when the vessel returned to Caernarvon he hid until it set sail again rather than go back on it. The ship was subsequently sunk with all hands in a storm off Bardsey Island, but some months later the local newspaper reported that David Jones' trunk had been washed up on the beach; it was recognised by the inscription in the Welsh Bible discovered inside it.
By then he had found a much better ship, and his seafaring days began in earnest. In 1861, he was on the local schooner Jane Owens as an able seaman. He was certified mate in October 1865, and sailed in that capacity, on the brigantine Xanthus, to Spanish and Italian ports; this vessel was later lost on the Goodwin Sands. He became captain in 1868, and from then until 1870, commanded the City of St. Asaph, voyaging to Australia and South America. He then captained the Elizabeth for a number of years, which had been a Russian "prize ship", brought back as booty from the Crimea. This ship was probably re-named after his elder sister, grandmother or mother-in-law, who all bore the name Elizabeth. This vessel was a regular on the lucrative run from Mostyn to Corunna with a cargo of slate, returning with iron ore. Some Welsh ships coming into port from a long voyage would have a ship's song, to be sung very loudly by the crew, so that those waiting to greet them would identify the vessel. The Elizabeth's was a popular tune they had picked up in Spain, known today as the hymn "Madrid", or the "Spanish Hymn". In 1875 he was captain of the Tamaulipas, which was his last command prior to his career long commitment to the steam yacht Ceres.
David Jones married a local girl, Margaret Williams in 1863 when she was 24. Her father was Captain William Williams 1811-57, who was a master mariner by 1851, and commanded the schooners Jane & Mary in 1855, and the Hypsipyle in 1857. The latter was lost at sea with all the crew in November 1857. Captain Williams' antecedents were all mariners. Margaret's mother was Elizabeth Simon, whose brother, Captain John Simon the elder 1807-81, owned and ran the sloop Robust, built at Aberarth in 1832, which was eventually lost in 1855. He had commanded the schooner Adelaide in 1861, and amongst the all-Borth crew was his son Simon as ordinary seaman. Later, he reverted to mate on the Adelaide at sixty-four years of age, when it was under the command of John Hughes. Apparently, he had been deaf for the previous twenty or so years. His son, John Simon 1843-1917, became master mariner in 1870, and commanded the Cuerero, Ellen Catherine, Sultannina and the Sulliana Reina. His last command was the 79-ton Caernarfon registered schooner Ellen Roberts. Interestingly, whilst he was captain of the Sultannina, the fifteen year old cook on board in 1880 was fellow villager Thomas Hughes Dutton, who went on to become a master mariner.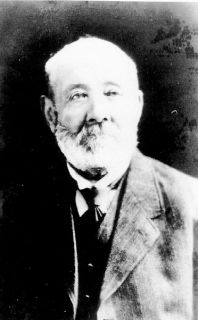 CAPT. DAVID JONES, "ST ALBANS"
Margaret's four brothers John, Thomas, Henry and Richard were all mariners. John Williams 1841-79, captained the Clara and the Agenoria. He died in 1879 and his wife, another Margaret, received £60 from his estate. They had lived in Aberystwyth, but after John's death she moved back to Borth to Providence Villa. Margaret died a few years later, and by 1891, their children were living either with David and Margaret Jones at St. Clare, or in the Friendship Inn as Margaret was the sister of David Hughes, the landlord, known locally as Dafydd y Friendship.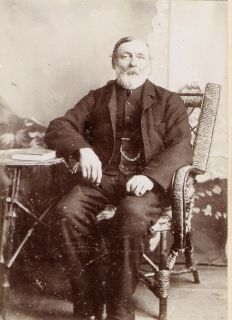 DAFYDD Y FRIENDSHIP
Thomas Williams 1844-73 was mate on the schooner Fairy. Henry Williams b.1846, began his career on the 67-ton Borth schooner Resolute, commanded by John James b.1819, and later became captain of the Elizabeth. Richard Williams b.1849, was mate on the same vessel, which was owned for a decade by their brother-in-law, Captain David Jones. Richard and Henry lived with their families in Mostyn, North Wales where Richard built a house called Borth Villa. With this type of pedigree, which includes a prior generation of mariners including a John Williams and another John Simon, born in the 1700's, it is no wonder that the sea had seeped into this extended families' D.N.A. Another possible Williams descendant was second mate William John Williams b.1890, who served on the War Isis, Siward, Denpark and the Norah Elsmie.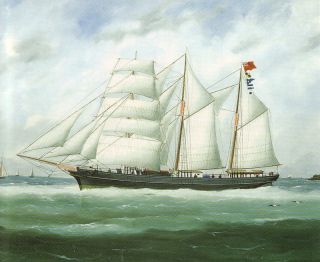 FAIRY
In 1875, John Lancaster introduced Captain David Jones to the Duke of St Albans, and the rest, as they say, is history. From then until the Duke's death in 1898 Captain Jones commanded the 88-ton steam yacht Ceres on its numerous voyages, often to the Scottish Lochs, the Orkneys, Norway, the Holy Land and other parts of the Mediterranean. These voyages usually followed Cowes Week and lasted two months at a time.
Captain Jones had prior connections with Cowes as for a short time he served as mate on the steam yacht Rose. There is a letter from him to his wife Margaret mentioning this fact that was discovered recently in St Clare by Diana Logan. The Ceres was a regular fixture in Cowes Week, and became a focal point for visiting royalty. Famous royal names who came on board at one time or another include Queen Victoria, the King and Duke of Montenegro, the Prince of Wales (later King Edward VII), Prince Leopold, the Duke of Orleans, the Kaiser, the Duke of Connaught, the Marquis of Shetlands, the Duke of Devonshire, Lord Lansdowne and many others. On the commoners' side, there were also Gladstone, Thomas Edison and Guglielmo Marconi. In 1881, Captain David Jones took his wife with him on a voyage to the Mediterranean.
In the course of his travels, he took coffee with Arab Sheiks and Bedouins, and once witnessed an assassination on the streets of Barcelona. With Earl Cawdor aboard they were caught in a storm on Mount Carmel, and sought refuge in the Monastery where they amused the monks by staging a football match between the crew and the engineers and stewards to pass the time. Perhaps one of the most frightening moments was when Captain Jones was standing at the mouth of Mt. Vesuvius, overlooking Naples, and was suddenly enveloped in smoke, sulphur and steam. He was unable to see a foot in front of his face for several minutes. With him at the time were Sir John Beeley, and his 16-year-old son, later to become Sir John Beeley, Lord Lieutenant of the Isle of Wight.
Captain Jones used to make copious quantities of cold tea to drink in the hot Mediterranean climate. The Duke used to drink this as well, and both men were amused to find how much better they coped with the climate than those partaking of alcoholic beverages. There were gifts, too. A diamond tie-pin from Prince Leopold, a gold watch from the Duke of Orleans, a silver teapot inscribed "To Captain D. Jones from Alfred Farquar", numerous gifts from the Prince of Wales and a watch from the Count de Morny. It was a full hunter made of gold with the crossed flags of the Royal Yacht Squadron and France in enamel inside the rear case, and also inscribed "To Capt D Jones from Count de Morny". The Count was close to Napoleon III, who was himself an R.Y.S member from 1858 to 1872.
Oddly, Captain Jones was never officially a contracted employee - he and the Duke shook hands and that was enough, ensuring he and his family was well provided for. In 1880, the captain's family lived at St Clare House, together with his older sister Elizabeth who was a domestic servant, and her dressmaker daughter Jane. Captain David Jones then built three houses in his home village appropriately 1, 2 and 3 St Albans -, which stand today. David and Margaret Jones lived at No. 1, with daughter Moyra and sister Elizabeth. The captain's son Thomas, and his wife Amey lived at No. 2 with children David Elwyn, John Leslie and Amey Aerona. David's daughter Jane, and her husband Thomas Evan Williams, lived at No. 3, with son David Edwin. St Albans No 3 was passed on to their granddaughter Peggy. Peggy was married to Will Owen, for many years the Station master at Borth.
Interesting stories are connected with Edison and Marconi. Early cylinder recordings of the ship's crew singing, including comments from Captain Jones, the Duke and the then Prince of Wales, were kept for many years and were well remembered by the family. Edison visited Europe in 1889 for the Paris Expo and it may be assumed the recordings were made at that time. They were recorded on two brown wax cylinders; different from the commercially produced shiny black ones they shared the box with. In his later years, Captain Jones used to wipe them carefully with a silk handkerchief before putting them back.
Captain Jones had the reputation of being firm, but fair, and was greatly respected by the crew. The original crew was from North Wales and Merseyside, but by the 1890's they nearly all came from the South Coast of England. Captain Jones used to recall with affection a certain Billy Butt, who was first mate for a while. His sister was Clara Butt the singer. The Butt family hailed from Southwick, near Brighton, Mr. Butt senior was a sometime sea captain himself.
After the Duke's death in 1898, Captain Jones was authorised to remove and retain anything he wished from the Ceres, and the ship's contents were duly distributed among the members of his family. The forty year old vessel is believed to have been broken up shortly afterwards. It is unclear whether Captain Jones may have taken the opportunity to retire at sixty, or continued to worked on his own behalf for a while longer. His wife Margaret died in 1906, and in the 1920s he moved in with his youngest daughter, Moyra, in Newtown, where she lived with her Methodist Minister husband David Eglwys Jones and the first seven of their eventual eight children. By all accounts Captain Jones lived a happy life until he died in 1932 at the age of 95. He made a famous journey from Newtown to Borth by bicycle when he was 85. This is a journey of over 43 miles, which even today takes an hour and a quarter by car.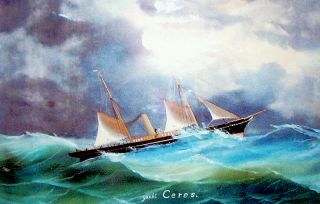 CERES
His eldest son, Captain William D. Jones, 1865-1912, died at sea and was buried in Malta. He was second mate in 1886, first mate in 1887 and captain in 1890. He commanded the Loango, Monrovia, Ethiopian, Montpellier, Yola, Montfort, Mount Royal, Montreal, Lake Simcoe, Montezuma, Lake Michigan, Radiance, Date Grove, Cassia, Ainmere and Canadian Transport. He lived at Montfort, named after one of his ships. It was on this vessel that he took cargoes of ammunition to South Africa at the beginning of the Boer War. For his services Captain W. D. Jones received a cannon ornament made from one of the first shells fired in the conflict. In a twenty-two year career he safely captained sixteen ships. One wonders how many more he would have sailed if he had not died at forty-seven years of age. His wife Elizabeth is buried at Pen-Y-Garn where there is also a memorial to William.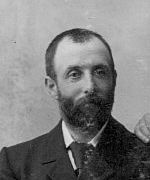 CAPT. WILLIAM. D. JONES.
Thomas Jones 1870-1957, was the second son of David and Margaret Jones of St. Clare. Seafaring was in his blood with his father, both grandfathers and several uncles all being mariners. At the age of fifteen, he went to sea on a sailing ship, the Ocean Belle, at a wage of fifteen shillings a week. By this time he had met his future wife, Amey-Jane Lewis. Amey's grandparents were Hugh Jones 1805-43 and Jane Thomas 1810-49, who were born in Borth and lived at Tre-ddol Hugh had captained the sloops Sincerity in 1826 and the Victory in 1829. His brother Richard b.1791, captained the smack Picton, the sloops Brittania and Mary Ann and in 1840, the schooner Brittania.
One of Hugh and Jane's daughters Elizabeth b.1842, had married a John Lewis and emigrated to America in 1874, when Amey, their daughter, was two years of age. However, Amey was sent back back to Borth to attend school by 1882, after her mother's death and her father re-marrying. Amey was bought up by her mother's sister Susannah 1839-1916, who was married to John Williams b.1838. They lived at Epworth House. John was mate on the Ocean Belle, Ceres and Bernina.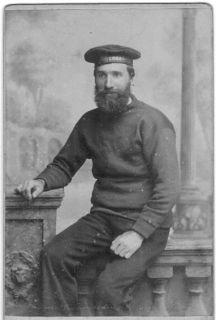 JOHN WILLIAMS, EPWORTH HOUSE
Amey was two years younger than Thomas, and was a friend of his younger sister Jane. After their first meeting, they began a lifelong romance, which initially was kept hidden from friends and family. In January 1887, Thomas set off on a long voyage on the barque Snowdon to Australia, and Amey started to write a "secret diary" to record all her thoughts and feelings whilst he was away. Every day he was away was marked off on a tally sheet she had prepared. Amey wrote how she checked the Gazette for his sailing times from Liverpool, which was Saturday January 15th. She was constantly worried about whether he would start to smoke and drink, or worse still, meet someone else…none of these happened. Amey described how lonely she was without him and how frustrating it was to be unable to tell anyone.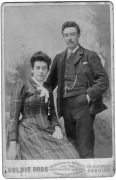 CAPT. THOMAS AND AMEY JONES
The following extracts from that diary show how strongly and passionately fifteen year old Amey felt about Thomas… " Auntie asked me what made under my eyes so dark. I did not answer her truthfully for I said I do not know. The truth was hiraeth mawr (great longing) after Thomas. I felt low-spirited and mournful all day and tonight in chapel I had to come out for my head ached terribly and I felt all alone and strange. For ever since I left America to come here to live amongst strangers he won my heart sooner than Auntie and Uncle did, and now he has gone, all has gone with him"… "He is always in my mind; I feel as if something is wanted and when I grow weary of waiting and lonely without him I go upstairs and read his letters. Especially the one in which he promises to be a brother to me and says "that if God wills that he shall come safely home I can say that my brother is coming home. For a brother never loved a sister more that I love you; it cannot possibly be". I have often wondered at Thomas being able to love me, a poor nobody, more than his mother and sisters…but he has told me so in his letters and in my hearing. I can but believe it and be happy. Dear Thomas he is the best friend I have-he is more than a friend for he said on Xmas eve when he locked his arms around me. "there is something more than brother and sister in this" and I felt exactly the same". Where the name Thomas has been included for clarity in the diary extracts, Amey left blank, in case the diaries and her passion were discovered. The diary petered out in February 1887, probably due to the pressure of exams coming up, which she eventually passed to became a music teacher.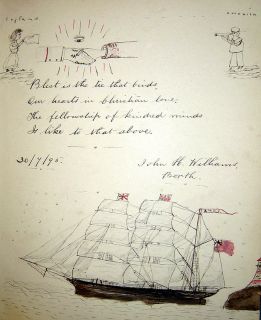 PAGE FROM AMEY'S DIARY
Amey's uncle and aunt had moved to Barry in Glamorgan, and so it was there that she and Thomas married two days before Christmas in 1896. Although Thomas and Amey's first children were born near Liverpool, the family moved back to Borth in 1901 to St Alban's Villas, built by Thomas' father. As previously stated, different members of the Jones families lived in the three houses. Thomas and Amey moved many times during his maritime career, living in Wales and the border counties, but after retirement, he moved to Rhyl, and when Amey died in 1943, he moved to live with his son at Connahs Quay where he died in 1957.
Thomas had a long and varied career starting in sailing ships and then gravitating to luxury passenger liners. He first ran away to sea on the Borth owned Ocean Belle, and then joined the Snowdon, another sailing vessel associated with the village, and voyaged on her to Australia and round Cape Horn to Valparaiso. Thomas then voyaged on the barque British Army, which fought its way for three weeks to round Cape Horn and from there, took a hundred days to arrive at Portland, Oregon.
He was on the barquentine Bootle, carrying copper from Africa to Swansea, then on the S.S. Alexander Elder, voyaging to Baltimore, America. He gained his second mates certificate from Liverpool in 1890, and voyaged to the Persian Gulf in that capacity in 1891 on the S.S. Glantivy. This vessel bought back a cargo of 5,000 tons of dates. He was first mate by 1892 and gained his masters certificate in 1894 at twenty-four years of age. He then waited for five months to get a good post.
In 1895, he joined the Dominion Line and was an officer on the S.S. Labrador, and then on the S.S. Canada on her maiden voyage across the Atlantic to Montreal. Little did he know that he would later command her. He was First Officer on the S.S. Dominion and by 1900 he was captain of S.S. Roman, a cattle and freight steamer. He was one of the youngest captains crossing the North Atlantic at this time. After commanding the S.S. Cambroman and S.S. Englishman, he then became captain of the S.S. Turcoman, for fifteen years from 1903 to 1918. From that time, he became captain of the S.S. Haverford, a White Star Line ship. He was now in the luxury liner business transporting people rather than freight. He later commanded the S.S. Pittsburgh, S.S. Canada, S.S. Megantic, S.S. Cambroman, S.S. Doric and S.S. Regina. When the Pittsburgh crossed the Atlantic on her maiden voyage in 1922, she was the first liner to be fitted throughout with electricity.
During the First World War, the Turcoman was refitted and used to transport troops and horses as well as supplies. Captain Thomas worked out that in the two years form 1915 to 1917, he had traveled 112,323 miles, and transported 6,694 horses and 2,866 mules. He remarked that the mules were much better sailors than horses. With the Turcoman, he transported some of the 7th Division to Zeebruge in 1914, when the siege of Antwerp took place. He crossed the Atlantic many times during the conflict and in 1918 was quoted in the American newspaper, The Philadelphian, "…I have been dodging subs since 1914 and I mean to keep on dodging them until the Kaiser gets tired and quits". Apparently he had several encounters and close misses, with German submarines and possibly sank one by ramming it.
Captain Thomas Jones took part in three rescues for which he received various honours. The first was in 1908, as captain of the Turcoman, when he rescued 35 French fishermen from the Bearn et Bretagne, which had lost its masts. For this he received a pair of fine binoculars from the French government and the Liverpool Humane Society's Silver Medal. His second rescue was as captain of the Haverford in 1918, when he picked up the emaciated crew of the Norwegian ship the Augvald, who had been adrift for eleven days in an open boat after a submarine attack, with no food and little water. For this he was rewarded with an exquisitely crafted silver trophy from the Norwegian Government.
His third rescue was in 1922 as captain of the Pittsburgh, when he saved 45 crewmembers of the Italian ship Monte Grappa, whose cargo had shifted dangerously during a violent storm. For this the Italian government wanted to award him The Order of the Knight Grand Cross of the Italian Crown. However, the British Foreign Office would not allow it as it had a rule against foreign decorations being bestowed on British subjects. He did however receive a silver medal from the Liverpool Humane Society, the Life Saving Benevolent Association of New York's Gold Medal, and a Diploma from the Italian Crown.
CAPT. THOMAS JONES ON THE PITTSBURGH
The rescue of the crew of the stricken vessel Monte Grappa's, was testament to his exceptional navigational expertise and seamanship. The captain had to steam 260 miles on a course that he estimated would intercept the Italian ship at a point roughly 100 miles from her original position, when she sent out the S.O.S. The Monte Grappa was being pushed by a severe storm at the rate of 8 knots, but as she traveled and wallowed deeper in the seas, she was reduced to a speed of 3 knots. All this Captain Jones had taken into account; as well as the time that the two ships would meet. They sighted each other within the hour predicted, and the Monte Grappa's rockets were sighted off the starboard bow, as expected.
The Italian vessel with Captain Bartoli in command, had been bound from Montreal to Venice, with a cargo of grain. The ship was caught in a huge southerly gale, and was fighting enormous cross seas when the 9,000 tons of grain moved dramatically as the shifting boards gave way. There was a huge list to port, which gradually became worse, despite flooding the starboard ballast tanks in an attempt to even her up. The port lifeboats were washed away and the starboard ones could not be launched as they now hung over the decks. When the ship rolled in the heavy seas, her port light disappeared.
Two boats were launched from the Pittsburg into rough seas on a dark night. The passengers viewing the drama expected the Monte Grappa to completely roll over at any minute. The boats returned with 42 of the crew, and one returned again for the captain, mate and chief engineer, who had tried desperately to save their ship. The only difficulty encountered in this incredible rescue was getting a 360-pound Italian man onto the Pittsburg.
A description of Captain Thomas Jones is provided by an American newspaper "…the captain is becoming so well known to Philadelphia, that we begin to claim him as our own….passengers which are carried by him claim that he is one of the most efficient and trustworthy men who have guided them across the blue seas". The captain retired from the sea in 1927, but at the age of 82, was cruising on the Cheshire Canals with his grandson in his cabin cruiser Amey, named after his beloved wife. He died in 1957 and is buried at Keswick, alongside Amey who predeceased him in 1943.
The Williams, Simon and two Jones families were involved with shipping since the 1700's, and had graduated from local sloops to schooners, then on to larger sailing vessels and eventually to steam ships and great ocean liners.