THE LLOYDS
There have been innumerable mariners from the Lloyd family going back to at least the early 1700's. They feature constantly in Borth's seagoing history. They, like many other extended Borth families, moved from house to house as well as constructing new houses as fortunes and family sizes waxed and waned. The Lloyds were to be found at certain times over the last two centuries at Cwmcethin, Glanwern House, Lerry House, Mayfield, Resolute, Inman Cottage, Y Graig and Frondirion.
Derek Lloyd b.1918 was on the S.S. Sarastone in the 1930's, which was occasionally captained by Eli Robilliard, who lived at Torteval Borth, with Derek's father, Edward Lewis Lloyd as second officer. This vessel ran Franco's blockade during the Spanish Civil War to take food and supplies in to Spain and bring refugees out. Before going to sea, Derek bought a camera from Boots the Chemist Aberystwyth. He was advised not to buy the expensive Box Brownie, but instead to purchase a Coronet. With this camera he took many photographs of this vessel and the various crews who came from Swansea, Llanelli, Aberaeron, Aberarth, Llanon and of course Borth. It is quite touching that he can affectionately recall all their names, including those of the Indian stokers. In Iceland Derek and Gulam Mohammed went to the nearby hot springs to bathe. Seeing Gulam's dark skinned body the local Icelanders hurriedly vacated the pool as in their ignorance they thought his colouring was dirt and grime that would wash off into the pool.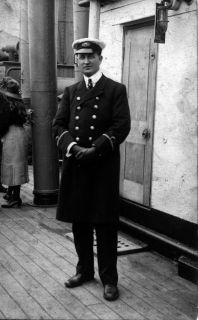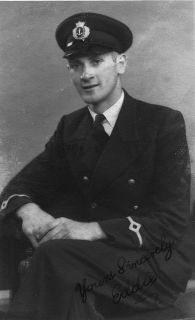 FIRST OFFICER EDWARD L. LLOYD CAPTAIN EDWARD LLOYD
The Sarastone was a 5,000-ton coaster with foreign going articles owned by Stone and Rolf of Swansea. This vessel would "tramp" anywhere, and Derek remembers delivering a cargo of anthracite to Iceland for that country's fishing fleet, and delivering coal to Northern Russia as well as voyaging to Mediterranean ports as far as Yugoslavia.
Derek told me the following story: "We departed Bordeaux after discharging coal from South Wales, and then we were bound for Bilbao to pick up another cargo. The weather was beautiful as we steamed south. Captain "Ham and Eggs" Jones, was in a hurry to make port and all was going well until suddenly we became enveloped in a dense fog. The ship had to proceed slowly with a watchman posted on the bow, and the foghorn sounding constantly. We proceeded for a time like this until the skipper became impatient and decided to increase the speed. I was having a mug of tea on deck, when suddenly there was an almighty crash, mug and contents flew over the side, and the ship came to a very sudden stop. Quickly the engines were stopped, and almost instantly at that very moment, the fog lifted. It revealed that we had hit a rock the size of the Grand Hotel, and water was entering at the bows. Lifeboats were put over the side in case we had to abandon ship, whilst the captain and engineer went to inspect the damage. It was decided that we could plug the hole and pump some of the water out. The other thing that had to be done was to flood the stern tanks as the propeller was right out of the water. By this time, a number of fishing boats had gathered alongside, probably waiting for us to leave so they could do a little looting. Anyway, the stern end was eventually back in the water, and with engines astern we floated off. One of the fishing boats told the skipper he would lead us in to a small port nearby. After tying up it was decided after informing the owners, that she would be taken to a nearby dry dock and repaired. The following two-month period in Spain the crew and I had a ball".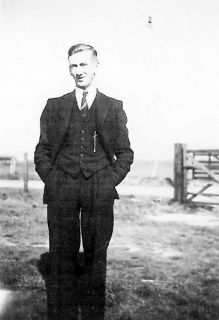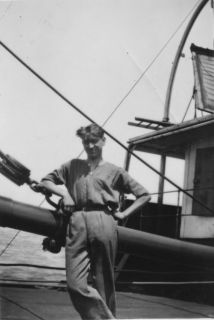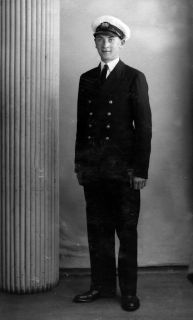 DEREK LLOYD LEWIS LLOYD JOHN LLOYD
Derek left the sea in 1938 and was involved in the founding of the Borth power station, which bought electricity to the village. He spent World War Two in a munitions factory in the Midlands and returned, after hostilities ceased, to Borth where he was a postman up until his retirement.
Derek's two brothers, John b.1922, and Edward b.1920, began their careers as cadets with J.C. Harrison, a London company. Edward went to sea in 1937, and on his third voyage in 1940, witnessed the battle of the River Plate, and the blowing up of the Graf Spee, from the bridge of the Harperley. He served on nine of this company's vessels and left in 1952 as first mate.
Edward then joined Common Brothers of Newcastle upon Tyne, and served out his career with them on some of the largest ore carriers and tanker vessels afloat at the time. In 1954 he gained his masters ticket and his first command was the Kurdistan. The largest vessel he captained was the 225,000-ton tanker Fina Britannia in 1971, which was one of the biggest tankers in the world at that time. He had previously been in charge of the 208,900-ton Al Badih and the 208,800-ton Arabiyah. He, like his father, spent most of his life at sea. As Captain, L. J. Herbert mentions in his memoirs, circa 1970, "I can only name one who is still sailing as master/captain…Edward Lloyd, Frondirion Borth." In 1978, he returned to the Fina Britannia as Commodore of the Fleet. Amongst the many other vessels he captained were Border Regiment, Border Hunter, Warbah, Leeds, Newburn and the Strait of Canso; the latter was his last command prior to retirement. Having his own pennant as commodore, Captain Edward Lloyd flies it proudly outside his home in Middlesborough.
Younger brother John did not like the poor pay as a cadet and decided to get some seagoing experience and signed on as a deckhand on the Harcalo. John was soon a bosun and served on twenty vessels altogether including the Harmattan, Arowa, Eros, Empire Lord, Sunderland and the Vera Radcliffe, about which John remarked, "there was nothing to eat and plenty to do". In the time honoured Borth tradition, John named a bungalow that he built in his retirement, Durango, after his last ship. It was next to Rigi, in Francis Road, but recently his widow has moved to another location and taken the name with her. This is another Borth tradition, which often confuses researchers. After swallowing the anchor, John ended up running a milk retail business.
Another Lloyd brother, Lewis b.1916, was at sea for a time and also served on the Sarastone, but with the outbreak of the Second World War joined the R.A.F. I remember him well as the finest prawn net maker in Borth. He was injured whilst serving the R.A.F. during the war and was invalided out of service.
It is no wonder that all four brothers went to sea, as their father, Edward Lewis Lloyd b.1869, son of Lewis and Sarah Lloyd, of Leri House Borth, had been a seaman all his working life. Like many others, he began his career just before the turn of the 20th century on small sailing vessels in Cardigan Bay. At twelve years of age he was on the 100 ton schooner Nathaniel with Captain John Davies b.1832, in command. He then moved swiftly on to the last of the great sailing ships voyaging from Glasgow Liverpool and Swansea to the west coast of South America, rounding Cape Horn several times before he was 25 years of age.
As the age of steam was tolling the knell of the wind driven ships, he joined the Canadian Northern Steamship Company, and by the age of 28 became second officer. From 1916 to 1919, he was involved with the Cunard Steamship Company. Edward L. Lloyd was a classic example of a man who made light of the transition between sail and steam. As well as British ships, he also served on Dutch vessels, as at one time he was based in Rotterdam where he met his wife Arina.
He was to be involved in one of the maritime dramas of the age, when in 1913, whilst serving on the German steamer the S.S. Volturno, owned by the Uranium Company Rotterdam; he became an instant hero by arguably preventing a major maritime tragedy.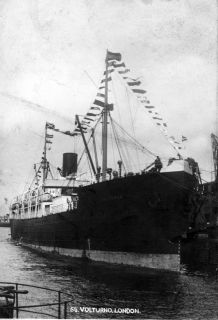 VOLTURNO
The Volturno was carrying 800 Russian and Polish emigrants to Halifax Nova Scotia. In mid-Atlantic the vessel encountered a severe gale, and to compound things, an explosion occurred resulting in a fierce fire. The foremast was severely damaged which broke the wireless aerial. Second officer Lloyd climbed and fixed the aerial so that an S.O.S. message could be sent. During this procedure he was severely burnt about the hands and arms, and as he was descending, due to these injuries, he lost his grip and fell on the deck and bruised his back. As he recalled, there was no time for considering pain and he set about cutting holes through the deck and the hatch tops to get the fire hoses through to the burning holds. 136 passengers lost their lives in a very short space of time due to smoke inhalation.
Large liners arrived near the scene in response to the S.O.S. and were standing by in the severe weather conditions. Several boats had been launched from the Volturno, but were instantly swamped. Edward Lloyd volunteered to take a boat with a crew of his own choosing, to row across the two miles of heavy seas to the German liner Grosser Kuerferst. He succeeded in reaching the big German liner, and later, under his direction with the American oil tanker Naraganset, pouring oil on the sea, boats were put out and the passengers and crew of the ill-fated Volturno were taken off safely. He was definitely the hero of the hour, not only had he reactivated the damaged wireless system, but in a superb feat of seamanship, he no doubt was largely responsible for the nearly 700 survivors. During the 1914-18 war he was involved in transporting troops to the Dardanelles and served for a time on the Mauritania. Later he served on several ships, including the Sarastone, running the blockade during the Spanish Civil War. He was still serving two years into the Second World War. At the end of the war he died suddenly in 1946.
Captain John Lloyd, brother of Edward Lewis, had a long and distinguished career commanding ships for Cardiff based firms such as the Jenkins Bros, one of whose ships that he commanded was the S.S. St Regulus. During World War 1, he was made Lieutenant in the R.N.R. and was in command of Naval Transport. During his retirement, he built the house known today as Y Graig which had its own electricity generator. Another John Lloyd 1840-1890, was mate on the schooner Nanteos in 1861, and on board was his younger brother David b.1845. John was born at Ty Du Farm, and captained the Florence 1866-72, Convoy 1872-6 and the Dora Ann 1876-88 and was on the Glenhavren in 1890 when he died at Santiago Da Cuba. He had married Mary, the daughter of Lewis Jones master mariner, and at one time he was a major shareholder with Borth man, William James, in the sailing vessel Convoy, which was eventually lost near Bahia in 1878; this ship gave her name to the house Convoy in Borth. Another relative was David Lloyd 1837-1870, who at twenty-three years of age was mate on the schooner Eleanor Francis, and later commanded the Naomi, from 1865 to 1870; he unfortunately drowned in an accident at Monte Video.
Another Lloyd family enterprise was the Aberdyfi built schooner Martha Lloyd, which was totally Borth owned with Captain Evan Lloyd b.1849, being the principal shareholder. He gained his masters certificate in 1875 and went on to command the S.S. Cincora. The Martha Lloyd was commanded by various Borth men including Captain William Williams 1839-1922, but was eventually wrecked off the coast of Holland; a strange quirk as today's Lloyd descendants mother Arina, came from Holland.
Jim Lloyd A.B., spent some time at sea, after which he spent many happy hours sailing a Borth beach boat called The Betsey, which was later owned by Enoch Pugh and "Jack" Ellis. In the 1930's, Jim was in partnership with his cousin Edward Lewis Lloyd in the ownership of a small coaster, which traded in the Irish Sea. Unfortunately, this Borth owned vessel was lost off the coast of the Isle of Man, luckily with no loss of life. Nearer our time another relative, Oswald Lloyd of Beach Grove House, was Chief Petty Officer in the Royal Navy from 1938 until 1952, serving on H.M.S. Belfast and H.M.S. Rapid .
The womenfolk of the Lloyd family were also familiar with shipboard life, as the family of Edward Lewis Lloyd's wife Arina, were involved in shipping affairs. Arina Lloyd and their daughter Gwen were often photographed on board ship. Arina was pictured dressed in her husband's uniform, and their daughter Gwen is seen being held aloft by her father in another photograph on board the Principello, of London. As a teenager, Gwen also sailed with her father on the Sarastone from Newport to Barry.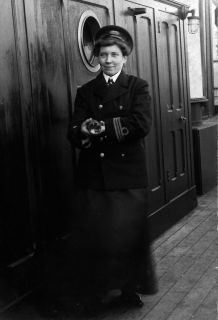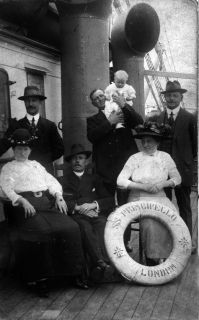 ARINA LLOYD BABY GWENNIE LLOYD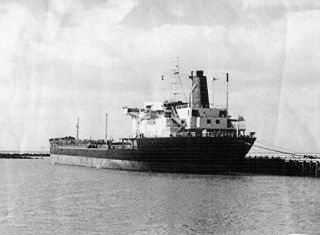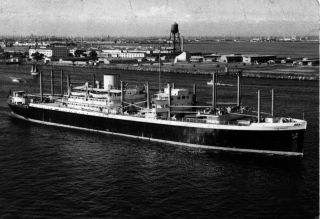 KURDISTAN DURANGO
A comprehensive history of the Lloyd family can be found in the books: BORTH A SEABORN VILLAGE & BORTH A MARITIME HISTORY