THE RICHARDS MARINERS
Captain William Richards 1845-1912, gained his masters certificate in 1872 and commanded the sailing vessels Cecil Brindley in1873, Martha from 1874 to 1879and the steamers Glenalvon 1879 to 1882, Eira 1882 to 1883 and the Lady Mostyn from 1883 to 1888. He had begun his career as ships boy at twelve years of age, and at sixteen, he was a seaman on the sixty-ton Aberystwyth registered schooner Maid of Merion. He then went on to serve on the Forest Princess, Punch, Forest Queen, Annie Brocklebank and the Mary Elizabeth; all sailing vessels. He was one of eight children. His brothers David b.1841, John b.1848, Thomas b.1852 and Evan b.1855, all became mariners. Of the three sisters, Megan b.1853, Jane b.1850 and Ann b.1858, only Jane married a mariner; Evan Jenkins. The captain's father John b.1819 was a mariner, but on some documents he was noted as a farm labourer.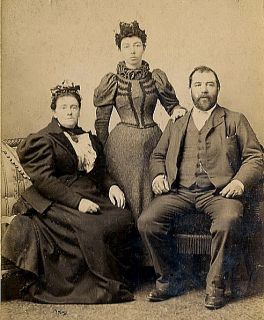 CAPTAIN RICHARDS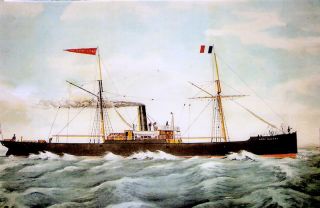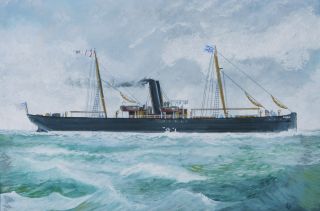 S.S. LADY MOSTYN S.S. EIRA
Captain Richards was from a large clan of Borth mariners that had produced, amongst others, a Hugh Richards 1733-1807 noted on his gravestone as a mariner. Captain Thomas Richards b.1822, who passed as captain in 1850 and commanded the schooner Tirsah from 1859 to 1873, and later the steamer Lady Mostyn for a few years before his retirement in 1880.There was also Captain David Richards 1835-1873 who was captain in 1865 and commanded the Edward John from 1865 to 1867. These three are also my antecedents.
Captain David Hughes Richards b.1879 of London House, had a narrow escape in 1901 when he was second mate on the S.S. Herschel when she was run down by the S.S. Ardeola in thick fog. David gained his captaincy in 1905 and commanded the Wellpark, Mountpark, Dawnpark, Holmpark and Rowanpark throughout World War One and he was on the Grainton as first mate in the Second World War when well in to his sixties. Other relatives, John and Elizabeth Richards of Tanygoitan Cottage, also my antecedents, lost their twenty year old son Edward John when he drowned after the sloop Conductor was wrecked on the Kish Bank. It was John and Elizabeth who helped persuade Captain William Richards to buy a parcel of land on the cliff pastures of Pengoitan Farm to build two houses, namely Maelgwyn's 1 & 2, in 1903. There were also distant relatives at Aberdyfi, one of whom, Captain David Richards whose schooner the Maglona was lost with all hands on her maiden voyage off Cape Race Newfoundland, in the 1870's.
Anne, wife of Captain William Richards, had a sister who also married a mariner; Captain Griffiths. He had been born in Dolau of farming stock. He left home at the age of fourteen to work with the vicar of Pennal. The young man's intelligence aligned with a keen interest in seafaring so impressed his employer that he sent him to study navigation with Cranogwen. This talented lady lived at Llangranog, and one of her many achievements was gaining her master mariners certificate. Young Griffiths gained his master mariner certificate in Dublin and went on to command the Mexican and the Roebuck of Wisbech. On one of his voyages, after a two year absence, it was presumed that the ship and the crew were lost. No sooner had the insurance been paid out, and other matters concluded, than the long overdue ship returned causing great consternation. Not least of all to his wife, and apparently after this event she persuaded Captain Griffiths to give up seafaring and to concentrate on agricultural matters at Dolclettwr Farm Treddol
.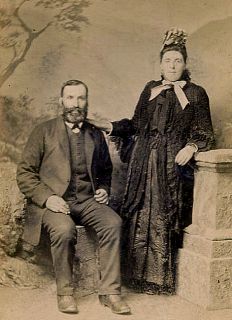 CAPTAIN GRIFFITHS AND WIFE
Captain William Richards had four children, and of the two sons the eldest John Thomas became a ships engineer. Unfortunately, he drowned at twentyfour years of age on the 17 September 1898 whilst serving as third engineer on the S.S. Calisal. This occurred when the boat on which he was returning to his ship was driven hard against the vessel's side, throwing him overboard. After this tragedy the other son, David, was forbidden to go to sea and became a carpenter. Several letters found recently in Maelgwyn Pengarn's attic, by the current owner Richard Gethin, are from Eira crewmembers William Hunt and John Graham. They indicate that the captain's two daughters, Peggy and Mary Elizabeth and their mother had gone with their father on the maiden voyage of the S.S Eira. According to his descendants, Captain Richards did not entirely trust this vessel in bad weather, and indeed his fears were borne out when she later simply vanished on a voyage between Whitehaven and Kronstadt in 1898.
Amongst these aforementioned letters are some from Richard Williams, a schoolteacher from Borth, who at one time courted Mary Elizabeth. In them he complains that despite blowing a whistle at intervals to signal that he was near her home at Pengarn, she did not come to meet him. This romance did not progress, as she later married a Davies from nearby Aberceiro. Mary Elizabeth and her husband moved to London where she became the first female sanitary inspector in Britain. She was also an active suffragette and closely associated with Emmeline Pankhurst's inner circel.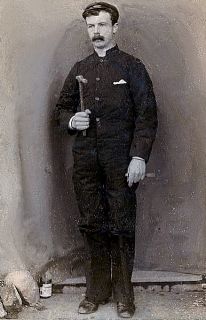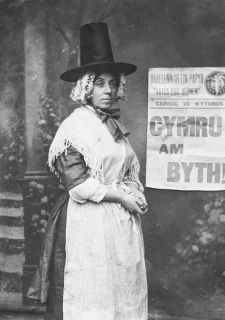 JOHN THOMAS RICHARDS MARY DAVIES (nee Richards)
The captain's son David had two sons, one of whom went to sea. Edward "Ted" Albert Richards 1904-1981 was in the R.N.V.R. during World War 2. He attended Towyn Grammar School where he excelled academically. Despite this he was not happy there, as he frequently recalled walking out onto Towyn beach to look south to Borth, often ending up crying. Ted went on to take a degree in chemistry at the U.C.W. Aberystwyth, but decided that he would prefer to be in the arts than the sciences. By 1928, he was in London in a book retailing partnership. Times were quite lean in the 1930's, and he took on bit part acting jobs and began writing plays. Many of these were abstractions of Borth's historical associations with the sea, such as, Master Mariner, Who'll Buy My Fresh Herrings and Herring Harvest. Overall, he wrote twenty-four plays and a few short stories, some of which were later re-drafted and presented on radio.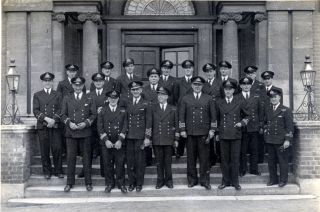 A.E. RICHARDS (far left)
At the end of 1941, with the war reaching a crucial state, he decided to do his bit and joined up. It was natural that he would join the navy, but his age dictated that it would be in the R.N.V.R. He was soon promoted and found himself involved with training exercises on minesweepers. Ted often remarked about the comical mix of the crew on these vessels. Most of the skippers were trawler men in peacetime, who knew the coastal waters in and around the English Channel like the back of their hand. These rough and ready men, now uncomfortably uniformed, were trying to organize hapless officer recruits from public schools and the professions, who had no sea going experience. Other than his sea going duties, Ted, because of his background, became involved in liaison duties, looking after the welfare of new recruits and organizing sporting events and theatrical entertainments.
Ted often recalled that on one busy recruiting day when he hardly glanced at the procession of new faces, as he called out "name and address etc", a small voice replied "Ted bach fi sydd yma; rhwyn perthin i ti" (dear Ted, it's me here, I am related to you). It was ships cook Llew Jenkins from Borth, who had found out where Ted was stationed, and had come to invite him to share some food he had smuggled ashore. Trite a story it may seem, but Ted often recalled it wistfully. Llew took him to his rented room high in the attic of a London house, and on a little gas ring cooked a sumptuous feast of bacon and eggs. This was something very rare at the height of rationing and as Ted stated "thank God the skylight was opened so the aroma would not attract attention". At the end of the war, and for a few years afterwards, Ted was on repatriation vessels making several round trips to Australia, South Africa and America. It was on such a voyage on the Stratheden that he met up with Borth man William Williams of Penbont. After the war, he returned to Borth with his wife and children to run a dairy business.
Some descendants of this branch of the family had only tenuous links with the sea. Ted's son Paul b.1944, ran inter-island vessels as part of his brief when District Officer in the Solomon Islands in 1970. He then returned to Britain and taught at H.M.S. Arethusa for a time. After emigrating to Australia in 1976 he pursued a teaching career, and is currently, in his retirement, a member of the Australian Volunteer Coast Guard. Ted's brother John Thomas, "Jac", named after his long lost ships engineer uncle, has a son John b.1946, who served for thirty-five years in the R.A.F; and a daughter Ann 1942-1995, was married to David Morgan who went to H.M.S. Conway, and was for a time an officer in the Merchant Navy.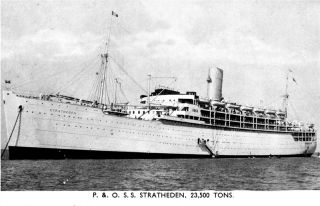 Captain William Richards' great-grandson Thomas Davies b.1937, descended from his suffragette daughter Mary Elizabeth Davies, decided to go to sea when he was about five years old. He got up in the attic at Maelwgyn Pengarn for the first time alone and found rolled-up in a basket, a watercolour of the Lady Mostyn, his great grandfathers last command. Tom joined his first ship the tanker British Diligence in Swansea. He served on a dozen ships and travelled as he says "most of the seas; some benign, some ferocious". Tankers laden were the least affected by bad weather, but in ballast were much higher out of the water making it difficult. On one trip to Australia, fully loaded, Tom's ship was caught in a typhoon, but all he can remember was being excited, but quite a few on board donned lifejackets. Tom served on five other tankers; British Councillor, British Diplomat, British Ranger, British Harmony and British Skill.
Tom then joined the Royal Mail Line, as he was attracted to the idea of voyaging to South America. At this point his father presented him with his grandfather's sextant, it was an old Vernier type and very different from new sextants at the time. Tom took it with him and used it despite the funny looks the first time he took a noon sight…..it was a just as accurate as anyone else's. Tom's first ship with Royal Mail was the Highland Monarch, a cargo passenger ship on the Brazil River Plate run carrying outward passengers in three classes. It had the mail contract for the South America run and delivered and collected mail from all the ports it stopped at; La Coruna, Vigo, Lisbon, Las Palmas (Canaries) Recife, Bahia, Rio De Janeiro, Santos, Montevideo and Buenos Aires. Tom was mail officer and hardly got ashore as the ship would arrive early in the morning and sail late in the afternoon.
Tom made four trips on the Highland Monarch and then joined the Parima, and later the Alcantara. Unfortunately it was on this ship that he contracted polio as it was approaching Brazil. He was hospitalised ashore at Rio De Janeiro for several months. When he got home, Tom had to convalesce at the Dreadnought Seamen's Hospital in Greenwich for a couple of weeks, on half pay. For a time, post hospitalisation, he became a ship keeper. When a ship arrived home and the officers were due leave, ship-keepers would "keep ship"; keeping the log, overseeing cargo and so forth. Most ship-keepers were retired officers. Tom soon declared himself fit and went back to sea, first on the Albany, then the Durango, part refrigerated and part dry cargo. Tom did five trips on the Durango, and on the last trip met his wife to be, who was amongst the passengers. After getting married, Tom resigned and went to work with the Lotus Car Company. His polio had something to do with him leaving the sea but it was mainly meeting his wife and getting married. Tom has done many things including sailing the Atlantic and serving on the Winston Churchill as a watch Officer. He lived for over a decade at Ardwyn House.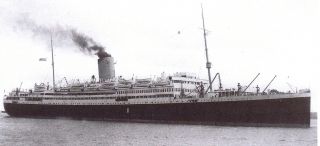 ALCANTARA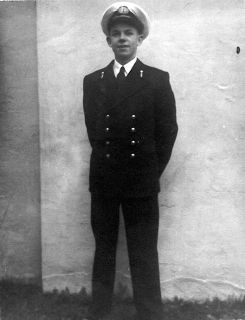 THOMAS DAVIES