THE WILLIAMS, PICTON
A miner Lewis Williams 1815-91 and his wife Anne 1816-95, of Borth had seven sons, one of whom a Thomas b.1842 died in infancy. Four of their six surviving children became master mariners. The first son Captain William Williams 1839-1922, was associated with schooners Picton, Mary Davies, Martha Lloyd and the barques Aberystwyth Castle and the Caradog. In the 1881 census Captain Williams was master of the Mary Davies, berthed at Milford Haven, and under his watchful eye were his sons, John as first mate at seventeen years of age and Lewis as a cabin boy of thirteen. These two also served with their uncles on sailing vessels, which provided them with the seagoing skills that eventually resulted in both becoming master mariners.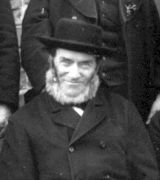 CAPT. WILLIAM WILLIAMS
Lewis and Anne's second son, John Williams 1841-92, gained his masters certificate in 1870, and by 1871, he was captain of the brig Naomi, which voyaged to the Mediterranean and South America. In the 1871 census, John Williams is master of the Naomi at thirty years of age, and on board is his twenty-three year old brother Thomas Williams b.1848, as bosun.
CAPTAIN JOHN WILLIAMS
After four years on this vessel, John Williams spent the next seven years in command of the barque Granville. He named his daughter Anne Granville after this ship. (I remember her as an old lady living in Auckland House). Captain John Williams then commanded the barque General Picton until 1890. This vessel was lost in mid Pacific, not in a storm but because the cargo of coal had self ignited, and she burnt and sank. Luckily, all the crew was rescued.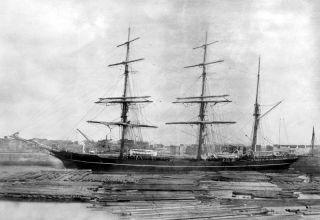 GENERAL PICTON
None of the captain's sons went to sea, but the eldest John Llewelyn, who left Britain to take up a banking position in America during World War One, was for a time presumed lost on the liner Appam. This vessel was posted missing as one of her wrecked lifeboats had washed ashore near Madeira. All hope had evaporated when she thankfully turned up after prolonging her voyage to avoid submarines in the area.
Another son Albert Wynne, was badly gassed serving in the army on the Western Front. When he returned home a pivoting summerhouse was built for him in the garden at Auckland House. I remember it as a young man, when I delivered milk to the house, and I had always considered it a sort of potting shed, or greenhouse, as it had an all glass front. According to Molly Williams, his niece, he would spend most of his days in there lying on a horsehair couch, with family members sporadically rotating the construction to ensure maximum sunlight. It was eventually decided for his health's sake, that he go and live in South Africa. It was there that he died in 1933.
Lewis and Anne's third son Lewis 1845-1937, began his career as ships boy on the schooner Mary Jane. Later he gained his masters certificate in 1870, and commanded a series of sailing ships, the Martha Lloyd for seven years and the Naomi for another seven, until she was lost in 1882, the Granville, Claudia, Coromandel and the Caradog. He is reputed to have rounded Cape Horn more times than any other captain from Borth, apparently some fourteen times.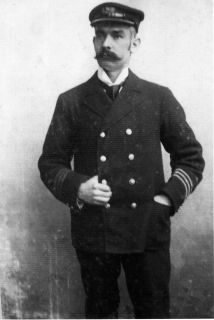 CAPT. LEWIS WILLIAMS
The fourth son David 1849-1910, gained his master mariners certificate at Dublin in 1874. To celebrate this occasion he bought himself a gold watch. During his career, he had to apply twice for replacement master certificates that were lost in the sinkings of the barques General Nott and the Inchbarga. In 1892, the General Nott was lost after a collision with a French ship in the English Channel. David and his brother John, had shares in her. Three years later, another certificate was applied for when the Inchbarga sank in the Black Sea. In a thirty-year career, he also commanded the sailing barques Ivanhoe, Earl Cadogan and the Glenholm. Captain Williams actually died on the Glenholm at Hull, and is buried in Llandre Church cemetery.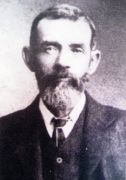 CAPT. DAVID WILLIAMS
David married Mary Jane, a widow who was from the seafaring Jones family of Ffosygravel. Mary Jane's first husband, Captain Evan Hughes 1849-82, had died at sea of liver disease shortly after they were married and there were no children from this union. Evan Hughes became captain in 1855, and commanded the Hannah 1874-77, Hugh Ewing 1877-79 and Spirit of the South 1879-82. David and Mary Jane had two children, but only Elsie survived as her brother Edgar died at four years of age. Soon afterwards, tragedy struck again as Mary Jane died whilst her husband was away at sea. Captain David Williams then married Ann Jones, his deceased wife's first cousin, and daughter of Thomas and Elizabeth Jones of Ffosygravel. This second union produced a daughter Anna, and she and her half sister Elsie attended primary school at nearby Llandre. Later the two girls went together to the Welsh Girls School at Ashford in Middlesex.
Elsie sailed to India in 1916 on the City of York, the last ship on which women and children were allowed to travel after the start of World War One, to marry Jenkin Jones Hughes, a curate working for the Cambridge Mission to Delhi. Three years later in 1919, the couple returned to find Elsie's half sister Anna dying. Elsie's only daughter, named Anna in memory of her aunt, married Robert Heathcote and they had two children, Diana and Tony, who provided this project with the images of the barques Glenholm, and the Earl Cadogan.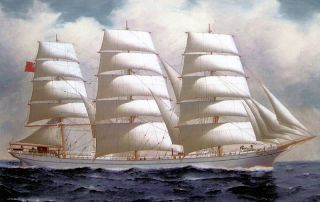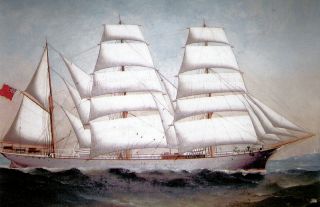 GLENHOLM EARL CADOGAN
Captain David Williams' gold watch, mentioned previously, had a few mishaps itself. When the Inchbarga sank after the collision in the Black Sea, Captain Williams, after taking to the boats realised that his watch was still aboard. After a mad scramble, he retrieved it just in time from his already waterlogged cabin. After the captain's death in 1910, the watch was given to his son-in-law Jenkin Jones Hughes. In his duties as a curate, he always had it on a shelf near the pulpit so that he could time his sermons. Obviously a man given to extravagant gesticulation during the fervor of preaching, it fell many times. On one occasion as he commanded "get thee behind me Satan", with an out flung arm, the watch, which had accidentally become entangled in the sleeve of his clothing, ended up being hurled quite a distance amongst the congregation…hence the many dents. The gold watch was subsequently inherited by his great grandson Tony Heathcote.
Captain David Williams commanded the barque, Earl Cadogan, from 1896 to 1899. Amongst many destinations were Ascension, St. Helena, Natal, Algoa Bay, the east coast and Gulf ports of the U.S.A., Burma, Mauritius and the Red Sea. From 1902 until 1909, he commanded the barque Glenholm, voyaging to Brazil, River Plate, Australia, New Zealand, Ascension, Natal, South Pacific and the west coast of America. The other two sons of Lewis and Anne, namely Thomas and Richard, were also mariners, but at this moment in time very little information is available about them, except that they both died young. Thomas b.1847 was named after his dead sibling and is believed to have died overseas in South America and Richard 1852-73 is buried at Llandre Churchyard.
The previously mentioned barque Aberystwyth Castle, was built in 1875 by R.G. Evans & Co, Liverpool. Her first owners were the Welsh Castle Line, but twenty years later, she ended up in the hands of Australian owners. Luckily a fine picture of this iron-hulled barque survives; it was painted in Newcastle, New South Wales. So after a long association with Borth mariners, she ended her days in the Pacific when she was badly damaged off Japan in a typhoon in 1900 and broken up.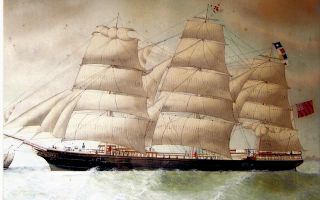 ABERYSTWYTH CASTLE
When this ship was commanded by Captain William Williams, the first mate was often Hugh Hughes 1827-1901, although having gained his masters certificate in 1869, he was first mate on the Aberystwyth Castle from 1876 to 1882. He later captained the barque Rhuddlan Castle, but his master's certificate was suspended after the vessel became stranded on the Goodwin Sands. He continued at sea only as First Officer on the Primrose Castle. It was on this vessel that he and all the crew except one, drowned when she foundered off Holyhead in 1901.
Captain William Williams b.1839, had three sons who were all mariners; John 1864-1907, Lewis 1868-1952 and David 1873-94. All three had sailed with their father and their two uncles in many of the previously listed sailing ships. John became captain in 1890 and commanded the Clarissa Radcliffe and later the Orianda from 1904 to 1907. He and his wife Elizabeth lived at Deudraeth. Unfortunately, he drowned when the Orianda was involved in a collision off Nash Point in the Bristol Channel, in February 1907 on a voyage from Cardiff to Spetzia, Italy.
Lewis Williams was second mate in 1891, first mate in 1893 and captain in 1896. Amongst the vessels he commanded were the steamships Vindomora in 1898, Porthcawl from 1904 to 1909, Castle Bruce 1914 to 1917, the Foreric in 1918 and the Carston in 1920. Captain Lewis Williams married Lizzie Hughes 1869-1946, of Rhyd Y Cerrig Cottage. Her sister Sarah Hughes, married Captain John Jones and they had a son Horace Ivor Jones, who became a ships captain. A descendant, Myra Noreen Ford, nee Williams, has a treasured possession from her great aunt, Sarah Jones, nee Hughes, in the form of a gold brooch, brought back no doubt from a sea voyage. It consists of three solid gold deutchmarks, dated 1878, one of which was struck at Hamburg.
David, whom we have little information about, died in Rio de Janeiro at 21 years of age. Prior to 1920, the Williams family lived opposite the Friendship Inn, in Picton House, which later became Arfor. When the family moved to the row of large houses at the northern end of the village, they took the name Picton with them.
When Captain Lewis Williams' only son, Llewelyn Vernon 1897-1980, was a young boy his father would send postcards home from all around the world. Most were to his wife Lizzie, but many were to the young son, such as "…hope you are keeping a very good boy and that you will be coming for a voyage soon…", in 1905 when he was eight years of age, "…are you ready to come away with me?…", when Vernon was nine, "…a little bird has been telling me that you have been smoking cigarettes, all right my boy you wait till I get home. I hope that you won't do it again and be a good boy…" this when he was twelve years old. It is obvious that there was a deep affection between father and son, which lasted a lifetime; probably strengthened later on when Vernon's sister Noreen 1895-1928, died of tuberculosis whilst both father and son were away at sea. However, her name lived on, as relatives, David and May Hughes of Boston House, asked if they could name their daughter after her. This they did, and until her recent death, Noreen Sharpe lived in Borth at West End, where her own daughter and family currently live.
Throughout the First World War, Vernon sailed with his father as first mate, without mishap. Vernon "Bach", as he was affectionately known, was constantly up to mischief, and refused to take life too seriously. The stories about his escapades are many. When his father was away at sea, Vernon was sent off daily to Machynlleth Grammar School on the train. Often after breakfasting with his mother and sister in the kitchen at Picton House, he would bid them farewell, suggesting they need not come to see him off at the front door. As he walked down the hallway, Vernon plus schoolbag, would jump into the grandfather clock, where he would wait to hear the train whistle blowing, signalling that it had left Borth station. Ten minutes later he emerged from the clock, returned to the kitchen, acting crestfallen, announcing that regretfully he had missed the train again. It was not until many years later that he confessed to the constant truancy.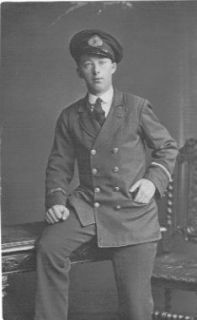 VERNON WILLIAMS
At one time when Vernon was at sea as a young man, the ship he was on was tied up at Murmansk. Having already played numerous pranks on the voyage, was told he was not allowed to go ashore and nor was he going to have any money to spend. A few hours later, hearing the sounds of the carousing crew ashore, Vernon could stand it no longer, so down he went to the ships' pantry and found a large tin of marmalade. Back on deck, he stripped off, wrapped his clothes around the marmalade tin and covered it all with an oilskin. He then strapped the bundle to his head with a long woolen scarf, and slipped into the icy water on the side opposite the dock. After swimming ashore and putting his clothes back on, he promptly sold the tin of marmalade and joined his partying shipmates. His swimming prowess is attested to by his daughter, Myra "….my father was a brilliant swimmer and would swim from opposite Picton to the cliffs, at the southern end of Borth, and back. Every night during the summer he would take me swimming, and I became quite proficient as he was a good teacher".
Even when he sailed with his father he could not resist getting involved in all sorts of escapades despite having the responsibility of being first mate. On one occasion just before Christmas, Vernon and his Borth shipmates stole a couple of sacks of walnuts from a warehouse in Marseilles. The gendarmes narrowed the suspects down, and came to search the ship, but to no avail. However, his father Captain Lewis Williams discovered where the nuts had been hidden, and gathered his son and cohorts together and told them that the price for his silence was one of the sacks…half the loot! Gales of laughter burst out and they readily agreed, as they did not want to spend the festive season in a French jail. No doubt, the sound of walnuts being cracked at Picton resonated throughout the house that particular Christmas, whilst father and son exchanged a wink.
Vernon studied for his second and first mate tickets at Cardiff Maritime College. He also sat and passed, his masters mariners examination, but unfortunately, it was discovered that he was colour blind, so he was excluded from commanding vessels. This condition was no doubt exacerbated by an eye injury that had occurred earlier when he was chipping the rust off a vessel in Port Durban.
He married Elizabeth Ann David 1905-1979, who was also from a seafaring family from South Ceredigion. Two of her uncles were sea captains, one from Newcastle Emlyn commanded the S.S. Bretwalda throughout the First World War. Borth man Evan John Rees of Gordon Villa, ships cook and the son of Captain Hugh Rees, survived the torpedoing of the S.S. Bretwalda near Malta in 1917. Elizabeth Ann's other uncle, having moved to Portsmouth also served as captain in the same conflict on the S.S Empress of Britain, which occasionally had Borth man David Williams, a close relative, as a crew-member .
Vernon, no doubt had inherited his grandfather's temperament. After returning from sea, and docking at Aberystwyth in 1866, Captain W. Williams and crewmember Abraham Davies, who later became a master mariner, and another William Williams, crewmember, over-quenched their thirst before jumping on a train to Borth. Soon a fracas developed, which resulted in a scene on Llandre Station platform, with the captain removing his coat, waistcoat and tie, and sleeves turned up to the elbow, threatening to fight anyone on the train. He and his shipmates were persuaded to stay at Llandre whilst the train continued without them, so they had to walk the rest of the way home. They were all found guilty of annoying passengers and using abusive language. They each had to pay costs as well as fines. It was quite ironic that crewmembers were fined £1 each, and the captain only 10 shillings.
Currently Myra Ford and others are trying to establish if Captain Williams Dinorwig (profiled in this website), is a son of Lewis 1815-91, and Anne 1816-95. If so, then there were 5 master mariner brothers. We have already established that there were 4 James master mariner brothers as well as 4 Hughes master mariner brothers.