WOMEN AND THE SEA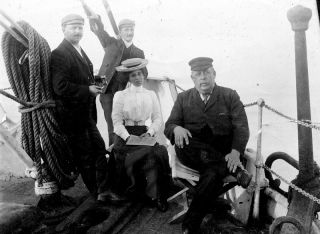 Those village women who were involved with seafaring were courageous, hardy and stoic. They had to be, as their lives were constantly being held to ransom by the vagaries of seafaring, which left many of them widows. As mothers, infant mortality was a constant spectre; whether it was due to diseases of the time, or children, some as young as eight, drowning whilst working at sea. One Borth mother was prevented from seeing her 10-year-old sons' body which was badly disfigured after submersion for several days following the wrecking of the sloop Venus in the Dyfi entrance on a stormy morning in November 1857. Jane Jones lost both husband and son whilst they were on a voyage together in 1891.
Captain James lost his fourteen-year-old son Enoch, when he fell overboard from the Dovey Belle and drowned as the vessel was lying off Gravesend. Young David Morgan, son of Captain John Morgan died at sea in 1880 on the schooner Meirion Lass, a vessel that his proud father had bought for the family. Mary Hughes lost husband John and two sons when they drowned in 1845 whilst on the Betsy, leaving her with five children to raise at the Friendship Inn.
Another widow Eleanor Hughes had lost her husband Thomas when he drowned whilst commanding the Eleanor on a voyage from Caernarvon to Aberdyfi in 1820 leaving three children. From then on Eleanor eked out a living carrying turf on a daily basis seven miles to Aberystwyth to sell at the markets. All this hard labour eventually took its toll. In her mid 60's she made a petition to Trinity House for financial assistance. In this she was championed by Captains Enoch James of the Mary & Ellen, Richard Davies of the Hope, Hugh Davies of the Elizabeth and John Hughes of the Virtue...which demonstrated the supportive nature of the maritime community at Borth.
Whenever they could, the womenfolk would join their husbands on coastal sloops as crewmembers. Brothers John and Hugh Davies often took their wives and daughters on the family owned vessels Sarah, France and the Amity, in the 1830's. John Evans captain of the sloop Mermaid, undoubtedly took his wife as she gave birth on board to the appropriately named John Seaborn Evans in 1822. Eileen Nicholls who is John Seaborn Evans's great great grandaughter, has fleshed out some of his family history. Eileen believed his father had been a carpenter born in Aberystwyth in 1782, but would he have let his Borth born wife go on a coastal voyage whilst pregnant? There were not many maritime Evans's in borth, however there are two John Evans's who may have been his father, one a master mariner born in 1797 who went on to command the Aberystwyth in the 1850's, and another born in 1798 who commanded the Angharad in 1860, the Rose from 1863-65 and the Hannah and Jane in 1868. What is certain is that Seaborn married Anne Morgan, daughter of John Morgan. The Borth Morgans were involved with the sloops Botolog, Speedwell, Francis, Betsey, Fame, Eleanor and Betsey and the Dove, as well as the schooners Dove and Botolog. The brothers David William John and Lewis Morgan were all master mariners.
Seaborn and Anne hqad five children all born in Borth, John, Elizabeth, Amelia, Anne and David. John their eldest son 1844-71, followed in his father's footsteps and was at sea at an early age. When he was 21 he was sailing out of London. In 1865 he married Sarah Keyes of Middlesex. There are records of him voyaging to Gibraltar, St Petersburg and New York several times. The wages out of London must have been good as a letter written by his widowed mother Anne in 1867, exhorts him to return home to Borth as they are paying good wages with plenty of berths on Aberystwyth and Aberdyfi vessels. Two uncles at Borth are mentioned in this letter, David Reece on the Thomas and Jane and Thomas Evans on the Nanteos.
As conditions and vessels improved, wives increasingly accompanied their husbands. Captain Abraham Davies took his wife Mary on the 240-ton brig Ethel Ann. Captain David Jones of the schooner Resolute, with his nineteen-year-old son as mate, often took his daughter Mary Jane on voyages with them. Captain Edward Edwards b.1823, took his wife Anne and his daughter Sarah Sophia, on the barques Eurydice and the Walton. Captain John Davies b.1834 was accompanied by his wife Catherine on the schooner Ocean Wave, and possibly on other vessels he commanded, such as Miss Evans and the Sydney and Jane. Captain Richard Jenkins took his whole family with him on the 80-ton schooner Ceylon in 1861; they were his thirty-one year old wife Mary, daughter Mary aged eleven, and son Richard aged eight. In the 1870's Captain Richard Davies took his wife Jane, and six month old daughter Elizabeth on the Rachel Lewis.
Captain John Williams was accompanied by his wife Anne on many voyages on the barques Granville and General Picton to India, Australia and New Zealand. Anne came back from her first voyage and gave birth to her eldest son John, and after a second voyage to India, she came back and had a daughter Anne Granville. Anne jokingly claimed that her daughter's dark complexion was because she had been conceived in the tropics. The General Picton was lost in mid Pacific as her cargo of coal ignited, and she had to be abandoned. Although there was no loss of life, the captain was deeply affected by the loss of this vessel in 1888, and four years later he died. His brother Captain David Williams 1849-1910, took his daughter Elsie on voyages to the Baltic and the Mediterranean on the Glenholm and Earl Cadogan.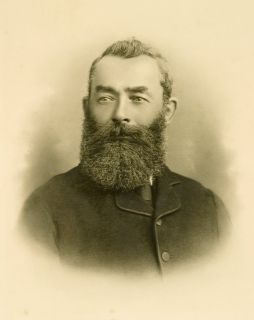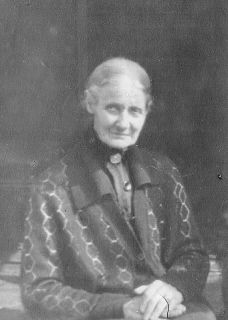 CAPTAIN JOHN WILLIAMS ANNE WILLIAMS
What one may ask, did Captain John Evans's wife Jane, think of events in 1882? Captain Evans 1828-94, took his wife with him on the Rowland Evans a 209-ton brig, in which he was a major shareholder with a mortgage of £600 in her. This vessel was insured for £1,800. After leaving Antwerp with a cargo of silver sand, the captain claimed he had noticed that the ship was leaking whilst in dock, and shortly after sailing, apparently she then began to leak from an area which could not be reached internally. They got as far as Cardigan Bay, thirty miles opposite Borth, when the captain stopped the vessel and ordered everyone, including his wife, to take to the ships boat. Circling the Rowland Evans for a few hours, it was decided that she could be a threat to navigation; so two holes were drilled into the woodwork to scuttle her. A few hours later the boat reached Borth.
In the 1880's Captain William Richards took his wife, and occasionally his daughters, on the S.S. Lady Mostyn and S.S. Eira. His daughter Elizabeth went on one voyage from Newport to London listed on the crew manifesto as a stewardess. Later she became a major figure in the suffragette movement in London. Both vessels had monogrammed crockery and a plate from the Eira still exists.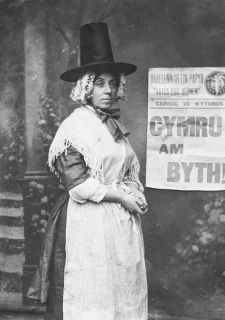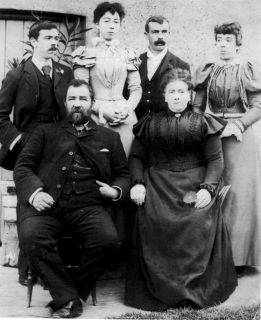 MARY DAVIES (nee Richards CAPTAIN RICHARDS AND FAMILY
Thomas Charles Enos 1856-1946, had lived one adventurous life as it were, before he met and married his wife Elizabeth. Elizabeth Davidson was the daughter of a Cwmystwyth lead miner whose family originated from Alston in Cumbria. The redoubtable Elizabeth insisted that Thomas better himself before she would marry him. Thomas readily agreed and rapidly worked his way up the ranks to become a master mariner. Elizabeth accompanied him on many voyages and their union produced ten children. One of whom named like his father Thomas Charles, known as Charlie, also became a master mariner.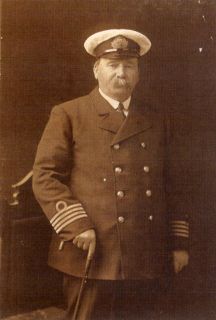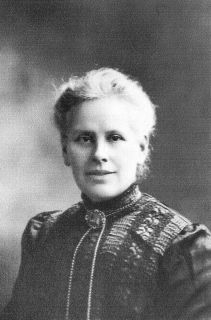 CAPTAIN T.C. ENOS ELIZABETH ENOS (nee Davidson)
No doubt, the womenfolk had an input in providing some vestiges of home comforts on the larger vessels. Captain Alan Enos recalls that his mother, during a long voyage to South America, had passed away the time making a set of lace anti-macassars which she proudly had on the settee and chairs. As the ship was approaching Britain her husband Captain "Charlie" Enos, told his wife to put away these covers in case the owners thought that he and his wife were masquerading as owners themselves. Thomas Charles "Charlie" Enos 1889-1952, took his wife Violet with him to Buenos Aires on their honeymoon. The sea was in her blood as she was from an old Newquay Ceredigion maritime family. They went together on several other voyages to Russia, the Mediterranean and Canada. However such voyages were limited as Thomas sailed for over fifteen years during hostilities in both world wars and the Korean conflict. The Enos women often accompanied their husbands to sea, and this tradition continued with the fifth generation and the last master mariner Captain Alan Enos.
Alan Enos took his wife Valerie with him as often as possible, and she became adept at seaboard life and familiar with maritime terminology. Valerie would join Alan at places such as Hamburg, Panama, Miami, New York and New Orleans, and voyaged to South Africa, South America, Russia, the Middle East and the U.S.A. She was usually signed on as either nurse or chief steward. Occasionally Valerie had to organise receptions for visitors to the ship. As she explained she was essentially doing a public relations exercise for the shipping company. Valerie recalls that on one occasion arriving to join Alan's ship she found that it was tied alongside several others. Having arrived at quayside all dressed up with accompanying luggage, she had to climb up and down and across other vessels to access Alan's ship, which was quite a feat in high heels. Valerie arrived somewhat dishevelled, ladders in her stockings and streaming with sweat…not her intended glamorous arrival. Other than being a company hostess and chief steward, she frequently kept watch and obviously thoroughly enjoyed these adventures.
CAPTAIN ALAN AND VAL ENOS
Captain Thomas Davies took his daughter on many trips on his schooners Nathaniel and Pluvier and on one occasion had a "passenger", his wife Mary J. Davies, with him on the schooner Nathaniel, on a coastal voyage.Captain John Davies, Bodina House, took his wife Mary Jane on voyages on the King David and the King Cadwallon before the First World War. Captain Horace I. Jones was accompanied by his wife on the S.S. Cape Sable in the 1930's. Captain Roberts often took his wife Mary, on the Oronsay in the 1950's. I remember meeting bosun Harry Jones of Panteg, and his wife Anne, on board the Asian Renown in Australia in the early 1970's.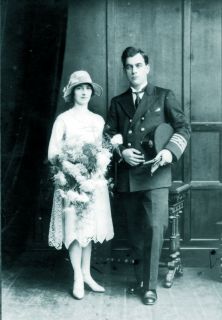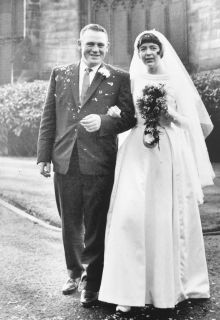 CAPTAIN HORACE JONES AND WIFE HARRY AND ANNE JONES
John Whitlock Davies, ships engineer, took his wife Myra with him on two Elder Dempster ships, the M.V. Fourah Bay and M.V. Fulani. The crew, including wives of senior officers, would fly from Liverpool to Rotterdam, and sail from there to Amsterdam, Antwerp, Bremmen and Hamburg, discharging and loading cargo, for West Africa. Some of the wives would leave the ship at the last European loading port, whilst others would go on the full trip.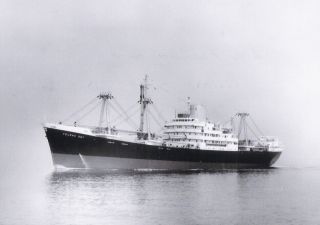 JOHN & MYRA DAVIES M. V. FOURAH BAY
Many of the families in the 19th century were matriarchal because of the long absences of the men. This meant that the women had to head the household and often, if widowed had financial responsibility in part, or sole ownership of a vessel. Therefore the women were often the business brain as well as the emotional heart of a family. As early as the 1770's, Jane Hugh owned half of the sloop Providence with Thomas Pryce owning the other. In 1786 she bequeathed her share to John Rees, the regular skipper. After the death of Captain Evan Jenkins, the sloop Pricilla, built at Ynyslas in 1845, belonged to his widow Anne, who ran it for a number of years before it was lost with all hands off Aberdaron in 1873. In 1871 Ann Jenkins became sole owner of the barque Dorothy after her husband, Captain Lewis Jenkins, died. She appointed her thirty-two year old nephew, Captain John Jones, to run the vessel for her as he was an accomplished mariner who had previously commanded the schooner Glad Tidings and the barque Alice. Enoch James 1787-1856, bequeathed the sloop Mary and Ellen to his wife Mary 1789-1866. In the ten years after Captain James' death, she successfully ran the sloop and eventually sold it. At the same time she managed to acquire the schooner Resolute, which she in turn left to her grandson.
Another of the James family, Captain David Enoch 1811-1870, left 4 shares each to his two elder sons; 2 shares each to his younger sons and 1 share each to his 2 daughters in the schooner Eleanor. Captain John James 1818-1884, gave the schooner Dovey Belle to his son John, subject to him paying his aunt Margaret £15 per year, with the proviso that on John's demise the vessel was to be given in equal parts to the grandchildren. The barque Drusus owned by Captain David Rees passed to his wife Elizabeth after his death in 1881. Elizabeth mortgaged the ship for £280, Margaret Thomas and Ann Davies being mortgagees with her. This arrangement lasted until the end of 1883 when the vessel was sold.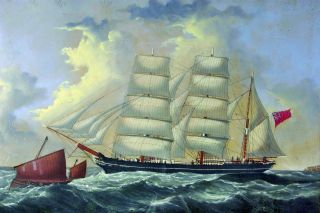 DRUSUS
Captain David Daniel the younger 1793-1844, put his shares in the 65-ton schooner Aquila into a trust for his young daughters Elizabeth and Catherine. Ann Daniel nee James, a widow, had eight shares in the family schooner Rosina. Rosina Evans nee Daniel, had shares in the Martha Lloyd, as did her master mariner brother James Watkin Daniel. He eventually sold his shares to Lewis Williams, a miner of Borth, who produced four master mariner sons. Ships were bought and sold as well as the shares in them, involving many of the families and individuals in the wider Borth community.
One captain's wife had a remarkable life. Maggie Brown 1851-1940, was born in South Wales and went to America with her aunt at the age of six. When she was eighteen she married a John Williams of Scranton. Before a year had passed, her husband had died leaving her with a young child, John Watkin Williams. They moved from Scranton to San Francisco and it was there that Maggie met her second husband to be, Borth man Hugh James 1844-1918.
He had begun seafaring on local schooners, in particular the Borth owned Gleanor, which was commanded by his father Captain David James. Hugh was captain of the barque Hawarden Castle at the time he met Maggie. They married in 1877, and they, and her son, returned from San Francisco on this vessel to live at 2 Picton Terrace, then later to a large new house, no doubt named by Maggie, Scranton Villa. The stepson, influenced by Captain James, and Borth's seafaring ethos, became a master mariner and commanded Booth Line Vessels. He was honoured by the Liverpool & London War Risks Association Ltd. after successfully evading a submarine attack whilst in command of the S.S. Benedict in July 1918, where his seamanlike skills and courage were much appreciated, and he received a 100-guinea reward. He also commanded S.S. Bernina and the Orianda.
Hugh and Maggie seemed inseparable; they sailed together to all parts of the world for a number of years. On one voyage, which included rounding Cape Horn on the Carmarthen Castle, she gave birth to a son Hugh, five days out from Rangoon. This displayed her strong constitution and great mental and physical courage. They had eight children, two girls and six boys. Sadly two of the boys died within a year of birth; David at 8 months and Richard Harold at 12 months. Later, another two sons were to die, Reginald, of tuberculosis at twenty-one years of age, and then Hugh who was born at sea, also lost his life at sea in 1918 when his ship the Penvean was torpedoed. One of the daughters, Annie Bertha, married ships engineer David Hugh Rees. The intrepid Maggie James lived to be 90 and had travelled the world and experienced many triumphs and tragedies.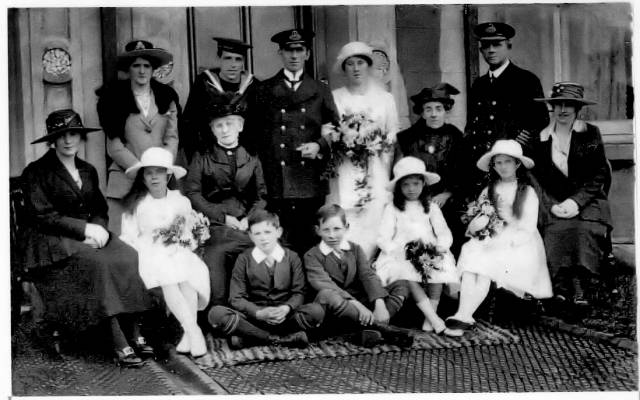 THE JAMES AND REES FAMILIES
Margaret Jones nee Williams b.1838, who married Captain David Jones of the Ceres, was herself part of a long line of mariners. Her father, husband, four brothers, two sons and uncles, were all seafarers, three of whom died away from home. Every time family members went off to sea she and other women in her situation, would wonder, from bitter experience, if they would ever see their loved ones again.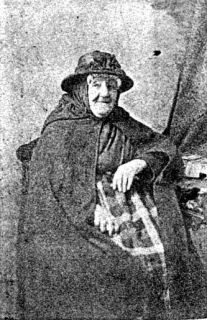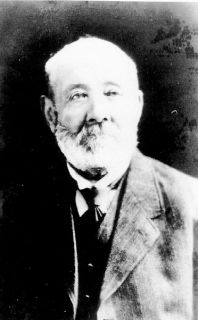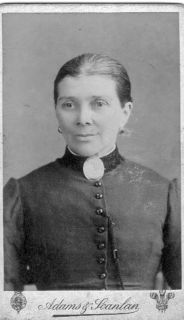 CAPT. DAVID JONES'S MOTHER CAPT. DAVID JONES MARGARET JONES
There must have been hundreds of women; mothers, wives, sweethearts or daughters, separated from their men folk for long periods of time. Every night at Borth, which is literally on the sea, it must have been bought home to them, especially on stormy nights, how many dangerous miles of sea were between them and their loved ones. Spare a thought for the grief of Richard and Mary Hughes who lost their sixteen year old mariner son William Thomas Hughes, in 1859. Captain David Hughes and his wife Elizabeth lost two sons, James at twenty-four years of age and Evan at twenty-five, both drowned at sea. I remember dear old Mrs. Roberts who lived alone at Convoy House which was full of wonderful souvenirs from the far corners of the globe. At the time I did not realise that she had lost both her husband, Captain Roberts, and their son, to the sea.
Also lost at sea was Richard Jenkins, son of Thomas 1805-93, and Rebecca 1807-76, of Pengoitan. Who now remembers, or knows, who seaman John Jones was? In 1883, he fell from the masthead of the Dora Ann, which was under the command of Captain Lloyd. His remains are lying somewhere between New Zealand and Chile in the vastness of the Pacific Ocean. Others are buried far from home in Korea, India, China, Brazil, Argentina, Algeria, Spain, America and France. In 1883 young Morgan Lloyd, bosun on the Nant Francon drowned nearer home in Swansea Dock, leaving a widow and child at Borth.
Conversely, in 1900, Captain Lewis returned from a voyage to Buenos Aires, whilst in command of the S.S. Ashlands, to find that his wife Kate had been buried. The wife of Captain Richard Rees 1870-1918, of Morawel House, had only seen her husband twice during the First World War. Towards the end of 1918, she must have thought that all would be well. Fate however struck a savage blow as she received a telegram to go to Glasgow where he had been suddenly taken ill on the vessel he was commanding, the War Tabard. By the time she arrived, he had died of pneumonia. He was the son of Captain Thomas Rees, Angorfa.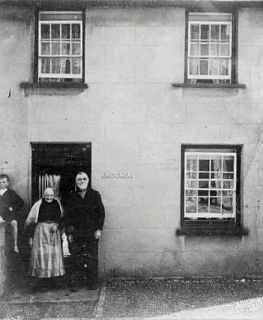 CAPTAIN THOMAS AND ELIZABETH REES
Nearer our time, one's heart goes out to the likes of seaman William Thomas' mother who held the vain hope until her dying day, that he would return home to Borth. William had been lost in February 1941 in the aftermath of an attack on the Clunepark while his brother John could hear him calling for help but could do nothing. Mrs. Thomas believed that he had swum or drifted to a nearby island and suffered some sort of amnesia from which he would eventually recover and arrive back home.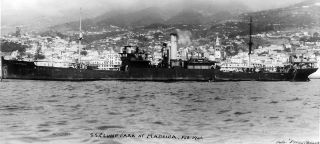 S.S. CLUNE PARK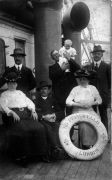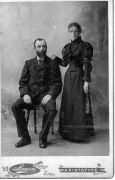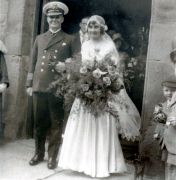 BABY GWEN LLOYD CAPT WILLIAM & ELIZABETH JONES CAPT. & MRS EMRYS JENKINS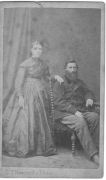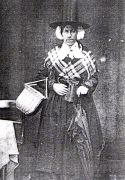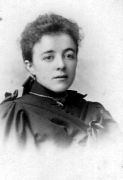 JOHN & SUZANNE WILLIAMS JANE ENOS JANE JONES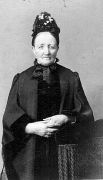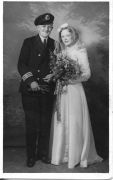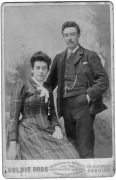 ELIZABETH JONES CAPT. & MRS THOMAS WILLIAMS CAPT. T. & AMY JONES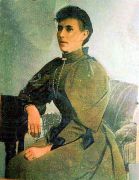 MARGARET C. DAVIES MARY JANE DAVIES "BODINA"