YVETTE ELLIS-CLARK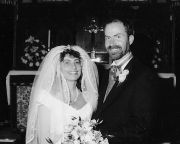 YVETTE AND TIM ELLIS-CLARK
Yvette Ellis-Clark was born in 1962 and lived with her parents in Rock Villa on the cliff. Even though the sea was an ever-present element throughout her childhood, it was not until several of her young friends joined the Navy, that she seriously considered a maritime career. This would also dovetail with her passion for travelling, which had developed since she was fifteen. Just before she was eighteen she applied to join the Womens Royal Navy Service. Having passed the medical and filled in the necessary forms, she opted to become a Weapons Analyst which seemed appropriate as she loved mathematics, and was particularly good at the subject.
Nothing happened for nearly three years, and then one morning, on St David's Day, she woke up to a telephone call. As Yvette explained, she expected it would be one of her co-revellers from the previous night's party. However, it was an official from the Royal Navy asking if she was still interested in joining the service. Despite the surprise of it, she immediately said yes. She was told to report to Plymouth on 23rd May 1983; a day that coincided with her family going to a wedding at Bristol. Yvette attended the wedding then bid everyone farewell after the reception and reported for training at H.M.S. Raleigh, where she joined Group Class Victory 21.
This was the start of a twenty-three year naval career. Specialist training in communications took place at H.M.S. Dryad and Fraser Gunnery Range. The next eighteen months, Yvette spent shore-based in London at Whitehall. During this time she enjoyed a two-month secondment to Norway working with the Royal Marines, some of whom were her friends from Talybont and Aberystwyth. Working shifts of twenty-four hours on and twenty-four hours off, gave her plenty of time to get her first taste of ski-ing, learning both downhill and cross country. On her return, she had another secondment, giving her a chance to work with the R.A.F. at Rudloe Manor. Then she moved to Northwood to work with highly sensitive communications, and it was here that she met up with Peter Norrington-Davies of Dolybont. During her career, Yvette was to meet up with others from the Borth area including, Robert Patterson-Jones, Simon Moss, Paul Thomas, Eryl Morris, Tony Evans, Harry Hughes and Tony Hosell.
For her next eighteen months draft she was sent to Gibraltar. Here she advanced to Leading Wren. With two of her main interests being travel and rugby, she was now able to satisfy them both with numerous trips along the coasts of Gibraltar, recruiting a rugby team and taking them to a tournament in Portugal. Yvette also managed to get out to Australia and New Zealand for the inaugural Rugby World Cup, meeting up in Auckland with her friend Sharon Hayes, Dunstall House, who was nursing out there.
Yvette then returned to Whitehall, stopping briefly at H.M.S. Royal Arthur to complete a leadership course, which she found quite gruelling. This was followed by her taking the Leading Wrens Communications course at H.M.S. Mercury, which she sailed through winning the Herbert Lott award for best student of the year.
One day in March 1990, whilst home on leave, Yvette was sitting at the breakfast table and her father Ebbie was reading the Western Mail, when he said "Girls are going to sea then". "No way" said Yvette as she had heard nothing of this previously. On her return to Whitehall she found out it was true and they were asking for female volunteers to go to sea. Yvette jumped at the chance and joined the first contingent of Wrens to go through Specialist Sea Training. This included fire fighting, and damage control, all of which was very new to Yvette. She then had to do a nine-week conversion course to increase her shore communications knowledge with that of ship going equipment and communications .
Here she got told which ship she was going to join, and she was very pleased to learn that it was to be H.M.S. Brilliant, the first ship to take female crewmembers. Disappointment followed though as the specialist communications course was extended, which meant that Yvette missed being part of the much-publicised photograph that was circulated nationally, of the first Wrens going up the gangplank of H.M.S. Brilliant. A few weeks later Yvette joined the ship and discovered its programme included a trip to the Gulf.Therefore, she has the distinction of being the first Borth Wren to go to sea and into a war zone. Her position now was Leading Radio Operator. The involvement in the Gulf War meant that Yvette had to endure one of her pet hates, needles, as she had to have the many inoculations. The one thing that made an indelible mark on her at this time, was the mindless devastation. Everything seemed wrecked, with immense oil fires still burning, as well as body parts floating near areas where mines had been laid. The latter was bought home when a boatload of matelots went on patrol and a few of the younger ones returned traumatised by the sights they saw.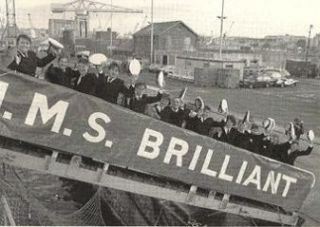 WRENS ON THE GANGPLANK OF H.M.S. BRILLIANT
Back at Borth during this harrowing time there was to be one moment of levity when a news report on the television featured Yvette. Peggy Owen of 3 St Albans, saw this whilst cooking a piece of fish. Excitedly she immediately phoned Yvette's mother to tell her to switch on the television. By this time, the fish she was cooking was black, and smoke billowed out of the kitchen window causing great consternation and alarm in the neighbourhood.
Yvette enjoyed the sea going experience immensely. The fact that men and women shared facilities in close proximity was an issue sensationalised out of all proportion by the press. As she states, "it does not matter what the women did, it was headlines". A case in point was when H.M.S. Brilliant went to the aid of a merchant ship which had developed an engine room fire. It took three days for the vessel to be safely towed back to port after extinguishing the fire. Despite the fact that the majority of the crew were males, and were the main participants in this event, the press report stated, "Seventeen Wrens fight fire".
Yvette recalls how the whole crew had to sleep above the waterline as a matter of course in time of conflict. Everyone was crammed together irrespective of gender, and there was a great camaraderie on board, no doubt fuelled by the shadow of war. Being in the Gulf, the heat was stifling, but she remembers one incident when to her great relief, and the envy of some others, she managed to have a bath. This happened because a friend, Paul Thomas of Aberystwyth, was on a ship that berthed alongside the Brilliant, on which there was this priceless facility. Adding to all this was the fact that she went on a drinking session with Paul, much to the astonishment of her fellow Wrens. As she explained "being the eldest, I always held back previously, so as to keep an eye on the other Wrens, a sort of mother hen thing, but meeting a friend from home, at this particularly stressful time, was an occasion to let my hair down"
The next port for Yvette was Mombassa, as the vessel was sent there for a two-week maintenance overhaul. No time was wasted as she and another wren decided to accompany the ships rugby team who were travelling up to Nairobi for a match. Although the team travelled by train, the girls could not go with them, apparently because "everyone else would also want to go". Without batting an eyelid, the girls flew to Nairobi first class, and signed in at the poshest hotel they could find.
From there they went to the match venue and re-acquainted themselves with the ships' team. They arrived safely back at Mombassa, where Yvette had already rented a house. This came about when the British Embassy ashore offered several properties that those on board could rent. In the full swing of things, Yvette booked in under the pseudonym Baroness Von Taffy…there after she was called the Baroness. With cook, butler and maid in attendance, she held court at a beautiful property with a pool, and had a sort of continuing house party. For Yvette it was a bit of quality normal time after being in a war zone, and the overcrowded conditions on the ship.
During her career, Yvette was awarded four medals, the Gulf Medal with a rose inset, N.A.T.O. Medal, Queens Golden Jubilee Medal and a Good Conduct Medal. The N.A.T.O. Medal she got after doing a three-month stint on the H.M.S. Invincible in Bosnia. She recalls spending so much time at the bar that she was awarded a hip flask, usually given only after two years of patronage. The Invincible, an aircraft carrier, was too big for her liking; with too many crewmembers making it impossible to have a sense of true camaraderie. The one redeeming feature was that they baked their own bread every day for afternoon tea, known as "four o'clockers".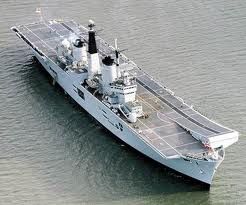 H.M.S. INVINCIBLE
It was around this time that she met her husband to be, Tim Clark, at a forces rugby match. He was a marine engineering mechanic serving on H.M.S. Herald. Theirs was initially, a distant courtship as only cards were exchanged, and they managed just once to go out to dinner. Yvette, with her travel bug, did not help matters. With leave coming up she decided to join Borth friends Kai and Anna Hubbard, and Norman and Doreen Thomas for a ski-ing holiday. However, Tim and Yvette kept the romance going, but again, Yvette went off, this time for an eight-week trip to South Africa, following the teams participating in the 1995 Rugby World Cup. Tim was mercilessly teased by his friends, as it was usually the girl who said goodbye to her boyfriend at the airport prior to these sporting events; not the other way around.
By a coincidence, both Tim and Yvette found themselves on H.M.S. Endurance. They kept their now committed relationship secret for two months, even though by this time, they had a house together ashore. All this was quite comical, as Tim had to occasionally present details to Yvette, who was a different rank to him. They had many a convoluted meeting at this time, and when they went down to the Antarctic, which Yvette remembers as one of the most beautiful places she had ever been to, they knew that soon somebody would spot the romance. Yvette decided that on their return to the ship all had to be revealed. It was not going to be easy as the whole ship's compliment were convinced that she had a secret boyfriend, who was either shore based, or an officer on another ship. Anyway all was explained by Tim and Yvette to the captain, who took it in his stride saying "You've both kept things at a professional level, please continue to do so". There was only one person furious, and that was the First Lieutenant, who thought he knew everything about what was going on.
After returning on the H.M.S. Endurance, from one of her Antarctic voyages, Tim and Yvette got married in Borth Church. Her hen-night had been held on board ship, and was quite unique as all the "hens" were her male colleagues dresses as women. Yvette left the Endurance before Tim, and was based at a N.A.T.O. shore-base in Portugal at Oeiras, just outside Lisbon. For the next four years, they saw each other at holiday times and weekends. Whilst in Portugal, Yvette's near neighbour was Borth man Oliver Evans and his wife Barbara. Oliver is the brother of Gethin and Jac Evans, both profiled later.
Yvette became Permanent Staff Instructor at the shore based H.M.S. Cambria. Her duties encompassed organising Royal Naval Reserve units that were away on courses. Tim was now on H.M.S. Richmond, which was on deployment to the Mediterranean and the Caribbean. In 2003, Yvette was flown down to the land base on the Falkland Islands. She was much taken with that part of the world. By now, Tim and Yvette had a son Dion, and it was decided that Tim would leave the Navy and become a househusband. Yvette continued in the service, and was based at Northwood in London at the Permanent Joint Headquarters of the Services. After twenty-three years service Tim Yvette and Dion returned to live at the family home, Rock Villa. During her many travels she had met several people with Borth connections, amongst them Eirwen, sister of Ella Jenkins of Gwastad, and Elizabeth Rodaway-Baker in Guernsey. Yvette has kept up her interest in the sea by working for the R.N.L.I. as a secretary, and always loves the opportunity to get together with old shipmates.