CAPTAIN DAVIES, BODINA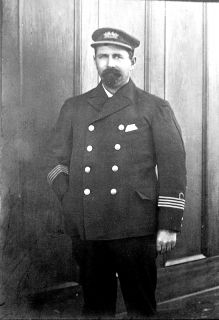 Captain John Davies 1877-1937, married Mary Jane, nee Thomas, 1876-1967, of Bow Street. Captain Davies gained his masters certificate in 1897, and during the next thirty years commanded many ships, including the steamers King David, King Cadwallon, King Edward, King Gruffydd, Huntsholme, Broompark, Beechpark and the Lylepark. The latter vessel he took on her maiden voyage after being guest of honour at her launching, where he was presented with a commemorative book entitled Two Centuries of Shipbuilding, a history of the company that built the Lylepark at Greenock.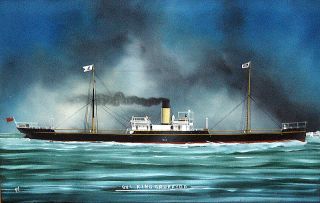 S.S. KING GRUFFYDD
In June 1906 Captain Davies was in the Black Sea in command of the S.S. King Edward at a time when there was a Jewish pogrom taking place. The ship docked at Cherson, which is near Odessa, and upon seeing the plight of the Jewish people; for him no doubt the descendants of the heroes of the Old Testament, he decided that he had to provide sanctuary for them. About one hundred people were ushered safely aboard his ship. For this humanitarian act he received a written testament and a silver commemorative cup from the Jewish community. Part of the testament reads as follows, "You acted in a most humane and kind way and showed your love of your fellow men. In this you behaved with the highest act of humanity".
His generous nature was again evident when he bought the house Ivanhoe, now called Ty Canol, from Captain Hughes so that his parents Evan 1841-1924 and Margaret 1849-1934, and also his spinster sister Margaret, could live there; whilst he himself went to live in Bodina House, Bow Street. This house was named after his daughter Ina; it translates from the Welsh as meaning "Ina's Dwelling".
He was another captain who took his wife with him on his voyages. This was facilitated by his eldest daughter Ina, capably looking after her siblings during her parents absence at sea. According to his descendants at Penegoes, Captain Davies had one of the first cars in the area. As he had never had driving lessons, it was trial and error. He decided to take the car down through Borth, and he found that he could not quite manage to stop and reverse and come back so he had to go down to Ynyslas and did a u-turn on Traeth Maelgwyn. On the journey back to Bow Street things were going pretty well, except that, unbeknownst to him his wife had decided to close the garage door. Confidently sweeping in through the gateway, he realized at the last minute that the door was closed. Whilst panicking to stop the vehicle, in a great splintering of wood he went into the garage, hit the back wall and stalled with the door round his neck. Thankfully, he was a better captain than a driver.
The captain had two sons, one of whom, Marcus, died as a child, and three daughters. His surviving son Thomas Whitlock Davies 1907-47, completed a five year engineering apprenticeship before becoming a ships engineer on Denholm Line vessels. He then bought a garage in Aberaeron, a venture encouraged by his uncle, Captain Evan Williams 1876-1958, of Borth, who had married an Aberaeron girl and lived at Bodryddan her family home in North Road. He was captain of the Ardgowan from 1913 to 1930; better known as Mesopotamia, as she was renamed in 1916. In his old age he often stayed for the summer with his relatives at Francon House Borth. Thomas Whitlock Davies and his young family moved to Aberaeron to run his new business venture. Sadly, within a few years he had died of cancer. From that time, Captain Williams became a sort of surrogate father to the three children, and no doubt encouraged them to take up a maritime career.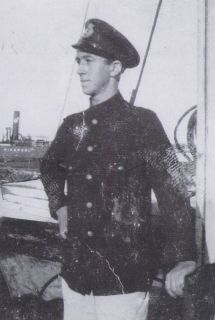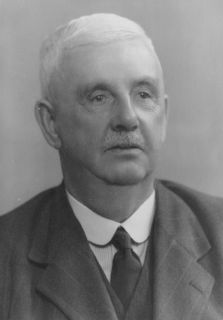 THOMAS WHITLOCK DAVIES CAPTAIN EVAN WILLIAMS
John Whitlock Davies b.1939, worked as a ships engineer for the Elder Dempster Lines on the motor vessels, Fourah Bay, Dunkwa, Sulima, Falaba, Fulani and Ebani. His brother, Thomas Malcolm Davies b.1936, served on over forty Shell Tankers including the, Partula, Hyala, Hadra, Mangelia, Harpula, Opalia, Lima, Halia and Serenia.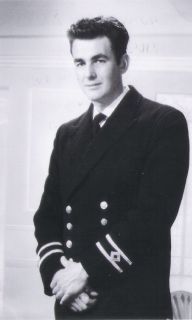 JOHN WHITLOCK DAVIES
Captain Davies' daughter Ina had a son Marcus Whitlock Evans 1936-98, who became a ships engineer after serving an apprenticeship with Cammel Lairds of Birkenhead. Another daughter, Nesta, who married a Richards, had a son Michael who became a ships engineer, and now lives in Penegoes. Instead of doing a five year shore based engineering apprenticeship like his relatives, he undertook a four-and-a- half-year apprenticeship, which involved two years at college, six months work experience, six months back at college followed by eighteen months at sea. From 1960 to 1990 he worked for British Petroleum, and was on many ships including the British Renown, British Ranger, British Explorer, British Tay and the British Trent. Michael remembers coming to Borth to consult with retired ships engineer Joe Rees of Gordon Villa, about his future career. It is quite remarkable that five descendants of master mariner John Davies, all became ships engineers.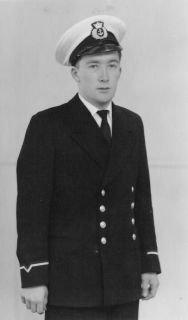 MARCUS WHITLOCK EVANS
Thanks for most of this information goes to John Whitlock Davies, now residing in Scotland.