THE DANIELS
The Daniel family first appears out of Borth's past in the late 1700's with sloop owner David Daniel the elder 1766-1850. In 1792 he married Catherine Lloyd, the daughter of Jane Lloyd, a widow who lived at Penygraig farm. When Jane Lloyd died, she left the tenancy of the farm to Daniel and Catherine. However, Catherine died soon after her mother and David then married Elizabeth Davies in 1801, a widow from Nancwmlle. David and his two wives produced six boys and five girls. His children with Catherine were: David the younger 1793-1844 master mariner, Daniel b.1794 died as a child, Jane b.1796 and Evan b.1798 who became a surgeon. David's children with Elizabeth were; Thomas b.1802 master mariner, Catherine b.1803, Mary b.1807, Alban b.1809 master mariner, Elizabeth b.1811, Anne b.1816 and David b.1818 who was first mate on Daniel-owned vessels.

David and Elizabeth's eldest son Thomas married Anne James of Brynllys in 1828 and their children were: Thomas b.1829 master mariner, David b.1830 master mariner, James Watkin b.1833 master mariner and Rosina b.1835. Thomas and Anne's son David, married Jane Edwards, and their children were Anne b.1852, Jane b.1854, David Edward b.1858 master mariner, Thomas b.1860, Margaretta b.1863, Rosina b.1866, Richard Lewis b.1868 master mariner, James b.1870 ships engineer and Zezinia b.1873. Thomas ended up in New Zealand where his granddaughter Betty Vodanovich still lives.

David Daniel the elder b.1766, was owner and master of the Amity and the Mary and Ann. He also bought the sloop Linnet, built at Aberdyfi in 1826 from Mary Jones, daughter of Anne and Morgan James, master mariner of Borth, in 1838. Six years later it was sold to Richard Hughes of Gwastad Borth in 1844. The registration was cancelled two years later with the vessel being broken up. These sloops carried limestone and culm to the Borth foreshore, where there were several limekilns. Two kilns are mentioned in the guidelines to parish boundaries that stood near where today's lifeboat station is situated.

The seafaring family members eventually left Penygraig to live in Morfa Borth around 1840. However, Mary Daniel, daughter of David the elder and Elizabeth, married a farmer Richard Jones and stayed at Penygraig for another 10 years, before moving to live at Tynshimne Farm. Her half sister Jane, the third child of David the elder and Catherine, married William Jones a farmer of Rhiwlas. They had five children, and the eldest Mary married Thomas Pryse of Bryn Bwl Farm in 1845. Their eldest son Thomas b.1846, became a master mariner in 1881, and served on the Lockton and lived with his wife Gwen at Glanwern.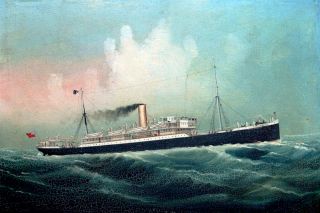 CARMARTHENSHIRE
The schooner Francis, built at Aberystwyth in 1816, was bought in 1824 by Thomas Daniel 1802-1836. This vessel was the first Borth owned schooner. The local shareholders included Thomas' father, David Daniels the elder of Pengraig (38 shares), Enoch James (2 shares), David Morgan (2 shares), John Hughes (2 shares) and William Thomas the elder (2 shares); all mariners of Borth. Other shareholders included farmers John Rice of Tynllechwedd, John Jones of Tirhelyg and Evan Lloyd of Tydu Farm, who was a relative of Jane and Catherine Lloyd of Pengraig. Three years later, in 1827, Thomas Daniel the skipper purchased all the shares from the other Borth shareholders. For a time after his death in 1836, his widow Anne, now a major shareholder was signing documents relevant to the vessel's voyages. Captain Hugh Davies of Borth, ran this schooner from 1838 to 1840; later her master was David Morgan of Gwastad Borth. By 1855, Ann Morgan of Borth had acquired all 64 shares of the Francis, which, after trading for nearly 50 years, was lost with all hands on 3rd December 1863.
The schooner Aquila, built in Penybont parish, Machynlleth in 1833, was the next acquisition of the Daniel family. Alban Daniel 1809-1840, fourth son of David Daniel the elder, commanded this vessel, and had 12 shares in her. His father owned 16 shares; Morgan Lloyd of Tydu Farm had 4 shares, David Hughes (4 shares), Thomas Daniel (4 shares), Richard Davies (4 shares), Evan Daniel (4 shares), John Parry Talybont (4 shares) and Rowland Evans Aberdyfi (4 shares), amongst others. Alban's half brother Evan, although having gone to London where he practiced as a surgeon, still maintained a financial interest in the family's shipping concerns at Borth.
David Daniel the younger commanded the Neptune, Hope, Linnet and, briefly, the Aquila. His half brother David b.1818 was first mate on the Aquila as well as other Daniel-owned vessels. The Aquila changed hands on 3rd February 1856, and five years later ended up wrecked on Aberystwyth beach. A succession of Borth master mariners commanded her at various times, David Hughes 1842, Thomas Richards 1844, William Jones 1845, William Williams 1850, William James, Ty Canol, 1851, John Hughes 1852 and Enoch James the younger 1853. Captain John Hughes married David Daniel the younger's widow in 1846.
On the Aquila's final voyage from Saundersfoot to Aberdyfi, with a cargo of culm, she encountered a severe storm and had lost many of her sails by the time she rounded St David's Head. She ran with the southwesterly gale with just fore and aft sails all through the night and into the next day. Captain Enoch James b.1821 and his hard-pressed crew kept the crippled schooner afloat until they were driven ashore on Aberystwyth beach where she was pounded in the surf. The crew were saved by eight local men who rowed out to assist, and by crewmembers of the gunboat Violet, who waded into the surf with lifebelts and lines. This naval vessel was stationed at Aberystwyth recruiting men for the R.N.V.R. Everyone got ashore safely and this particular incident bought about the establishment of a lifeboat at Aberystwyth. Captain James went on to own and command the schooner Beatrice.
A schooner built in Porthmadoc in 1850, was purchased by the Daniel family, with James Watkin Daniel, master mariner, and his extended family running it. She was re-named Rosina after his sister. Another sibling, Thomas Daniel 1829-53, who previously captained the Caernarvon, commanded the Rosina briefly before dying of tuberculosis at twenty-four years of age. The shareholders were Ann Daniel (8 shares), Abraham James Dolybont (8 shares), and Enoch Watkin James (8 shares).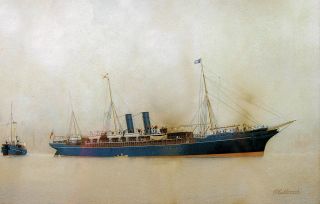 ATRATO
Rosina Daniels, fourth child of Thomas and Anne, nee James, married two master mariners, firstly an Evan Evans of Borth. Captain Evans was drowned when the barque South Walian was lost with all hands near Venice in 1861. She later married Captain Thomas Watkin Humphreys in 1865. Captain Humphries lived in Aberystwyth in a cottage called Fairlina and was lost on the schooner he owned, named like his home, Fairlina in 1875. The Rosina was eventually wrecked at Holyhead in 1893. Rosina Daniels died in 1920 at eighty-five years of age. Family descendants suggest that the name Rosina was of Spanish origin as a member of the Daniel family had married into the Aberystwyth family of Delahoyde who originated from the Iberian Peninsula. A Captain Delahoyde is buried at Llandre churchyard, giving his home as Borth. In the family history of the James' of Brynllys, there is a record of James, son of Morgan, of Llety Evan Hen, marrying a Rosina in 1729, the daughter of John De La Hoyde of Glandyfi.
David Daniel b.1830, of Osborne House Borth, bought the barque Bertie in 1879. This vessel was built at Whitehaven in 1863 and was 140 foot long and 27 feet broad with a male figurehead. The Bertie proved to be unlucky for the Daniels family. First of all David Edward Daniel b.1858, son of the owner, died whilst in command of her at the age of 25; apparently drowned at sea in Latitude 8, Longitude 2, in 1883. This vessel voyaged frequently to the coasts of West Africa and South America seeking cargoes of coffee beans. It was on a voyage to Brazil in 1891 that another tragedy struck when the whole crew and 61 year old Captain David Daniel, died of yellow fever. One Borth man, David Hughes b.1848 of White Lion Place, escaped this fate as after serving on her as first mate for several years, he had left the vessel in 1888.
In the Aberystwyth registers it states that the Bertie was sold to Wilson & Sons Co. Ltd, who converted her into a hulk in the same year at Santos. This whole episode had a poignant sequel when later, Captain Richard Lewis Daniel, 1868 - 1963, the sixth child of David and Jane, was invited ashore by some of the passengers of a Royal Mail Line vessel he was commanding. As they were finishing their pre dinner drinks a bell sounded summoning the diners to the restaurant. The Captain instinctively recognised the particular sound, and as he passed, he looked at the bell and on it was the name Bertie. It was obviously from his family's vessel, on which his brother and father had died, and a sound that he had known well. It had been salvaged when they converted the Bertie to a hulk.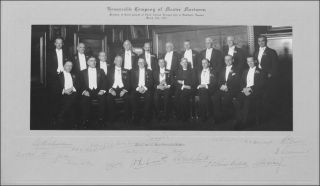 THE HONOURABLE COMPANY OF MASTER MARINERS (INCLUDING CAPT. R.L. DANIEL) WITH KING EDWARD V11
Richard Lewis Daniel had an outstanding maritime career, which is no surprise as there were also mariners amongst his mother's family; with John Edwards b.1796, and John Edwards b.1819, both master mariners. By the age of twenty-three Richard had attained his masters certificate, and his skills were so advanced that he passed a higher navigation examination and was soon on the Lloyds Captains Register. In 1898 he was captain of the Atrato, and in 1900, the Tagus and the Arno. Amongst other vessels he commanded were the Carmarthenshire, Secura, Magdalena, Ekaterinoslau, Deseado, Oratavia, Agadir and the Caroni. He commanded troop and supply ships during the Boer War for which he received a medal, and in the First World War he commanded Red Cross ships sailing from France to the U.K. Whilst in the Royal Naval Reserve he carried the rank of Commander and was involved in action at Scapa Flow. On retirement, if you could call it that, he was the chief marine superintendent of the whole of the Royal Mail Line. He was buried with this company's flag draped on his coffin at West Worthy, Sussex. He had mingled with Royalty and Captains of Industry, as the many fine photographs in the collection of his granddaughter, Anne Jones of Aberangell, attest to. Richard Lewis Daniels' career was the apogee of the talented Daniel maritime family of Borth. Fate however struck him a terrible blow as his only son, Richard Daniel died a relatively young man. The only memento left is a photograph of him in his Naval Officer Cadets uniform. Another of the captain's brothers, the seventh child of David and Jane, was James Daniel b.1870, who became a ships engineer and lived at Liverpool.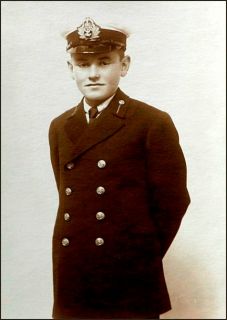 CAPT. RICHARD LEWIS DANIEL CADET OFFICER RICHARD DANIEL
This enterprising family had major shareholdings in several vessels, some which they owned outright. The men folk commanded at least a dozen local sailing ships; the Amity, Hope, Dove, Linnet, Mary & Ann, Neptune, Active, Aid, Reform, Francis, Aquila, Rosina and the Bertie. Captain R. L. Daniel, whose career was mainly involved with steamships, commanded over a score of vessels in an illustrious career up until the 1920's. The Daniels produced nine master mariners, and the Daniel girls married into many other prominent maritime families in the area, such as the James, Edwards, Jones, Davies and Evans families of Borth, and the Humphreys and Delahoyde families of Aberystwyth. It is to be noted that it was David Daniel the elder and his second wife Elizabeth, who produced generations of mariners.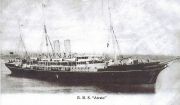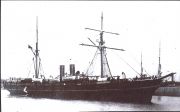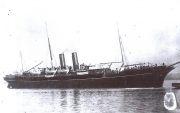 ATRATO TAGUS MAGDALENA
Betty Vodanovich of New Zealand, a descendant of the Daniels who provided much of this information, discovered during her researches that there was another maritime Daniel family in Borth, seemingly unconnected. There was a David Daniel b.1805 who captained the Dove in 1862 and the Maria Anna in 1865. A John Daniel 1823-58 was a first mate on local sloops and another David Daniel b.1839 was the captain of the Mary Jane. In the 1871 census, this David Daniel was at Borth with his wife Mary and daughters Catherine, Emma and Margretta. The names of some of the children of the "other" Daniels' that appear on the census lists are sufficiently similar, such as Margretta, to raise the possibility that these two families are somehow related. Did David Daniel the elder have a brother from whom these other Daniels are descended?